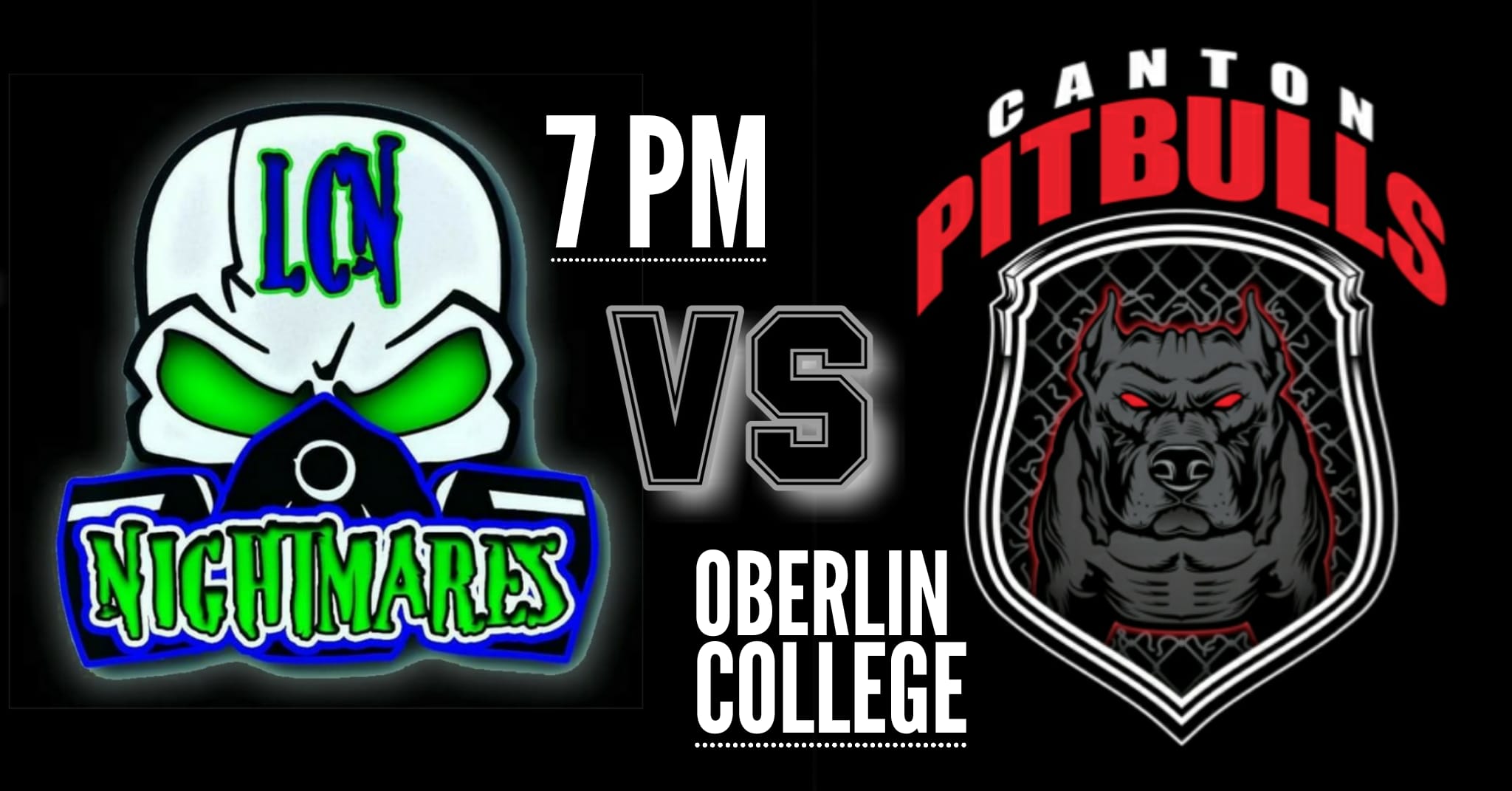 The Lorain County Nightmares look to bounce back tonight from a rough 20-10 loss to the NEO Predators last week.  They will have a golden chance to do so as they welcome in the Canton Pitbulls into Austin Knowles Stadium for a 7pm kickoff tonight.  Tickets are only $5 and the weather is supposed to be great, so we expect to see a packed house.
I spoke with head coach Jamie Ray Adams for our weekly "Take Five" session.  Enjoy!
How do you bounce back from last weeks tough loss to the Predators?
When you lose to a top-ranked team like the Predators you look at both sides of the coin.  On one side yes it's always tough to take a loss because you know you're capable of, but on the other side you realize that you were in the game the whole time and competed with one of the best teams in the league… and while nothing satisfies like a win, you take the good.
What is it about the atmosphere at Oberlin College that makes it to your advantage?
It's the atmosphere that we've created. Oberlin College is a top-notch facility in every team that travels to us shows up and realizes that they're playing a top-tier team and that helps a lot. The added atmosphere of the Bubble Soccer and the music and cheerleaders really helps create an environment that is easy to be intimidated by.
This weeks injury report?
Our injury report unfortunately continues to grow. CJ Powell and Vaughn Sprinkle are questionable and a game-day decision. Safety Gib Harris is out with a broken ankle along with Chase Laudato who seemingly is done for the season with a knee injury.  Start running back Dontez Smith will return this week but will be on close watch as he comes back from an ankle injury.
What is the biggest key to victory this week?
We simply just need to play together as a team and finish games. Every game, even against top-tier teams we're in it until the very end but we just need to come together and close it out and put the last nail in the coffin on some of these teams which is what we plan to do this Saturday.
Who do we need to look out for as the next stand out player?
I think on offense you have to look towards our stable of running backs. Collectively on the season we averaged over a hundred yards a game on the ground and over 5 yards per carry so our stable of big strong and fast running backs needs to be on watch.
On defense you can't look past our defensive line in Sonny Hazelwood, Terry Oliver, Tyrone Mccullum, Jakhari Gunn(who is having a standout year) and rookie Tony Cook.  They are really on the warpath this game to prove that they're the best in the league.

NEO Sports Insiders Newsletter
Sign up to receive our NEOSI newsletter, and keep up to date with all the latest Cleveland sports news.