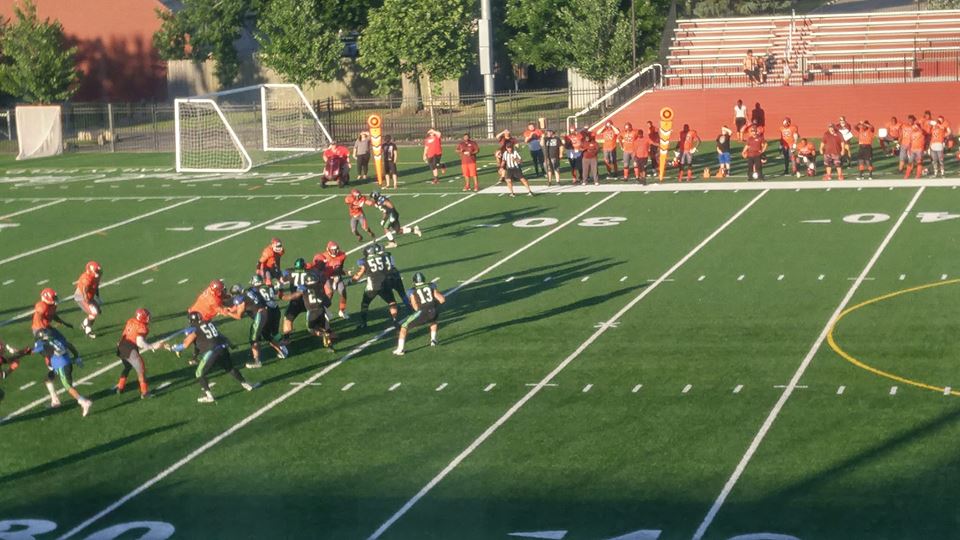 OBERLIN COLLEGE – The Canton Pitbull's used a 28-0 second half to run away with the 36-14 victory over Lorain County tonight.  It was a tale of two halves as the Nightmares looked in total control when the game went to break.
Despite a 164-yard passing night from Brandon DiMarco, the Nightmares were held to just 14 points on the evening.  "Always Open" Tj Howell had 9 catches for 77 yards.  Howell continues to be impressive this season.
Ron Johnson, a big target in this offense had to face multiple double coverages and was held to 18 yards on 2 catches. Johnson was interfered with at least a half dozen times and the refs simply turned a blind eye to it.  Johnson deserved much better then the shake he was given.  Sonny Hazelwood on the defensive side of the ball gets held alot too, and the refs don't call it because of his massive size.  It is what is known as the "LeBron Factor" in sports.
Cj Powell was playing hurt, but you wouldn't be able to tell that from his stat line as he finished with 49 yards on 4 catches.  Dontez Smith returned to action tonight, but only in the first half and accumulated 29 yards with a touchdown on 11 carries.
The Nightmares overcame a small first half deficit at 8-0, to score 14 straight to close the half.  They used the legs of Aries Irby and Dontez Smith to punch both scores in the endzone.  The lone Pitbull score came on a 37-yard launch to a wide-open receiver.
Sadly, for the Nightmares, for the second straight week their secondary was picked apart.  Pitbull receivers were wide open play after play.  It showed big time in the second half when the Nightmare defense couldn't get off the field.
After tying the game at 14-14, the Pitbull's got lucky on a fluke play when Irby was stripped, and the Pitbull defender took it to the house from 50 yards out.  The Pitbull's extended the lead in the fourth quarter on an 8 yard run and then a 30 yard touchdown pass to another wide open receiver.
The Nightmares will need to sure up that secondary quickly.  It may be tough however, as they are missing standout safety Chase Laudato.  The Pitbull's made 3 of 5 two points attempts tonight, as their place kicker was hurt.
The Nightmares will look to bounce back next week as they travel to Summit County to take on the Storm.

NEO Sports Insiders Newsletter
Sign up to receive our NEOSI newsletter, and keep up to date with all the latest Cleveland sports news.