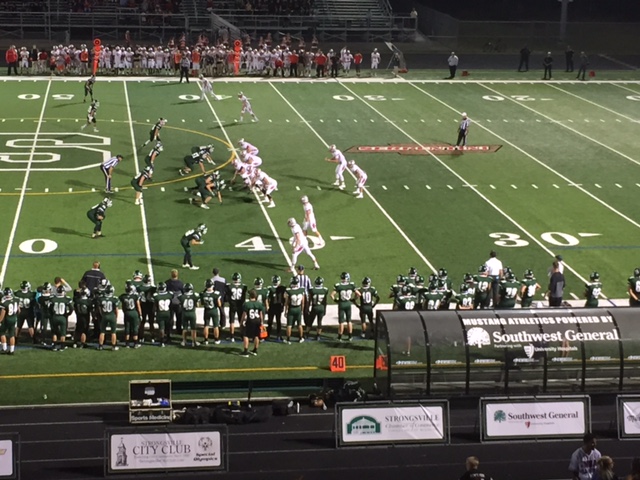 STRONGSVILLE, OHIO– Behind a strong defensive effort that included two interceptions returned for touchdowns the Strongsville Mustangs beat the Elyria Pionerrs 56-14. The win brings the Mustangs to 5-4 and 3-3 in the conference. The loss for Elyria is their eighth of the year, moving their record to 1-8.
Strongsville scored quickly on their opening drive with runs of 45 yards and five yards from Taylor Griffin, the latter being a touchdown. The Pioneers came right back and scored on a long drive capped off by Tristan Arno. The Mustangs added a score late in the first quarter, a seven-yard touchdown by Griffin.
The Pioneers offense would start to sputter. Two drives later Elyria QB Dontae Beckett would have his pass picked off and returned for a touchdown, a scenario that would replay itself later in the third quarter. Mustangs' QB Jony Major would add a two-yard touchdown run just before halftime, giving Strongsville a 28-7 advantage.
Griffin added a 31-yard touchdown in the third quarter to give the Mustangs a 35-7 lead. On the next drive, Strongsville defensive back Zach Savage picked off Beckett's pass and turned it into six points, ballooning the lead even further. The Pioneer's lone bright spot in the second half came on the 83-yard kick return for a touchdown by Aaron Frost.
The Mustangs will finish off their season on the road against the rival Brunswick Blue Devils. Both teams sport a 5-4 record. Meanwhile, Elyria's season will come to a merciful conclusion against the powerhouse Mentor Cardinals.