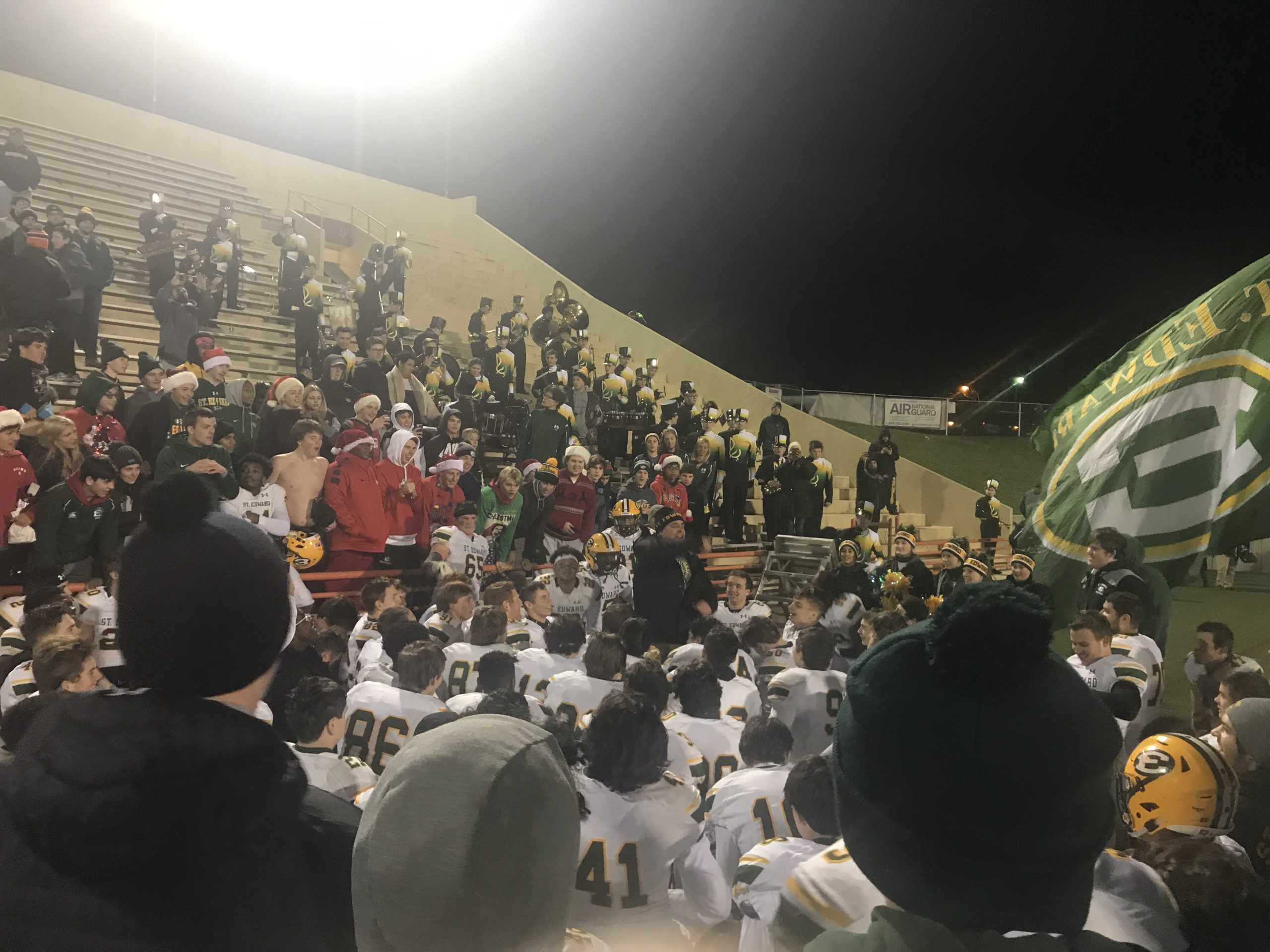 Mansfield, OHIO- A commanding effort on both sides of the ball is what pushed St. Edward to defeat Olentangy Liberty 42-16 Friday night.
Turnovers proved to be the difference maker in the game for the Patriots. They ended up turning the ball over four times during the loss. The first three turnovers occurred in the first half and they all were ended up in the hands of junior defensive back Lawson Nash.
The three turnovers in the first half all resulted in touchdowns, two rushing scores from senior running back Jordan Castleberry and the third was a scoop and score that Nash took back 58 yards.
"I was in the right place at the right times," Nash said. "My coaches had a great game plan."
The stout defensive effort gave St. Edward a 21-9 halftime lead and their momentum from the first half would eventually carry on into the second half. They were able to score two more touchdowns, the first one was a rushing touchdown from Garrett Dzuro early.
The second touchdown came after St. Edward stopped Olentangy Liberty on a fourth down and short inside Eagle territory. From there, Dzuro connected with Quintel Kent 48 yards to push their lead to 35-9 with just over one minute left in the third quarter. Both teams would each score one more time in the fourth quarter but the early troubles for the Patriots were too much to overcome in the end.
The Eagle defense stepped up big when they needed it. From multiple fourth down stops to four turnovers, they were the spark St. Edward needed to help extend their season to one final game on the biggest stage.
They held Olentangy Liberty quarterback Mitchell Okuley to 247 yards through the air, zero touchdowns and two interceptions while both running backs for the Patriots combined for just 61 yards on 20 total carries.
The defense for St. Edward has now shut down the rushing attacks for Mentor and Olentangy Liberty in back-to-back weeks to lead them to the state championship game. Senior quarterback Garrett Dzuro has trust in his proven defense when it matters the most.
"When we need them, they'll come up," he said. "That's just something special."
As for the Eagles, Garrett Dzuro completed 10 of 12 passes for 138 yards and one touchdown through the air while leading the team in rushing as well, running for 100 yards on 16 carries and another touchdown. Jordan Castleberry and  Joesph Formani combined for three touchdowns on 23 carries that went for 68 yards as well.
The Eagles are now heading back to the state championship game for the first time since they won it back in 2015. With Colerain defeating Pickerington Central 28-14, St. Edward has a chance to win its second state championship in four years. 
"This is what we prepared for, this is what we worked for," Lawson Nash said. "We're not done yet. We're looking forward to next week and it's a big opportunity we have."

NEO Sports Insiders Newsletter
Sign up to receive our NEOSI newsletter, and keep up to date with all the latest Cleveland sports news.