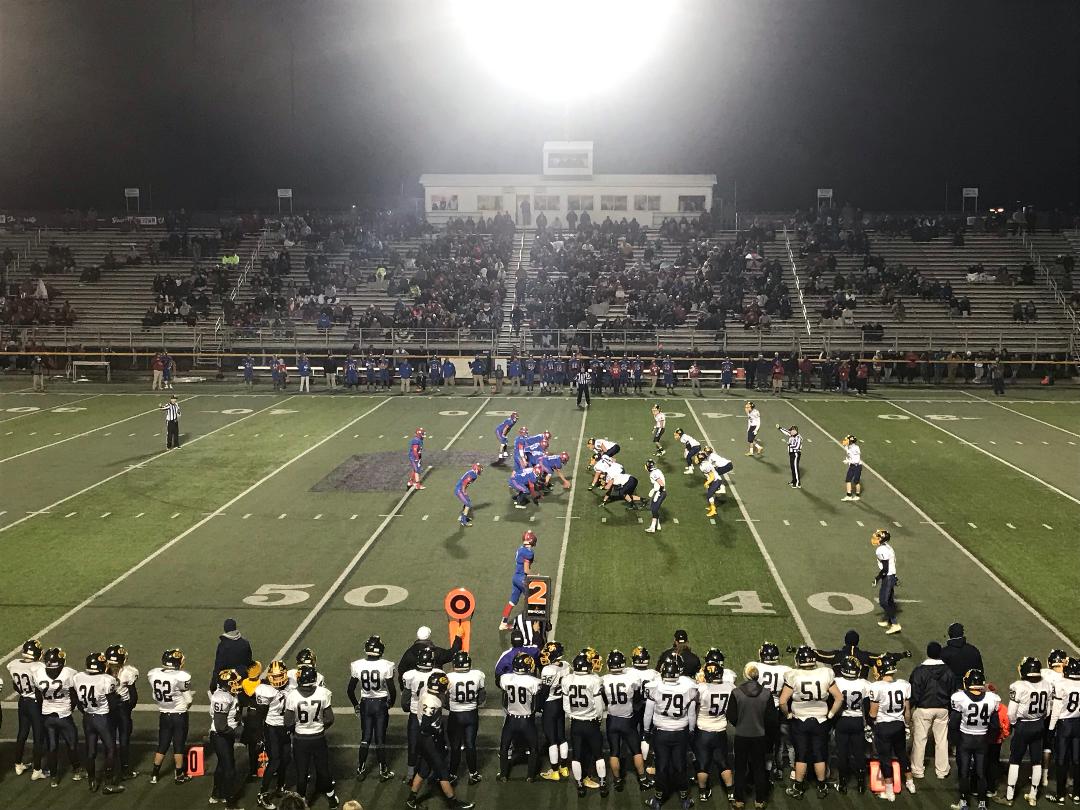 MASSILLON, Ohio – The Kirtland Hornets used a strong offensive first half and a solid defensive second half en route to a 35-18 win over the Beverly Fort Frye Cadets in the Division VI state semifinal at Robert Fife Stadium.
"We gutted out tonight's game with a better second half performance then the first half," said Hornets head coach Tiger Laverde. "Our defense kept them off the scoreboard in the second half and that was the difference. We moved the ball very well all game but our defense gave up some key plays on third/fourth and long."
Kirtland took advantage on a Cadets turnover on their first drive with a touchdown. After Dominic Capretta picked off a Fort Frye pass, Joey Torok punched it in from 21 yards out. Kirtland took a 7-0 lead with 10:32 left in the first quarter.
Fort Frye marched back down the field with a ten play, 56 yard drive as Tate Engle completed a five yard pass to Zane Greenleaf. The Cadets' two point attempt was no good as the Hornets held a 7-6 lead with 5:17 left to go in the first quarter.
Four plays after a potential touchdown was wiped out by a holding penalty, Tommy Powers broke free for a 34 yard touchdown run for the Hornets. Kirtland added to their lead, leading 14-6 with two and a half minutes to go in the first quarter.
The Cadets converted a fourth down and 12 inside the red zone to trim the Hornets lead to two in the opening minute of the second quarter. Engle found a diving Brian Adkins for a 15 yard touchdown. Beverly Fort Frye attempted a two point try and came up short, keeping the lead to 14-12.
Kirtland scored their third touchdown of the night on a seven play, 64 yard drive that took three minutes. Jake Neibecker dove in from one yard out for the Hornets. Kirtland led 21-12 with 8:12 left before half.
Fort Frye responded with a score six minutes later. The Cadets got a eight yard touchdown pass from Engle to Brenden Huck and the two point try failed. Kirtland took a 21-18 advantage into the locker room.
Kirtland outgained Fort Frye 217-162 in the first half with 183 rushing yards.
Both defenses showed up in the third quarter as both teams forced a punt and the Cadets forced a fourth down stop.
Kirtland's defense forced a second interception early in the fourth quarter when Conner Grom picked off a pass and returned it to the red zone. Neibecker pushed the advantage to 28-18 with a five yard touchdown run with 10:26 to go.
The Cadets drove 15 plays to try to get within one score but the Hornets defensse held tough on a fourth and ten from the ten yard line, forcing a turnover on downs.
Kirtland drove 96 yards to ice the game as Tommy Powers clinched a seventh state title berth with a 51 yard touchdown run with 1:48 to go. The Hornets defeated the Cadets 35-18 as the final score.
The Hornets finished the game with 447 total yards, 390 on the ground and 57 passing. Powers was four of seven passing with 57 yards along with 121 rushing yards on seven carries for two touchdowns. Neibecker was the leading rusher with 154 yards on 21 carries and two scores.
The Cadets had 291 total yards with 203 rushing and 88 passing yards. Engle completed 11 of 18 passes with three touchdowns and one interception. Tyler Fisher had 85 rushing yards on 12 carries with three catches for 34 yards.
"You are going to play a good football team when you get to this level in the season. They executed with some really skilled guys over there. They hurt us but our kids hung in there and we battled as the game went on.
The Hornets will play Maria Stein Marion Local in the Division VI state title game at Tom Benson Hall of Fame Stadium next weekend. The Flyers defeated the Seneca East Tigers 34-6.
"These kids work so hard and I'm proud of them to be able to experience going to the state title game. Not everyone gets to play for a state title but these kids earned it. It will be a thrill of a lifetime for them."
Story by Tyler Stotsky

NEO Sports Insiders Newsletter
Sign up to receive our NEOSI newsletter, and keep up to date with all the latest Cleveland sports news.