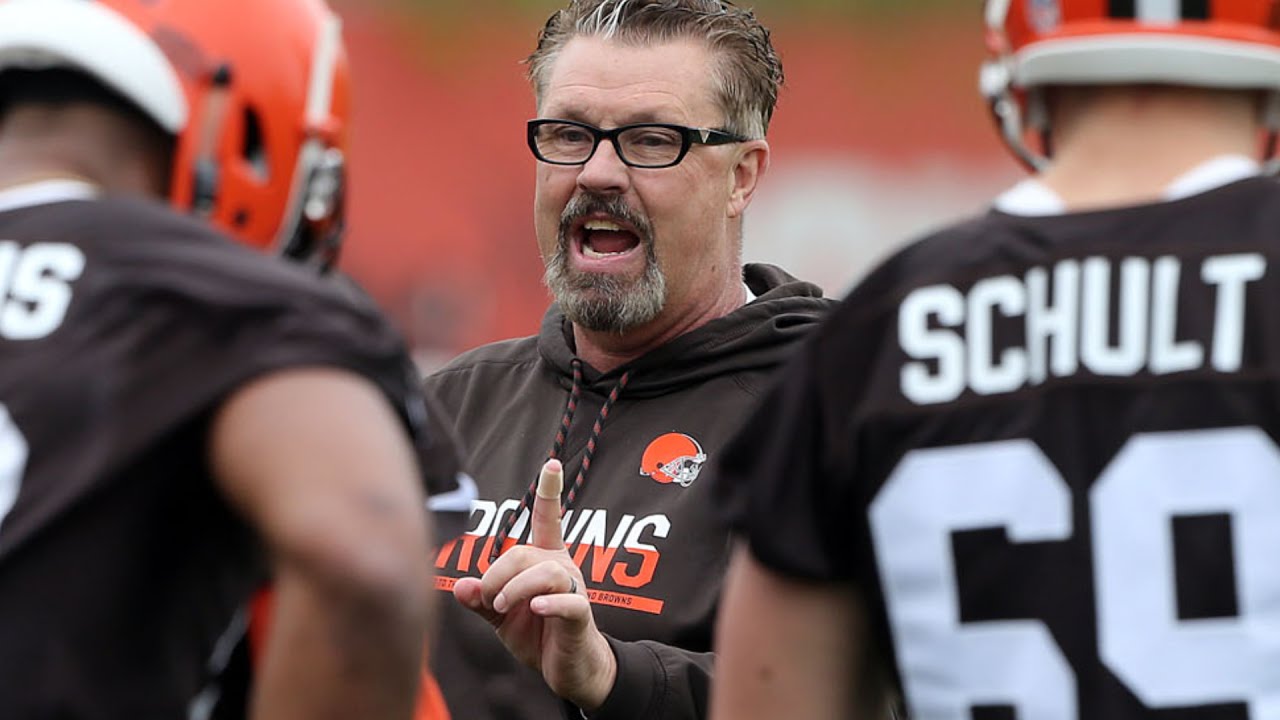 The Browns head coaching search is off and running with interim head coach Gregg Williams first up to be interviewed today. Williams certainly earned himself an interview after guiding the Browns to a 5-3 record over the final eight games of the regular season and a 7-8-1 record overall.
All that seems to matter very little though according to reports from over the weekend that say Williams isn't the organization's top choice for the job. Thus far, the Browns have been linked to more than 10 potential coaching candidates including Williams and offensive coordinator Freddie Kitchens. Names like ex-Packers head man Mike McCarthy, recently fired Adam Gase and Patriots defensive coordinator Brian Flores have all been mentioned as candidates to fill the void, among others.
Williams has certainly made John Dorsey's decision more difficult though. What many figured was an eight-game march to unemployment for Williams when he took over the head coaching job midseason, turned into establishing a winning culture here in Cleveland. Not only that, but it's pretty obvious that Williams has the respect of the locker room as well, which can't be overstated. With the locker room united around him, moving on from Williams could backfire if Dorsey makes the wrong hire.
Should Williams be retained as head coach full-time? And if not, who is? Our staff answers both those questions below…
Matt Leode (@MattLoede) 
1) At the end of the day Williams did an amazing job, but there were a couple of questionable decisions that I think will make it easier for Dorsey to move on from him – the end of the game gaffe in Denver that nearly cost them on 4th down, and the defense against the Ravens was run over for most of the half. Still, I think Williams is a very good coordinator – just an average head coach.
2) I still think a Bruce Arians would be a perfect fit for this team – the ability to mold and teach Mayfield and also develop the run game with Chubb as the feature back from day one. Arians is a players coach who can motivate – and I see him with the ability to take the franchise to the next level.
Mike Rodgers (@Mike_Rodgers15)
1) I think Greg Williams has definitely earned an interview and should be considered as the next Browns head coach. He has been direct with the player's roles and has held them accountable. That being said I don't believe he will be the coach moving forward. However, I do think the Browns should consider retaining him as defensive coordinator.
2) My original favorite candidate to get the Browns job was John Harbaugh. I highly doubt he'll be available now after the job he's done this year with the Ravens. I think now I would target Adam Gase. He's young and was able to get the most out of Jay Cutler and worked well with Peyton Manning. Ryan Tannehill has never been a quarterback to feel confident about and Baker Mayfield is definitely the opposite of him. Mayfield would benefit from Gase's offensive scheme.
Tim Whelan (@Tim_Whelan216)
1) Gregg Williams has earned the right to be interviewed. He has made one of hell of a case to be the next head coach of the Browns, but the Browns shouldn't just hand him the job based on the performance of the team after he was named interim. The long-term of Gregg Williams and the relationship with Baker Mayfield is extremely important.
2) Someone I don't think is getting enough attention is quarterback coach of the Houston Texans, Sean Ryan. He's mostly been a wide receiver and quarterback coach in the NFL. He has both college and NFL experience. He began in the NFL in 2007 with the New York Giants. Some Browns fans may remember it came down him, Matt Patricia, and Hue Jackson before the Browns ultimately chose Jackson. The quality of work has shown with the Texans. He's a done a tremendous job with quarterback DeShaun Watson. Who is only in his second year as a pro. He is 46 years old. The age is perfect wfor their long-term plan.
Spencer German (@Spencito_)
1) It came as a bit of a shock when Gregg Williams was promoted to head coach mid-way through the season following Hue Jackson's firing. It's safe to say the majority of Browns fans didn't expect to be discussing the possibilities of Williams being the head coach full-time back then, but here we are. Williams has done an admirable job with this team and helped establish the foundation of a winning culture that hasn't been seen from the Browns in literal decades. That said, is eight games enough of a sample size to say, "yes, he's the guy we want coaching this team for years to come?" I'm not convinced. The Browns can't simply settle for Williams because he was better than his incompetent predecessor. With a tip of the cap to Williams he isn't the long-term answer.
2) Truthfully, my favorite candidate has been and still is Josh McDaniels. His name was just floated out there today by Jason La Canfora who says the Browns do want to interview the Patriots OC. Despite how he shafted the Colts last offseason, McDaniels is my preference. He's the innovative offensive mind I want paired with Baker Mayfield for the next decade plus. Sure, his first stint as head coach in Denver didn't work out but there a plenty of coaches who flop their first time around, learn from it and make the most of a second opportunity – including McDaniels mentor Bill Belichick. Ultimately, this feels like a down year to be hiring a head coach. Names like Mike Munchak, Kevin Stefanski  and Brian Flores feel lackluster. I am intrigued by Gase having a real talent to work with at quarterback. Outside of McDaniels though, I'd honestly probably prefer Freddie Kitchens over most of the other candidates.

NEO Sports Insiders Newsletter
Sign up to receive our NEOSI newsletter, and keep up to date with all the latest Cleveland sports news.