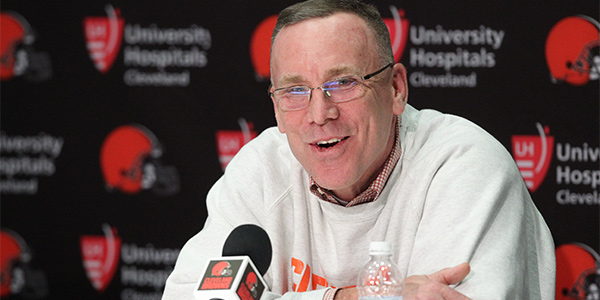 BEREA, OH – Speaking with the media in the team's annual postmortem, end of season press conference, Browns general manager John Dorsey fielded plenty of questions about the team's looming search for a head coach. With one report already suggesting that they made their hire in ex-Packers head man Mike McCarthy, Dorsey made it clear right off the bat that the team will be conducting a thorough search.
"I know eventually you guys are going to want to talk about the coaching search," Dorsey began. "I just want to let you know it is going to be very thorough. It is going to be very deliberate. Dee and Jimmy (Haslam) have asked me to take the lead in the process, along with various members of this organization. We have formed a search committee. It is going to help us find the best available coach for this organization moving forward."
Those aren't  the remarks of a man who has already found his head coach. Dorsey wouldn't reveal who specifically within the Browns organization was part of that search committee, but heir work will reportedly begin tomorrow with their first interview of the process with incumbent head coach Gregg Williams.
"We are going to interview Gregg tomorrow," Dorsey said."I want to see his overarching vision and plan for this organization moving forward. I want to hear his thoughts on the team moving forward, but I also want to be able to explore multiple options out there in the National Football League and just see who fits this organization moving forward. There may be some guys out there that we do not know about yet so I just want to explore all options and make the best decision for this organization."
After guiding the Browns to a 5-3 record over their final eight games, Williams has certainly earned himself an interview with the team. Much like much of the Browns fanbase, the team's locker room clearly came to respect Williams and played for him. Dorsey praised Williams for his ability to teach and develop the Browns young roster over his eight games in charge. And yet, reports from the weekend suggest that Williams is far from the organization's top candidate for the job.
Williams isn't even the only man in the building set to receive an interview from the Browns brass. Dorsey revealed that they will also interview offensive coordinator Freddie Kitchen for the job after his late season success with rookie quarterback Baker Mayfield and the offense. As Dorsey put it, they want to learn more about the 44-year-old, first-time OC. The Browns GM gave no indication of when Kitchens' interview would be conducted.
"I think he has earned [earned an interview]," Dorsey stated. "He has done a nice job in his role as offensive coordinator. I think this organization wants to get to know him a little bit better. We will eventually get him in an interview slot and move forward."
As far as McCarthy is concerned, he may not be the head coach yet, but according to Cleveland.com the Browns brass has reached out to the Super Bowl winning head coach. Dorsey was tight lipped on addressing any potential candidates outside of the walls of the team facility.
"I have a lot of respect for Mike McCarthy and for what he has done," Dorsey said. "I am not going to go into details about who is and who is not on our list."
Same goes for Patriots defensive coordinator Brian Flores, whom the Browns have been linked too as well.
"I have not seen that report," Dorsey remarked. "He is a very highly qualified young man, but I am not going to talk about the guys we are going to possibly interview."
Throughout the majority of the nearly 21-minute media session, Dorsey avoided giving much of anything away in regards to candidates they are interested in. All that is really known is that Dorsey will lead the search along with his committee. He also did reiterate that he is looking for a man of character that can seize respect inside a young locker room and lead them.
No member of the current roster is more important than quarterback Baker Mayfield. Whoever is brought in to be the franchise's next head coach will have a huge impact on Mayfield's future, to the point were some have wondered whether or not Mayfield would get some say in who his next head coach would be. Dorsey made it clear that consulting with Mayfield is not part of the process.
"When you interview coaches, you want to see and ask them, 'What do you think of our team?," Dorsey explained. "Strengths and weaknesses, how can you build upon that?' That is kind of what you look for in these types of interview sessions. This is a quarterback-driven league, and he is a very important piece to that. Will he have any say in the interview? No, he is not going to. Let management take care of that."
Still, Mayfield's presence on a young, talented team with plenty of cap space makes the Browns job one of, if not the most attractive head coaching job in the NFL. Now it's up to Dorsey and company to get it right. They'll have plenty of competition though as the Jets, Broncos, Buccaneers, Cardinals, Dolphins and Bengals all have coaching vacancies to fill.
Follow: @Spencito_

NEO Sports Insiders Newsletter
Sign up to receive our NEOSI newsletter, and keep up to date with all the latest Cleveland sports news.