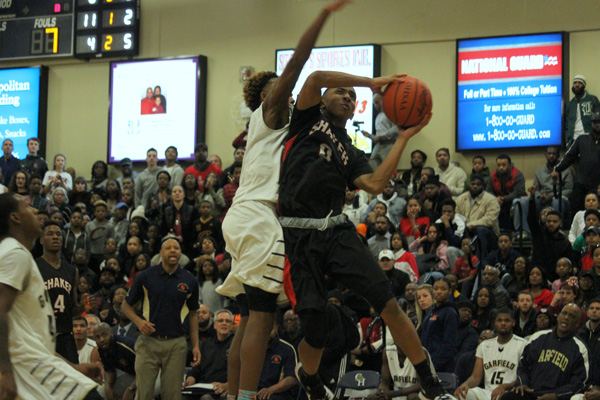 SOLON, OHIO– For the second straight year, Garfield and Shaker met in the district championship at Solon. Saturday night, it was the Raiders that were celebrating on the court with their fans as they defeated the Bulldogs 63-60.
After the loss to Garfield on Dec. 20, coach Young and his team made it clear that they will not feel that way again when they meet up in the playoffs. That message was received and Shaker held off Garfield to win their first district championship since 2015.
"That was a hard-fought game," Young said. "My guys told me they had me. We had a lot of ups and downs but I knew we could get to this spot."
Christian Guess led Shaker with a team-high 19 points. Dakota Cochran added 14 points along with Dale Bonner's 13 points.
From the emphatic dunks to the pressure defense, Guess was all over the court tonight to make sure he wouldn't get beat again by Garfield. The emotions displayed on the court from the 6-foot-6 senior forward is confidence and he doesn't want anybody to think differently.
"I am confident in everything I do," Guess said. "Everybody says it's cocky, but I call it confidence because I work hard for this and this is what I do."
Shaker started the game off in dramatic fashion. An 11-0 run to start the game helped propel Shaker to a comfortable lead all first half. The lead would be 14 points after the first quarter. The zone defense along with their robust defense forced Garfield to turn the ball over frequently.
After a back-and-forth second quarter that ended with an Alonzo Gaffney dunk at the buzzer, the deficit at halftime would be 15 for Garfield.
From there, the Garfield comeback started. The lead would be just eight points entering the final quarter.
The Bulldogs would get within three points late in the fourth quarter thanks to stellar play from behind-the-arc from freshman Meechie Johnson. What would seal the deal was the defensive stops late in the game that would lead to free points from the free throw line.
As the clock hit double zeroes, the Shaker fans would run onto the court to celebrate the district championship, something that was not easy to get.
As for Garfield, Meechie Johnson would lead the way with a game-high 20 points, including hitting six three-pointers. Alex Heath finished with 12 points along with Alonzo Gaffney's 10 points.
Coach Johnson said a slow start is what hurt them the most but gives Shaker the credit they deserve after defeating them for the district title.
"Shaker deserves it," he said. "They came out with a lot of heart."
The win now advances the Raiders into the regional semifinals where they will play the Solon Comets Wednesday night inside Cleveland State's Wolstein Center. How will they prepare to face the sharp-shooting Solon Comets?
"We're gonna play Shaker basketball," Christian Guess said. "That's what we're going to do."