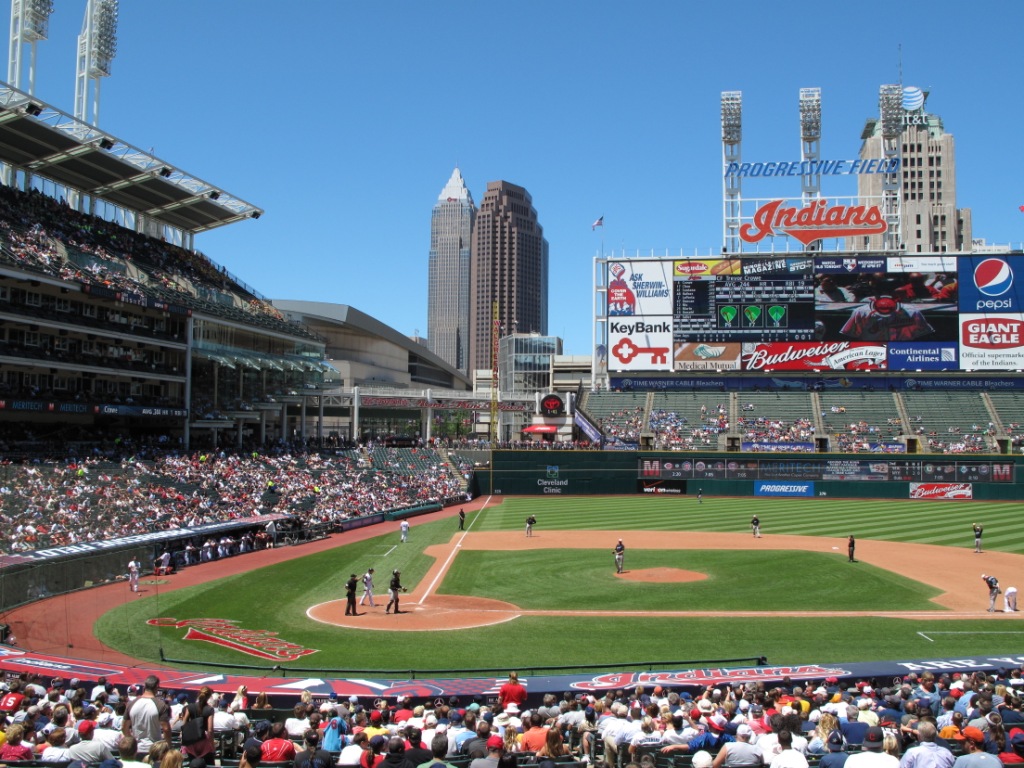 CLEVELAND – The Indians remain 4.5 back of a wild card spot in the American League, and tonight they take on the Royals in game two of a four-game set at Progressive Field. Josh Tomlin who has been very good since his return to the rotation is on the mound tonight for the Indians, against Kris Medlen who is making his 5th start of the season and 12th outing overall. Medlen missed all of last season after having 'Tommy John' surgery in the spring while with the Braves.
Matchup: Indians (71-71) vs Kansas City Royals (84-59) 7:10 at Progressive Field – Game #143 Home Game #67
Pitchers: Indians – Josh Tomlin (5-1, 2.85) vs Royals – Kris Medlen (3-1, 4.58)
Media: TV – SportsTime Ohio Radio – WTAM, WMMS, IRN
6:40pm – It's a picture perfect night for baseball, temps are expected to be in the mid to lows 70's at first pitch, and there's not a cloud in the sky.
7:21pm – Tomlin plays with fire in the first allowing two long fly balls, but gets out of the frame 1-2-3. Francisco Lindor doubles for the first hit of the game with one out off Royals starter Kris Medlen.
7:27pm – Indians done in the first after the double does no damage, Brantley fouls out to first, and Lonnie Chisnehall hits a hot shot to the mound that Medlen is able to handle and throw him out to end the frame scoreless.
7:36pm – Following a single to start the second, the Indians turn a nifty 3-5-3 double play with the shift on to get a twin kill to assist Tomlin.
7:38pm – Two ugly plays end up as a double for Mike Moustakas. He hits a foul ball that Yan Gomes can't find which drops, and then Abraham Almonte misjudges a ball and it hits off the wall for a double. He goes to third on a wild pitch.
7:40pm – The Royals get the lead for the second straight night, as Salvador Pérez singles to center to make it a 1-0 game.
7:59pm – Great tweet from Indians analyst Jensen Lewis, who gives us a quick look at the Indians pitching staff the last 5 starts. Tomlin: 5-0, 2.86 Anderson: 2-0, 4.21 Salazar: 2-2, 5.02 Bauer: 2-2, 5.26
8:02pm – The Indians have two hits – both from rookie Francisco Lindor, a double and now a single.
8:09pm – Another solid inning for Tomlin who gets KC 1-2-3, he's at 53 pitches through 4 innings, 37 strikes. Now if the Indians could get some offense.
8:15pm – Shift pays off big time for KC on Carlos Santana, as Ben Zobrist makes a great play in short right, then throws out CSan by a step at first.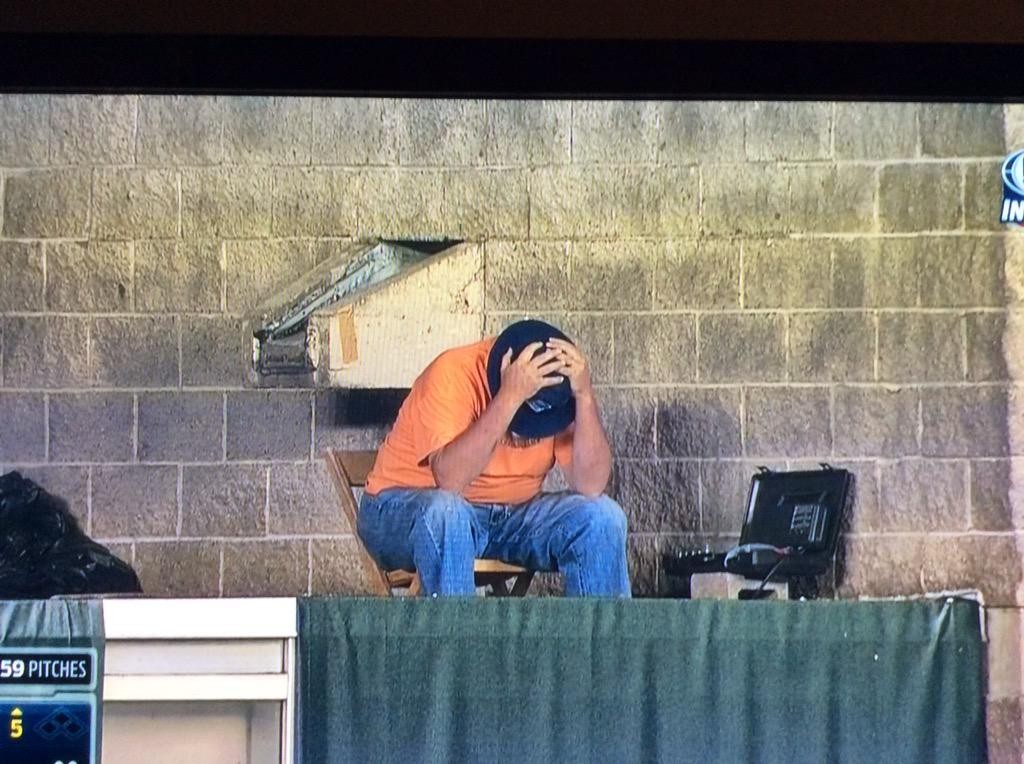 8:28pm – Well the fireworks guy at Progressive Field sure did mess that one up. With two outs in the 5th Alex Rios hit a solo homer and the person in charge of the fireworks set some off as if the an Indians player had hit a blast. WHOOPS!
8:35pm – Kipnis flies out to end the Indians 5th, still trailing 2-0. Medlen has done a nice job against the Tribe offense. In his last outing he went 6 innings allowing two runs on six hits in a no-decision against the Twins. He's at 73 pitches so he's probably only good for another 1-2 innings.
8:48pm – Not much has gone the Indians way tonight, a lot of hard hit balls but nothing to show for it. Another scoreless inning as we go to the 7th with the Royals up 2-0.
8:55pm – Tomlin records his 6th K of the night, he once again has pitched well and has kept the Indians in the game, but no offense off Medlen as "Take Me Out to the Ballgame" plays mid 7th.
9:02pm – Yan Gomes gets the Indians 4th hit of the night, a single to right with one out in the 7th to again send the tying run to the plate.
9:10pm – Royals make a pitching change with two on and one out as they go to Ryan Madson. He gets Abraham Almonte to K for the second out leaving it up to Gio Urshela.
9:11pm – The Royals pen does the job as Madson gets Gio swinging to end the 7th, Indians still trail 2-0.
9:26pm – Another shot for the Indians in the 8th as Carlos Santana comes up with Michael Brantley on first and two outs with a shot to tie it on one swing.
9:30pm – Santana goes down looking on what looked to be a ball just inside. Indians down to their last 3 outs when they come up in the 9th, hopefully only trailing 2-0.
9:35pm – Nice ovation for Tomlin, who goes 9 for the Indians despite them being down 2-0. On the night he allowed just two runs on four hits with no walks and 6 strikeouts.
9:38pm – Lonnie Chisenhall draws a leadoff walk to start the Indians 9th off Greg Holland.
9:39pm – Gomes hits a line drive that hits off the mitt of Alcides Escobar, and trickles into left field. Indians have two on with no outs, and Mike Aviles pinch-hitting for Chris Johnson.
9:43pm – Indians down to their last out after a bad bunt by Aviles turns into a fielder's choice, and then Almonte finishes his 0-for-4 night with a weak foul out to third.
9:44pm – Wild pitch and the Indians runners move up to second and third.
9:45pm – Gio strikes out swinging to end the contest. 2:34 but the Tribe with a tough setback 2-0 to fall back to under .500 at 71-72 on the season. Tomlin's five-game win streak also snapped.

NEO Sports Insiders Newsletter
Sign up to receive our NEOSI newsletter, and keep up to date with all the latest Cleveland sports news.