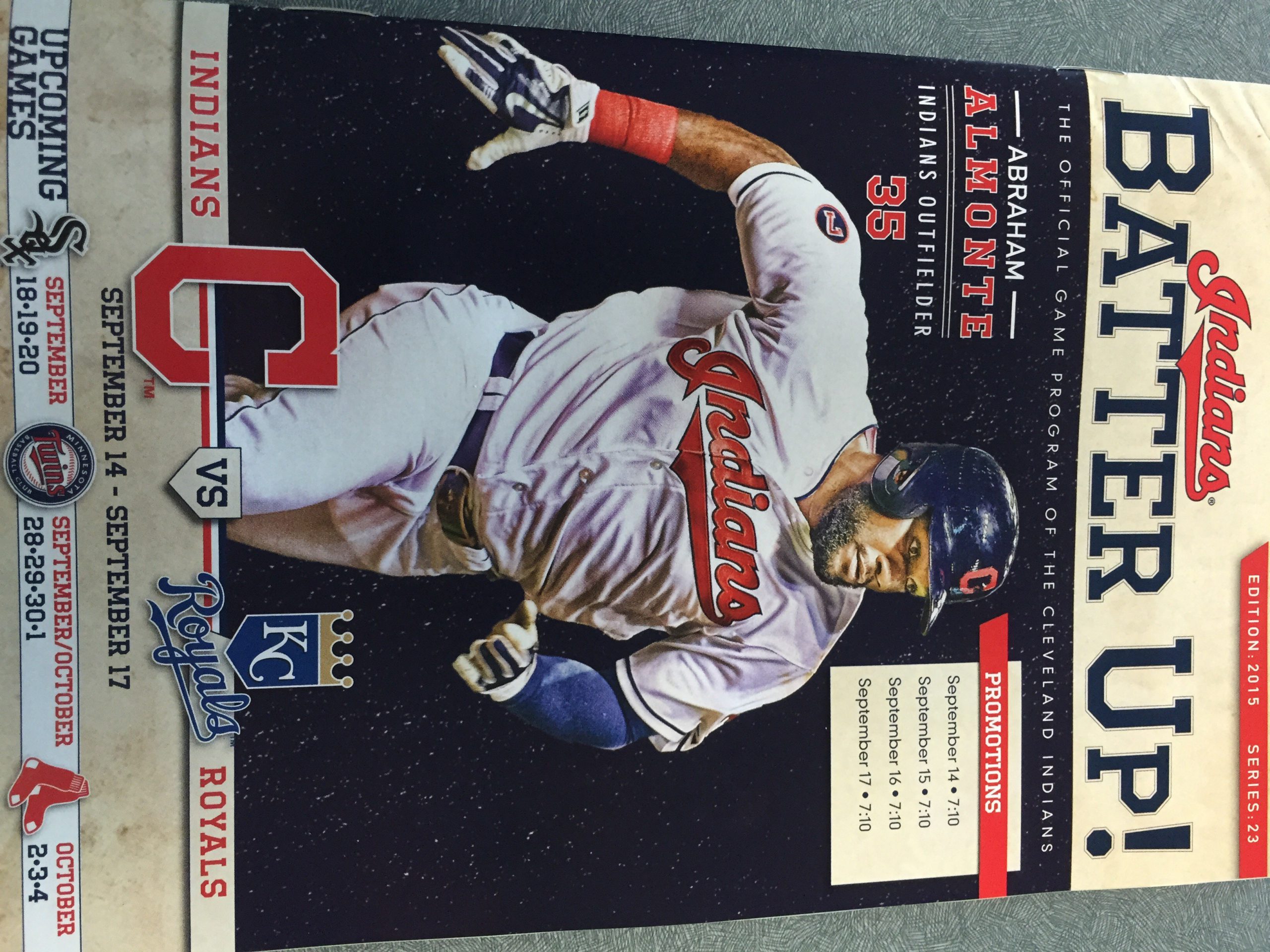 CLEVELAND – The Indians are back at it tonight, a day after a twin bill with the Detroit Tigers in which they took game one by a score of 7-2, and then fell in game two by a 9-2 count. Tonight they host the AL Central leading Kansas City Royals, whose magic number to clinch the AL Central is 11 games in the first of a four-game set.
Matchup: Indians (70-71) vs Kansas City Royals (84-58) 7:10 at Progressive Field – Game #142 Home Game #65
Pitchers: Indians – Carlos Carrasco (12-10, 3.70) vs Royals – Edinson Volquez (13-7, 3.49)
Media: TV – SportsTime Ohio Radio – WTAM, WMMS, IRN
6:39pm – Here's tonight's Indians lineup: Kipnis DH Lindor 6 Brantley 7 Santana 3 Chisenhall 9 Gomes 2 Almonte 8 Urshela 5 Ramirez 4
7:12pm – Well that started fast, Carrasco gives up a solo HR to Alex Gordon to start the game to give KC a 1-0 lead.
7:23pm – Jason Kipnis ties it at one in the first with his 8th HR of the season, a bomb to right center off Volquez, came on a 1-2 pitch.
7:38pm – Carrasco strikes out two in the second as the Royals go 1-2-3 with the game tied at one apiece.
8:00pm – Michael Brantley gets rung up looking on a pitch that clearly looked out of the zone by home plate ump Jeff Nelson. Brantley looked back and gave some lip after the call rightfully so.
8:03pm – Two on with two outs in the third following a walk for Lonnie Chisenhall.
8:04pm – Chisenhall hits a double to right, Alex Rios gets a great bounce, and then Ben Zobrist for whatever reason didn't throw out Chisenhall who was hesitant to go from first to second. Ruled a double and the Indians get a run to make it 2-1.
8:22pm – The Indians get another Mario Coin as Gio Urshela goes deep for the 6th time this year on a 1-1 pitch to the bleachers in left center to make it a 3-1 Tribe lead. It's the 20th RBI for Gio on the season. Volquez had allowed just 12 HR's in 175.1 innings entering tonight's game, and has allowed two HR's to Indians batters in 3.1 innings.
8:41pm – Indians have a shot to put some serious distance between them and the Royals right now, as they have the bases loaded with no outs in the 5th with Chisenhall back at the plate
8:45pm – Sac fly by Chisnehall gives him two RBI on the night and scores Francisco Lindor to make it a 4-1 Indians lead with one out in the 5th.
9:11pm – Carrasco gets out of a jam in the 6th, allowing a hit and a couple walks, but getting a ground out to end the frame.
9:27pm – The official line on Indians starter Carlos Carrasco, 6 innings, 5 hits, 1 ER 2 BB 9 K, 82 pitches, 56 strikes. A much better start than his last in which he went just 2.2 innings in a 7-4 loss to the White Sox on September 8th.
9:33pm – Urshela makes a nice play but his throw pulls Santana off the bag at first as the Royals push one across to make it a 4-2 game with two outs in the 7th. Gio made a nice scoop on the slow roller, but his throw was just a bit off target.
9:36pm – Ben Zobrist with a dribbler down the third base line and this time Urshela doesn't even try to make a throw. Another Royals run comes across and it's now a 4-3 game with two on and two out in the 7th.
9:52pm – Chisenhall with a big RBI gets a run back for the Tribe with one out in the 7th, a single to right that scores Brantley to make it 5-3, and then two more Mario Coins as Yan Gomes double to right center to clear the bases to put the Indians safely back in the lead at 7-3.
10:10pm – 10,356 the announced attendance here at Progressive Field tonight.
10:16pm – Francisco Lindor hits one that appears to be a homer, but as of this moment it's called a triple on the field – bit they will review it – looks like a homer. A run scored no matter, and the Indians lead it 8-3 in the 8th.
10:18pm – a 50 second review goes against the Tribe, and it's ruled a triple, the second of the year for the guy that looks to be gaining steam as the possible AL Rookie of the Year.
10:32pm – That's the ball game, a 3:21 affair in which Carlos Carrasco pushes his record to 13-10 on the season and the Tribe is now 71-71 on the season, and will have a shot to get over .500 Tuesday night in game two vs the Royals.

NEO Sports Insiders Newsletter
Sign up to receive our NEOSI newsletter, and keep up to date with all the latest Cleveland sports news.