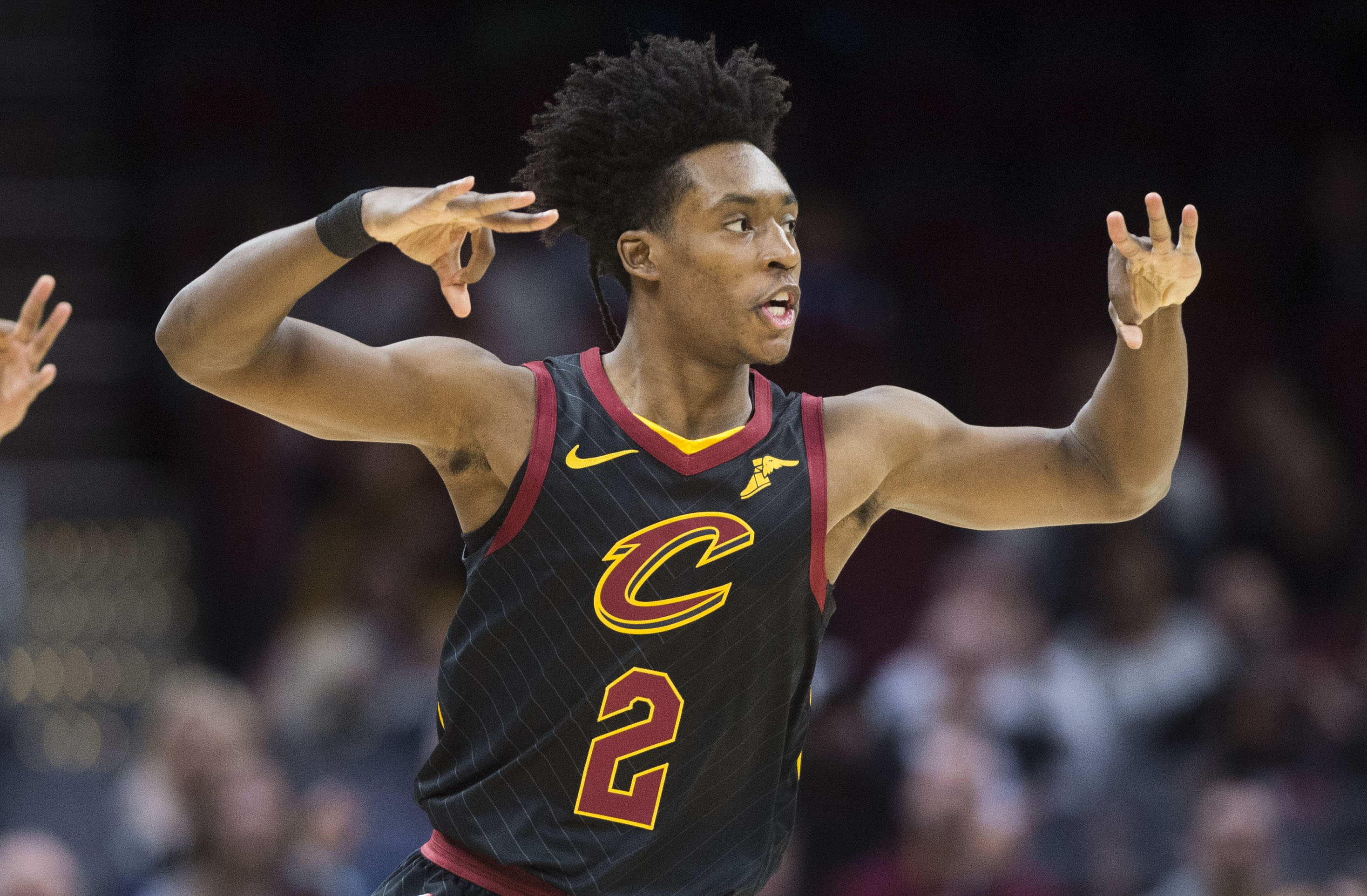 The Cleveland Cavaliers battled the Golden State Warriors on Wednesday night but were outlasted in a war of attrition that saw the Warriors' MVPs, Kevin Durant and Stephen Curry, combine for 32 of Golden State's 71 second-half points and ruin what had been fairly close game for more than a half.
The Cavaliers led the Warriors 64-58 after the first quarter after a wonky alley-oop from shooting guard Jordan Clarkson to swingman Rodney Hood capped off the second quarter but, utilizing 11 first points from Hood and 10 three-pointers to stay on pace with the reigning champions. Cleveland, however, only made one three-point attempt in the second half as Hood (6-10 in the first half, 0-6 in the second half) went cold from the field and teammate Alec Burks had his worst game of the season after going 2-10 from the field and struggling to finish over the Warrriors length or hit the trey ball (1-5 from three-point range).
After playing Golden State close for a half and only being defeated by the team's future Hall of Famers, it's hard to say the Cavaliers should hang their heads after Wednesday's loss. There were, however, plenty of lessons to be learned following Wednesday's "building block" game.
The Cavs are one piece away
While watching the Cavaliers face the Warriors and their superior collection of talent, one thought crossed my mind throughout the affair that I couldn't seem to shake.
"If the Cavs had just one elite playmaker, this would be an entirely different game."
For those that believe five-time All-Star Kevin Love is the player I'm referring to, I'm not. Love, through no fault of his own, is a player that needs to be set-up himself — and often — for a score and he doesn't pass out of double (or triple teams) in the post to find the open man nearly as much as he should. Especially for a player with his basketball IQ.
However, a perimeter playmaker who can consistently penetrate the teeth of the defense, knock down three-point attempts and work his teammates open for easy points would have changed the complexion of the entire game on Wednesday. That player may be Duke University's R.J. Barrett, who's averaging 23.6 points, 7.2 rebounds, 4.0 assists and 1.0 steal per game while shooting 48.0 percent from the field and 38.0 percent from three-point range (for comparison, teammate Zion Williamson is averaging 2.2 assists per game and shooting 15.4 percent from three-point range).
To be frank, though the Cavaliers don't seem playoff-bound, improving as a team — both in terms of habits and execution — is still the priority for Cleveland. That's why it's encouraging to see the Cavaliers' sticking with the top teams for at least one half of basketball and showing that they have a few players that can be valuable pieces for a playoff team, especially as they continue to develop.
They're more invested in shooting the long-ball
Entering Wednesday's game, the Cavaliers were ranked dead last in the league in three-point conversions (8.2) and attempts (23.3) per game but they launched 32 three-pointers making 11 against the Warriors, making 11. Though they shot just 34.4 percent from three-point range, they generated plenty of clean looks from behind-the-line, utilizing off-ball movement or screens to generate looks for Hood in the corner or a player like Cedi Osman above the break.
It was one of their most impressive outings from three-point range in terms of their ability to create open three-point attempts and their willingness to take those shots rather than stepping forward to take a long two-point attempt.
After speaking at length about Cleveland needing to be "more conscious" about shooting three-pointers versus long twos prior to tipoff, Cavaliers head coach Larry Drew had to be pleased by his team's shot-selection for the most part, even if the shots weren't dropping.
Collin Sexton (3-3) and Cedi Osman (3-6) were Cleveland's best snipers on Wednesday. The Young Bull, whose jump shot was heavily critiqued entering the NBA Draft, is now shooting 46.2 percent from three-point range on 1.6 three-point attempts per game.
Sexton won't back down from any challenge
There was a point in the second quarter in which Sexton and Curry were trading baskets and the rookie, who Drew called "a fearless competitor" following Wednesday's game, didn't seem awe-struck or overanxious when it came to defending now taking the game right at the two-time MVP. In fact, with some facial hair and without the bevy of narratives surrounding his relatively raw potential at the beginning of the season, you may have believed Sexton had been in the rodeo before.
The rookie finished the game with 21 points, three assists and just one turnover in 35 minutes while going 7-14 from the field and 3-3 from three-point range. Curry finished the game with 42 points, nine rebounds and seven assists on 11-20 shooting from the field (9-14 shooting from three-point range) and 11-12 from the charity stripe, dominating in every way as he kept Sexton in perpetual motion trying to chase him around the court and, as he's wont to do, launching from anywhere on the court with precision and a lightning-quick release.
Next time these two teams match up, Sexton plans to defend Curry the same way as he did on Wednesday. However, to be fair, while Sexton could have stood to play Curry closer on a few of his attempts, there were great contests on a number of those attempts as well. Curry, the greatest shooter in NBA history, just happened to knock them down.
Sexton admitted the feeling when Warriors players hit threes is deflating, "like the life in everything goes out. It's tough when everybody is knocking shots down."
However, those emotions are great for Sexton to feel, simply so he understands the dominance of the truly elite teams in the NBA and how the Cavaliers are supposed to make other teams feel, once they reach their potential.
In the meantime, Sexton's competitive fire has been remarkable and for a team that needed more aggressive play — as well as level-headedness — from their backcourt in the 2018 NBA Finals, it's easy to see what drew Cavs general manager Koby Altman and owner Dan Gilbert to the 19-year-old Atlanta native.

NEO Sports Insiders Newsletter
Sign up to receive our NEOSI newsletter, and keep up to date with all the latest Cleveland sports news.