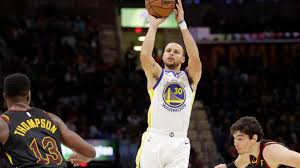 The Cavaliers got off to a fast start but Golden State Warriors were better in the second half.
Stephen Curry led the way with 42 points, making nine three-pointers and seven assists.
Kevin Durant played second fiddle but pitched inwith 25 points and 10 rebounds to push the Warriors to their 17th win of the season.
Rodney Hood scored 11 points in the start of the game during the Cavs hot start. In the first five minutes, the Cavs led 12-2 before Golden State went on their run.
Cleveland ended the first half leading 64-58 after connecting on four straight three's.
But again, the Warriors were better for the rest of the way despite the Cavs fighting all game long.
"It's not a rivalry, it's just another game," Warriors coach Steve Kerr said. "They're on their new course trying to build something and we're trying to continue our run as long as we can."
Well, he's right. Saying there will be a different match up in June for the NBA Finals.
In the previous four years, the Warriors took three of the four finals against the Cavs.
Cleveland won just one title, which was in 2016, ending a 51-year title drought.
Also, the two teams were reserved for a holiday classic or any type of prime time in last four years is now just a regular game on the schedule.
"It was a little weird," Curry said.
For Golden State, the memories will last for a while every time the team will step inside Quicken Loans Arena.
"It was different walking into the building," Kerr said.
"There's still a ton of memories, some of the best basketball I've ever seen played between these two teams over last four years and obviously they have a new team, so you move on."
Tristian Thompson is the loner for now from the Championships run with LeBron James going to Los Angeles.
Kyrie Irving, who is trying to build a dynasty in Boston is gone, and Kevin Love is still with the Cavs but is injured.
Thompson and the crew along side with Hood, Cedi Osman and Collin Sexton were good enough to hang with the champs for the first half before the Warriors showed up to the party.
Golden State outscored Cleveland 71-41 in the second half.
"You got to be patient with this team," Durant said. "As an opponent, you realize it's a different team."
For now, the rivalry is gone. But some of the memories are the only thing that's left.

NEO Sports Insiders Newsletter
Sign up to receive our NEOSI newsletter, and keep up to date with all the latest Cleveland sports news.