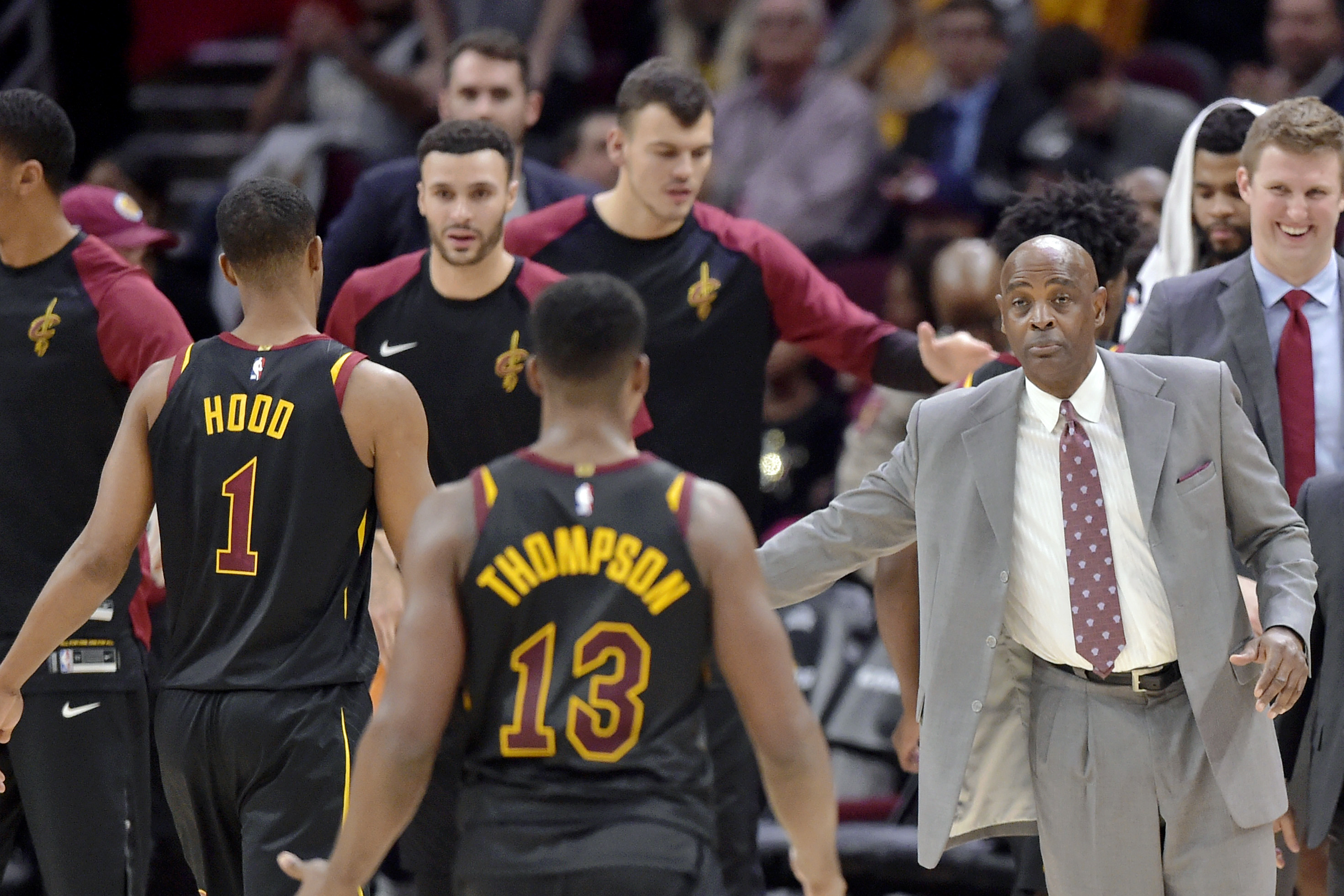 The Cleveland Cavaliers don't have the personnel of years past on the perimeter, with three-point snipers Kyrie Irving, Kyle Korver and J.R. Smith being replaced by Collin Sexton, Alec Burks and Rodney Hood, players who have been efficient from behind-the-line but haven't taken nearly the volume of three-pointers as their predecessors had.
However, Cavaliers head coach Larry Drew believes the Cavs would benefit from increasing their three-point attempts even if their personnel has changed, citing the team's need to be mindful of the three-point line.
"I think if we were more conscious about the three, the three-point line — I know we take a lot of long twos — we just have to be more conscious of looking at those three-point opportunities. You know, when we get good looks, I want guys who are three-point shooters to let it go."
"It does hurt a little bit, not having Kevin [Love]," Drew admitted. However, Drew steals sees Collin Sexton, Cedi Osman, Jordan Clarkson, Rodney Hood and Larry Nance Jr. as the team's three-point threats. For Sexton and Osman, having their feet set is a must according to Drew while Nance's three-point attempts have to be completely open and come late in the offense. However, Clarkson and Hood are two guards who don't have such stipulations for them to shoot the long ball.
Per Basketball Reference, George Hill leads all rotation players with a three-point percentage of 48.1 (2.3 three-point attempts per game), while Sexton has shot 41.7 percent from three-point range (1.6 three-point attempts per game) and Hood has made 40.0 percent of his three-point attempts (3.0 three-point attempts per game). Clarkson, however, is shooting 31.7 percent on 4.5 three-point attempts and Osman is shooting 31.0 percent on 4.8 three-point attempts per game.
Though Hill missed half of the season with a shoulder sprain, it seems clear that Drew wants he and Hood, at least, to take more attempts from three-point range. While Clarkson and Osman have taken over four three-point attempts per game, it should be Hill and Hood taking those attempts, and the Cavaliers would likely be better off for it. The Cavaliers have converted 35.2 percent of their threes this season, ranked 15th in the NBA, but they rank 30th in three-point attempts (23.3) and conversions (8.2) per game.
The biggest issue with the Cavaliers as of late, in terms of their offense, has been a lack of ball-movement and thus a lack of quality looks from three-point range.
That's an issue that's been seen in the team's paltry true shooting percentage of 53.0, a league-worst per NBA Advanced Stats.
It's unclear of whether or not Cleveland be able to generate better quality looks from three-point range as the season wears on. However, with more lane penetration and players willing to make the extra pass, they certainly should be able to.
*Unless otherwise referenced, stats gathered from Basketball Reference

NEO Sports Insiders Newsletter
Sign up to receive our NEOSI newsletter, and keep up to date with all the latest Cleveland sports news.