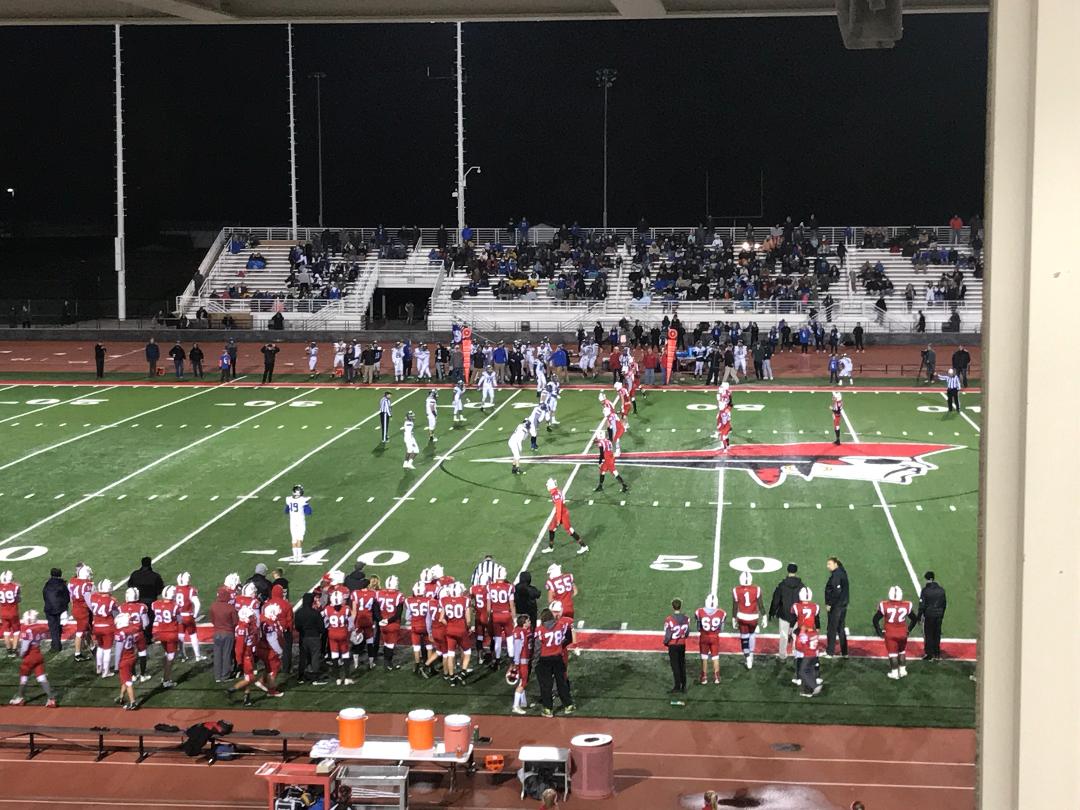 PERRY, Ohio – The Perry Pirates scored 24 points in the second quarter and then held off a second half rally by the Cuyahoga Valley Christian Academy Royals as the Pirates won Saturday's Division IV, Region 14 matchup at Alumni Stadium 48-34.
"The turnover score by Cameron [Rogers] really got the momentum going for us in the second quarter," said Perry head coach Matt Rosati. "We were able to gain momentum on defense and the offense got rolling after that. We got out of rhythm in the second half, but ultimately, we were able to hold them off."
After Perry's Jake Reid hauled in an interception on the third play of the opening drive, Sampson Agostine put the Pirates ahead 3-0 with a 24 yard field goal four minutes in.
Tre Tucker ended Perry's second drive with an interception. Michael Bevington gave the Royals a 6-3 lead with a 17 yard touchdown pass to Josh Junko, with less than a minute left in the first quarter. The extra point was no good as CVCA led 6-3 after one quarter.
Perry used a big second quarter to establish a lead going into halftime. Jaylen Anderson broke free for a 45 yard touchdown run as Perry gained a 10-6 advantage with ten minutes left in the half. Cameron Rogers abruptly ended the next Royals drive as recovered a CVCA fumble and returned it 46 yards for a scoop and score. The Pirates led 17-6 with 8:23 left in the second quarter.
Jacob Allen set the table for the next Perry drive with a 40 yard punt return after CVCA went three and out. Playing a short field, Anderson scored for the second time in the game, a five yard scamper. Perry's lead grew to 24-6 with 6:39 to go before halftime.
Agostine added a 34 yard field goal for Perry with 2:26 remaining before the half as Perry built a 27-6 lead.
The Royals put together a scoring drive in the two minute drill. Tucker capped a nine play, 64 yard drive with a one yard touchdown run at the goal line with nine ticks left on the clock. Perry held a 27-12 lead at the intermission.
Perry outgained CVCA 315-134 in the first half with 219 rushing yards.
The Pirates continued to press on the first drive of the second half. After two personal fouls on the Royals', Drew Schiano found Anthony Rosati on a 14 yard swing pass to the right side. Perry held their largest lead of the night, 34-12 with 8:26 left in the third quarter.
CVCA immediately responded with a three minute scoring drive. Bevington threw a 25 yard touchdown pass to Tucker, who made a one-handed diving grab in the end zone. Jordan Decatur converted the two point conversion as the Royals pulled within 14 with 5:38 left in the 3rd.
Anderson put the Pirates in great field position on the following kickoff with a huge return inside the Pirates' red zone. The Schiano-Rosati swing pass worked again from four yards out as Perry quickly regained a 21 point cushion, 41-20 with 4:11 left in the third quarter.
CVCA took advantage of two penalties on Perry's end to extend their drive. Bevington and Decatur each had a key first down on the ground, setting the table for a five yard touchdown run by Tucker. As the third quarter ended, Perry held a 41-27 advantage.
The Royals could not cash in a fumble by Perry on the next drive as they went three and out. The CVCA defense held tough as they forced Perry to punt the ball, leading to a scoring drive.
Tucker struck again as he had a key 32 yard run as the Royals made it an one score game with less than seven minutes to go. Tucker scrambled to his right and found Andre' Price in the open for an 18 yard touchdown strike.
Perry took over on downs after CVCA could not convert a fourth and seven near midfield with four minutes remaining. The Pirates called on Allen to look to ice the game. Allen rushed five times, picking up two key first downs and then he broke free for a three yard score. Perry led 48-34 with 1:20 to go.
CVCA was driving downfield in the final minute before Reid picked off Bevington for the second time, this time in the end zone. The Pirates moved on to the D4R13 second round with a 48-34 victory.
Perry compiled 434 total yards of offense in the contest with 313 rushing and 121 passing. Schiano completed ten of 20 passes for 121 yards and two touchdowns along with 34 yards rushing. Anderson finished with 154 rushing yards on 16 carries and two touchdowns. Allen added 109 yards rushing on ten carries. Rosati caught two touchdowns on four catches and 49 yards.
"In the playoffs, it's very important to have many different guys contribute. We were fortunate to get contributions from Jaylen [Anderson], Jacob [Allen], Jake [Reid], Anthony [Rosati] and Drew [Schiano]. Drew stepped up and did a great job in his first playoff game."
CVCA had 204 yards in the second half as they finished with 338 yards total in the game. They had 197 yards rushing and 141 in the air. Bevington threw for 123 on nine completions with two touchdowns and two interceptions. Tucker, the jack-of-all-trades, ran 27 times for 163 yards, caught five passes for 70 yards and threw for 18. Overall, Tucker scored four touchdowns, one passing, two rushing and one receiving.
Perry moves on to the second round with a 2017 playoff rematch with Girard, who defeated Youngstown East 34-30. The game will be played Saturday (Nov. 10) at a neutral site determined by the OHSAA.

NEO Sports Insiders Newsletter
Sign up to receive our NEOSI newsletter, and keep up to date with all the latest Cleveland sports news.