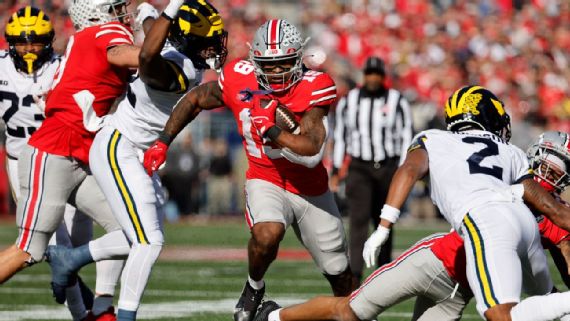 Columbus, OH-
I originally thought that it would be tough to write about an OSU loss to a team I despise but it will be rather easy as this was more than a loss…it was a head hanging embarrassing performance by Ohio State. The u of m is a .500 team without Corum and handled the Buckeyes with ease. It is obvious the maize and blue played with more heart. OSU exhibited traits I equate with the Wolverines, and it is sad. 45-23…45-23…I hope it hurts the team as much as it hurts me. YES BUCKEYES the u of m HAD MORE HEART THAN YOU!
After the first TD drive, I truly thought OSU was off to the races. Perhaps the team forgot that they still needed to play a whole game. FIVE, yes FIVE big gift TD's. 2 missed tackles on the first big TD then guys so wide open most Junior High QB's complete the throws on the next 2 then huge running TD's…this is bad. Real bad.
Blame Day, Knowles but too many times the miscues were on OSU players. Coaches did not drop passes, have false starts, stupid lack of discipline penalties, missed tackles and blown coverages. This was NOT OHIO STATE FOOTBALL but today it was and that hurts even more in a rivalry game. No way…NO FREAKIN' WAY should JJ McCarthy beat you. Did he or did the Buckeyes beat themselves and by saying that I am diminishing a fine performance by JJ. Lick your wounds Buckeyes while I would like to pour salt on those wounds and make them sting even more.
No doubt OSU rebounds and wins a bowl game but please they cannot and should not ignore what happened today. They were beaten by a team with less talent. Fire Day? NO WAY. Happens again next year you need to think twice and remember this…WOODY did not get canned for slugging Charlie Bauman. He lost to the u of m 3 times in a row. That is FACT! The punch was an excuse to let him go! How Coop who is a dear friend kept losing without repercussions is still puzzling to me.
45-23…it hurts.

NEO Sports Insiders Newsletter
Sign up to receive our NEOSI newsletter, and keep up to date with all the latest Cleveland sports news.