Last week, the Ohio State Buckeyes were officially invited to the 55th Chik-fil-A Peach Bowl. In this annual bowl game, #4 Buckeyes will face #2 Georgia in the College Football semifinal. Kickoff is at 8:10 on New Year's Eve. If you're not one of the fans travelling to Atlanta, you can tune in to ESPN for the game.
This marks the Buckeyes' first trip to the Peach Bowl. Also, Ohio State has only faced Georgia once in school history. This meeting in the 1993 Citrus Bowl saw the Buckeyes lose to the Bulldogs.
The stage is set for an epic sports story. Ohio State didn't look as if they would be in the playoffs. They now have the opportunity to beat Georgia. And if Michigan beats TCU, the Buckeyes have a chance to avenge this season's loss to the Wolverines in the CFP National Championship game.
I sat down with Gary Stokan, Peach Bowl President and CEO, to talk of the big game and more. This will mark Stokan's 25th Peach Bowl. He spoke fondly of the relationships he's built over the years. Looking back at the first year when a newspaper headline referred to the Peach Bowl as a "third tier bowl game" Stokan reflected on how much has changed. He credits the staff, sponsors, volunteers, and the city of Atlanta for the amazing growth.
Giving back
The Chik-fil-A Peach Bowl provides an amazing atmosphere for teams and fans. However, there's much more behind the scenes. Since 2002, 60.9 million dollars have been given to charities and foundations.
Their partnership with Kia and Georgia's Lions Lighthouse provides a special program for Atlanta's youth. All Title 1 elementary schools in Atlanta public schools receive eye testing. Children who do not have vision insurance and need to see an optometrist are given the ability to do so. If these kids need glasses, they are supplied at no charge.
The Chik-fil-A Peach bowl also provides an academic coach to 11 Atlanta public schools. This provides students with help rising their GPA as well as improving ACT/SAT scores. The academic coach is also there for students to prepare them for graduation and college.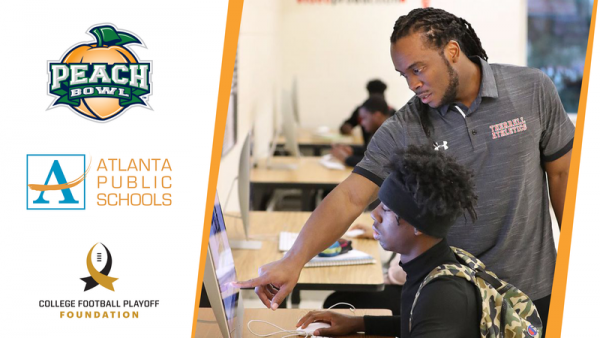 This program ties in with the John Lewis Legacy of Courage Scholarship. This endowed scholarship is available to students of the 11 Atlanta public schools. 34 universities participate in the program which includes eight million dollars in scholarships. The Peach Bowl's corporate title partner Chik-fil-A also will match 50,000 dollars from the Bowl to put towards Ohio State and Georgia's endowed scholarship programs.
Live Laugh and Learn
Stokan is passionate about giving back but he also speaks to the specific goals for the teams during the week of the Bowl game. He talked about "Live, Laugh and Learn" which is something extremely important for the players.
Live – Ohio State will arrive on Christmas Day, and they will be treated to a holiday party. The players stay at a nice hotel and are treated to gifts along with great food throughout the week. These things are the "live" part that rewards the players.
Laugh – the Bowl Belt tradition involves activities from Family Feud, bowling, basketball, cart racing and more. The players engage in these fun activities in pursuit of the bowl belt which weighs about 40 pounds. The "laugh" component is for team bonding as well as stress- free fun.
Learn – this aspect of the three L's is special. Stokan states that "the coaches and athletes are taken to Children's Healthcare hospital of Atlanta…where they give back to those families and kids in the hospital for the holidays." Stokan went on to say, "to have them participate in helping these families is awfully powerful."
Diversity embraced
An additional part of the "learn" aspect is one that stood out to me as exceptional. The two teams are not supposed to be put together during bowl week. Stokan spoke of the exception, "We take both teams and put them in the pews of Ebenezer Baptist Church where Dr. King was the Pastor and, on the pulpit, we'll have ambassador Andy Young. He was one of the eight top people with Dr. King during the Civil Rights movement."
Along with Young, Bill Curry will also speak to the teams. Curry was head coach at Alabama, Georgia Tech, Kentucky, Georgia State and went on to play for the Packers, Colts, Oilers, and Rams. The esteemed coach and player wrote a book titled "Ten Men You Meet In The Huddle." Which as Stokan says, "speaks of a white kid from the hills of North Carolina, a black kid from Compton, a Christian, a Muslim, a Jew, a Catholic…all different kids from different backgrounds…but that doesn't matter they all need each other in that huddle where they're all brothers. Our society right now is so divisive [the book] talks about unity, teamwork and when titles are put aside people can accomplish great things." This special night at Ebenezer Baptist will be two days prior to the game.
Fan experience
As if Stokan wasn't already aware, I reminded him that Ohio State travels well! The Buckeyes sold out their allotted 13,000 tickets in less than two days. Expandable seats were added due to demand. These seats will provide 3500 additional seating. Also, 2000 standing room only tickets were made available. Stokan is expecting that the record for attendance will be broken at Mercedes Benz Stadium. That is impressive as the stadium has hosted other bowl games, playoff games and Super Bowls. We spoke of some of the events for those in attendance.
Atlanta is home to the world's largest aquarium. The night before the game discounted tickets will be available for what Stokan says is a "must see." Also, the college football hall of fame is nearby and will be ready for guests.
On gameday there will be a parade by both teams.11 bands from across the country as well as Ohio State and Georgia's band will be out in full force. The parade begins by Ohio State's hotel (the Omni) goes by Centennial Olympic park and winds up at Georgia Congress Center. This is the home of the Chik-fil-A Peach Bowl Fan Fest. Inside will be a plethora of things for fans to engage in. On tap are: zip-lining, pep rallies, merchandise and TVs playing the other bowl games prior to the Peach Bowl.
Approximately two hours before kick-off fans can exit Fan Fest to Home Depot Backyard for a special event. Both schools will bring their busses up and the teams will walk through a sea of fans into Mercedes Benz Stadium.
Taking in the moment
The night before the game a barber will come in for the guys. Stokan mentioned one of the gifts the players receive is a football with white panels. While they're sitting with the barber, they can pass the ball around to be signed by their teammates. Stokan thinks it's important saying, "they can have that football down the road for their office or however they choose to display it." That's important because often when there's a big moment it's hard to take it all in. Thus, it's easy to be lost in the moment. The signing of the footballs will be a symbol of that week, this season and everything that led the individuals there. Each signature, the name, memory of a teammate, brothers who shared in this amazing journey together will live on.

NEO Sports Insiders Newsletter
Sign up to receive our NEOSI newsletter, and keep up to date with all the latest Cleveland sports news.