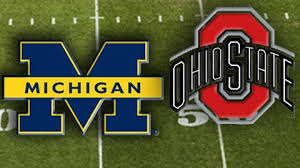 Perhaps I am the wrong person to write down my thoughts and history of THEE OHIO STATE UNIVERSITY vs the u of m. I pride myself on being the most rational BUCKEYE homer, honk and shill in NE Ohio and understand THE GAME is more than a game. This is civilization standing firm and tall against the marauding huns and philistines. A recent memory is the wishagain players taunting the Black Knights from Army after they won in 2 OTs by 3 in a game, they were favored by more than 3 TD's. Most teams line up and pay respects to the teams from the Armed Forces. I know what came down was true as I had a nephew on the Army sideline.
I will say there are a few that go against the grain of being knuckle draggers as Aaron Shea is "man's man' along with a few others and no doubt I hold BO and LLOYD on a pedestal but the delusional musings going through the brains of those clad in maize and blue are puzzling. I do go back to 1968 (watching on TV) of course when WW HAYES needed to go for 2 in a blow out since he could not go for 3 vs the "sob's" and yes, I will follow watching the next year when the u of m triumphed led by my HS Alma Mater's Jim Mandich. Wait a second…just like their last two Heisman winners their best players come from Ohio and indeed exhibit traits of Benedict Arnold but not quite on the magnitude of Judas Iscariot.
I witnessed personally the 1970 victory and bummed rushed the field after from the south endzone bleaches. I was lifted in the air by DB Mike Sensabaugh holding my "Muck Fishagain" sign. In that game Earle called a pass from the King Rex Kern to WR Bruce Jankowski for a TD. Earle told me Woody got on the headset and said, "EARLE IF THIS DOES NOT WORK, YOU'RE FIRED."  Well, it worked. I saw missed meatchicken FG's, FB Vaughan Broadnax leading Art Schlichter into the end and Brush High's Jim Laughlin block a punt that Todd Bell ran back for a TD! I saw a fraud named peppers fold like a Frankie Yankovic's accordion and I can go on naming others, but he was a flagrant foul on hype.
I also was part of the John Cooper years and I have no problem at all mentioning John is a best friend to this day, but he just did not get THE GAME. The topper was when he pulled out a little carved wooden pig a friend had sent to him for good luck and showed it to myself and radio/tv/media friend Bruce Hooley and noted "no more lucky Buckeyes, I have this now." Yup we were horrified. There is interest on my Buckeye Fan loan when Tress and Urban had their way with the heathens and now it's Ryan Day's turn.
I actually steer my car wheel with a middle finger to this day when a vehicle goes by with state up north plates. As the wife says, "what if they are "SPARTY ON fans" and my response is "collateral damage."  I treasure the state up North around Traverse City, Mackinaw and the UP but I add an hour on to the trip to go around ann arbor (yes, a city named after a woman of ill repute) as I am not certain all my shots would cover me passing through.
Can I root for the u of m ever in any sport? Of course, if they were playing the Taliban, Isis, or Al Qaeda. I desire they lose every game in every sport and when OSU gets in them football it will make them winless on the year. Inflict more pain and suffering and PLEASE do not give me this "they are BIG TEN" nonsense. They are not needed to rep. Now a note for u of m fans – do not root for OSU ever. We do not need you nor want you to cheer for the BUCKEYES.
I did note this was going to be a slanted piece and the more I think about that statement I disagree as I have only penned the truth. GO BUCKS!!

NEO Sports Insiders Newsletter
Sign up to receive our NEOSI newsletter, and keep up to date with all the latest Cleveland sports news.