With "The Game" approaching, we thought we'd list some of the traditions Ohio State and Michigan each have when it comes to this weekend's game. Leave a comment if you wish to share your favorites or if you have your own!
Helmet Decals
ESPN has a wonderful piece on the helmet decals for each school. This is a great read!
Ohio State and Michigan are two of 13 FBS teams that currently use helmet decals, but with different philosophies.

This is the story of this shared but disparate tradition ➡️ https://t.co/TAm5EIj1i3@OhioStateFB | @UMichFootball pic.twitter.com/gjK4RS4Y3L

— ESPN College Football (@ESPNCFB) November 22, 2022
The Annual Blood Battle
The week of every game has each campus holding a blood drive for their community. 
The Blood Battle is upon us! It's the 40th year of the University of Michigan vs. the Ohio State University blood battle 🩸 💪 Plan to join us for Sunday's kick-off at the Big House or any of the other battleground blood drives throughout the month! https://t.co/sYVKeSgeon pic.twitter.com/rUNuRf1Z7c

— Red Cross Michigan Region (@MIRedCross) October 7, 2022
Ohio State kicks off annual Blood Battle against Michiganhttps://t.co/3lj5S152eB

— Linda Jones (@Jonesls) October 26, 2022
Michigan has won more of these than the Buckeyes. Not sure what to make of that!
Ohio State Crossing out the M's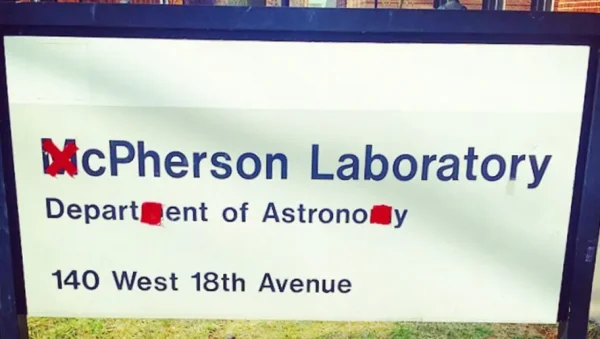 Going around campus or even on social media posts, true Buckeye fans will use red electrical tape (or whatever is available) and cover every letter "M" on a sign or in their posts.
Michigan fans don't see the point.
Is there a single tradition out there as dumb and embarrassing as the Ohio State fans *attempting* to replace the letter "M" with "❌" ??? Every single year there's hundreds, if not thousands, of examples of them missing letters. Is reading that hard for them? #GoBlue #BeatOhio

— JD (@LionsBurner313) November 24, 2021
Buckeye Nut Cracking
Jim Harbaugh cracking Buckeyes.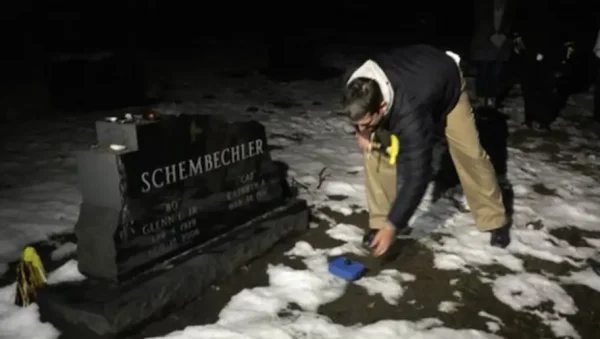 "Every year, Michigan fans walk through Forest Hills Cemetery during Hate Week to pay respects to Wolverine legends like Bo Schembechler. In 2015, Harbaugh placed a Buckeye (nut) near the grave and smashed it. When nuts are being cracked, you know it's a true rivalry."
TBDBITL and dotting the "I"
Getting ready for The Ga❌e. #GoBucks pic.twitter.com/3I8QbbBqkL

— The Ohio State University Marching Band (@TBDBITL) November 22, 2022
The Ohio State Marching Band is considered the premier band in the "land." With their amazing halftime shows, they keep fans entertained and cheering for three hours in sun sleet, rain or snow.
Personally, I loved the SpongeBob one!
🍍@TBDBITL took @OhioStateFB fans to Bikini Bottom with one of the best halftime shows you'll ever seepic.twitter.com/GLiOzi40TE

— FOX Sports (@FOXSports) October 26, 2019
The other tradition is dotting the "i" when it comes to completing the script OHIO.
#ICYMI: Sylvania native Noah Jockett fulfilled a lifelong dream of dotting the 'I' 🙌 at the Rutgers-Ohio State football game 😃 yesterday. pic.twitter.com/2PA0Jz4JOt

— BCSN (@BCSNsports) October 3, 2022
Save a seat for Fritz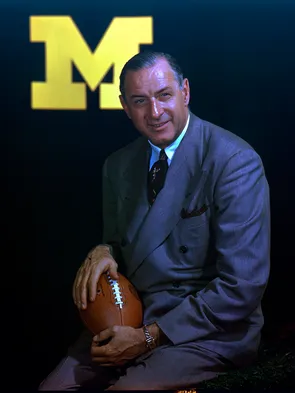 Photo from Ann Arbor News
Every home football game in "The Big House" has a seat that is saved for Fritz Crisler, long time coach and athletic driector. No one knows what seat it is. Supposedly, it changes every game.
The stadium is known for having the largest crowds in all college football. The posted capacity for every home game always ends in a "1," as per Crisler. Right now, the seating capacity for the Ann Arbor stadium is 107,601.
OH! IO!
The greeting every student must learn on campus is when someone says, "OH" to you, you must respond, "IO!"
Started in 1942 by Navy soldiers on patrol in the Pacific, they would speak/sing "O-H-I-O-S-T-A-T-E" to the tune of Row, Row, Row your boat!
Matthew Sidley, a crewman on the USS Lexington, brought that with him when he made the Ohio State cheerleading squad in 1947. The entire phrase was confusing to the crowd (ok, Michigan fans, insert your joke here!), so he paired it to what it is today, even with the arm motions!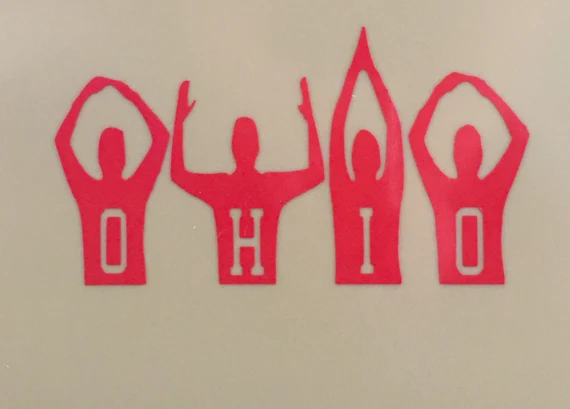 Songs
Hail to the Victors or "The Victors"
John Eubel, a student at Michigan, composed the song after Michigan rallied to defeat the University of Chicago, 12-11. The win gave the Wolverines the Western Conference championship on Thanksgiving in 1898.
John Phillip Sousa first played it in Ann Arbor the next year and dubbed it the best college fight song ever
Lyrics
Hail! to the victors valiant
Hail! to the conqu'ring heroes
Hail! Hail! to Michigan,
   the leaders and best
Hail! to the victors valiant
Hail! to the conqu'ring heroes
Hail! Hail! to Michigan
   the champions of the West.
Carmen, Ohio
Cie Grant, former Buckeye, has a wonderful rendition of this song!
Carmen, Ohio was written in 1902 and is still the oldest school song still sung today. After being defeated by Michigan 86-0, student Fred Cornell composed the song. It is considered the official alma mater.
Jim Tressel, when he became coach of the Buckeyes, took it a level higher. After every home game, the players, cheerleaders, coaches, and fans with the band accompanying them sing the song. Every player MUST KNOW the lyrics! (So I am told!)
Lyrics
Carmen Ohio
Oh come let's sing Ohio's praise
And songs to Alma Mater raise
While our hearts rebounding thrill
With joy which death alone can still
Summer's heat or winter's cold
The seasons pass the years will roll
Time and change will surely (truly) show
How firm thy friendship … OHIO!
These jolly days of priceless worth
By far the gladdest days on earth
Soon will pass and we not know
How dearly we love Ohio
We should strive to keep thy name
Of fair repute and spotless fame
So in college halls well grow
And love thee better … OHIO!
Though age may dim our mem'ry's store
We'll think of happy days of yore
True to friend and frank to foe
As sturdy sons of Ohio
If on seas of care we roll
Neath blackened sky or barren shoal
Thoughts of thee bid darkness go
Dear Alma Mater…OHIO!
These are just a few of the crazy things each team's fans and players will do. Now, all that remains is to play the game!
What is your favorite? One not listed here? Share in the comments, please!

NEO Sports Insiders Newsletter
Sign up to receive our NEOSI newsletter, and keep up to date with all the latest Cleveland sports news.