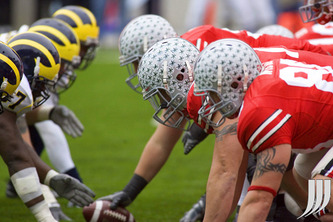 We start our weekly KNOW THY RIVAL column with the close call the Buckeyes had last week!
Whew. We can all take a deep breath now, right?
The Buckeyes snuck out of Ryan Field with a 21-7 victory over the Northwestern Wildcats, but you wouldn't have guessed they were playing a 1-7 team by looking at the box score. Sure, the weather didn't seem to do anyone any favors, but neither squad was willing to give up any points through most of the contest and it made for a long day for both teams
Statistically Identical
It's hard to tell which team was the better of the two by looking at the stats alone. Both teams were almost identical – 
Stroud – 10/26 – 76 yards – 0 TD – 59.3 QBR
Sullivan – 10/13 – 79 yards – 0 TD – 65.3 QBR
Passing Yards – (OSU  76 – NU  79)
Rushing Yards – (OSU  207 – NU  206)
Total Yards (OSU  283 – NU  285)
There was one statistical category that made quite a difference in this one: 4th down efficiency. The Buckeyes finished the day going 2-4 on fourth down conversions while the Wildcats were unsuccessful on all four of their attempts. Unfortunately for Northwestern, one of their turnover-on-downs resulted in a Miyan Williams 27-yard touchdown midway through the third quarter to give Ohio State a 14-7 lead. The Buckeyes held that lead through the rest of the game and never looked back
Dual QB?
C.J. Stroud struggled to get the ball moving through the air on Saturday. The junior QB finished the game with career lows in completions (10), yards (76), and completion percentage (38.5%). The rain and high winds in Evanston were a factor all day for both team's quarterbacks, so the Buckeye QB had to improvise.
Stroud finished the day with 79 yards on the ground, including a 44 yard sprint late in the fourth quarter that set up a Miyan Williams touchdown. Now, I may be getting ahead of myself with the "Dual-Threat" title for C.J. but there is no doubt that the QB did whatever it took to help his team get their ninth win of the season
C.J. Stroud on his abilities and what he is willing to do to win
"I'm willing to do anything to win"

CJ Stroud won the game with his legs for the first time at Ohio State. That is a big reason why the Buckeyes are leaving Evanston with a win. pic.twitter.com/9X1JCCPnqx

— Adam King (@AdamKing10TV) November 5, 2022
C.J. Stroud's 44-yard fourth quarter run.
C.J. Stroud with the wheels?! pic.twitter.com/y22vxJr9U2

— Eleven Warriors (@11W) November 5, 2022
Ohio State Buckeyes v Indiana Hoosiers
Ohio State will look to get back to their dominant ways when they welcome Indiana to town next Saturday afternoon. This will be the 95th contest between the two teams with the Buckeyes holding a 77-12-5 overall record against the Hoosiers
Date – Saturday, November 12th
Time – 12:00 PM
Ohio Stadium
Dominating! Blue keeps cruising!
This isn't a better team in the country at making halftime adjustments than the Michigan Wolverines! None!
Michigan struggled the first half against Rutgers, going down by 3 at the half, 17-14. But the Wolverines put on a scoring explosion in the 3rd quarter to blow out the Scarlet Knights, 52-17! Another unbelievable halftime of adjustments!
Michigan Dominates!
JJ McCarthy accounted for three TD's (2 air, 1 rush), Blake Corum rushed for over 100 yards and added two touchdowns, heck, even little used Isaiah Gash, the junior back from Wisconsin, darted into the endzone! Donovan Edwards, becoming a dual threat at running back and receiver, had two TDs, one rushing and one passing.
Heck, even the defense wanted in the scoring column, so Michael Barrett decided, "I'll just have a pick 6, thank you!"
Pick 6 for Michael Barrett and his second interception of the night! Give this man those buffs

35-17 Michigan #GoBlue pic.twitter.com/gYqqpUQ0MZ

— Woodward Sports Network (@woodwardsports) November 6, 2022
First Half – All Rutgers!
Rutgers looked the upset pick as they blocked a punt on Michigan's second drive, and Timmy Ward raced it into the endzone. Using that momentum, the second quarter was all Rutgers as Jude McAtamney split the uprights on a 32 yard field goal and Gavin Wimsatt, the dual threat red-shirt freshman QB from Kentucky who was given his second straight start (HC Schiano: "Gavin is going to be our starter."), passed for another score.
Wimsatt was 6-8 on the drive that put the Knights up before half.
Second Half Onslaught!
But when the Scarlet Knights took the second half kickoff, they must have realized they had awakened the sleeping Wolverines! They went 3 plays (1 penalty), lost a yard and punted. And every time they touched the ball, Wimsatt decided to give it BACK to Michigan with three interceptions, two of them by Barrett!
Here's the Michigan linebacker on his picks!
#GoBlue https://t.co/s93CcVgn0H Michigan linebacker Michael Barrett discusses his two interceptions pic.twitter.com/9ZRNvJS32X

— Go Michigan GO! (@MICHIGANGO) November 6, 2022
"GAMECHANGER!"
The senior from Valdosta, GA has really upped his play. Michigan has had multiple injuries to key players all year and the linebacking corps has been hit hard. Under Don Brown, he was ready to excel, but last year with the new coordinator and philosophy, he didn't have the same role in the new defense.
A year under his belt and he now is befitting from staying at U of M and becoming the force he was as a sophomore.
"Coming from training camp and through the summer, we had a self-competition going in the linebacker room. Everybody was kind of neck and neck with each other, and we all were just thriving off that competition."
"I thought it was just going to be a rotation of probably 3-4 guys going in and out, and unfortunately we don't have (some guys) right now. But with what we have and where we're headed, we're in a good place."
Michigan Statistical Rankings
The defense continues to improve and is ranked #2 for total defense, behind Illinois. As far as first down, the defense is #2 in the country for it's success on first down, also! Behind? Illinois again! And on third down, the defense is #9 in allowing third down success at 29%. And just behind Blue? That team down south in the middle of Ohio!
The offense is ranked 21st overall, with their yards/play ranking at 20th. Time to air it out this week, Sherrone and Matt? Blake Corum is ranked 7th in the country for running backs in yards per game but #1 in touchdowns with 16!
News, Notes and Quotes!
Linebacker coach, George Helow, on

Barrett

:
"It just speaks to Mike Barrett in terms of who he is as a person…He came in in a different system; he played a different position…He's (now) taken on the role and responsibility, and continues to get better each and every week. Very proud of Mike."
Cade McNamara had surgery on his

knee

. He played last year with an injury and when he went down this year, doctors found something more serious. He should be ready for next year!
Ronnie Bell's brother decided to follow in big bro's footsteps and attend Michigan! Kendrick Bell, at 6-3, 175 pounds, has been quarterbacking his Park Hill High School (Kansas City, MO) team, and has improved his mechanics this year. Michigan recruited him as a QB, but as he told Coach Harbaugh:
"They are going to give me a shot at quarterback, but I told Coach Harbaugh that I will play anywhere to help the team win."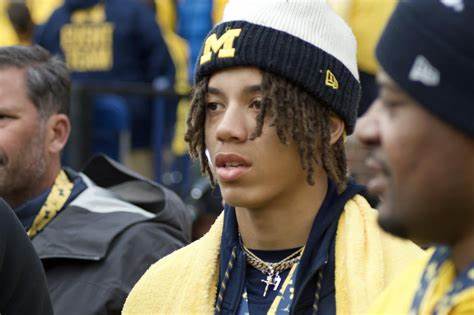 Photo from https://twitter.com/GoBigBl87548813/status/1581778406181466113
How to bet Michigan v Nebraska
Michigan is favored in this contest big time. They are -30.5 point favorites. But the Over/Under is 48.5. Expect Michigan to continue running…and running up the score. But there is a chance that the offensive coaches are ready to unleash the passing game. If so, bet the Over!
Just two more weeks to The Game! Wow!

NEO Sports Insiders Newsletter
Sign up to receive our NEOSI newsletter, and keep up to date with all the latest Cleveland sports news.