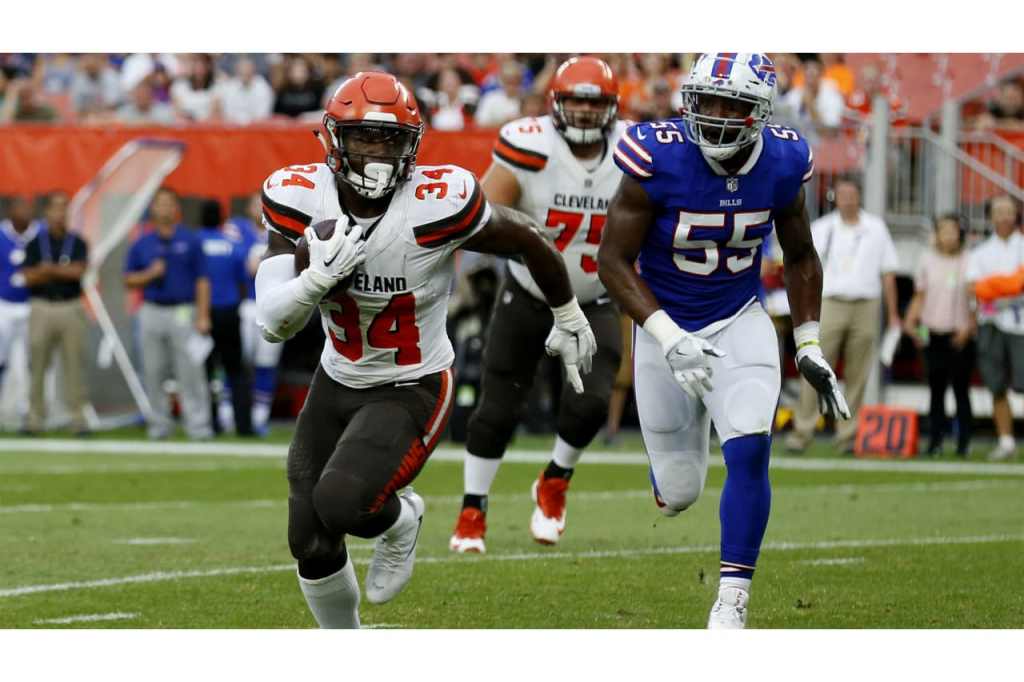 The Cleveland Browns have had an exciting off-season and have proven to be must watch television on HBO's Hard Knocks.
Most of the excitement comes from the new additions at quarterback, Tyrod Taylor and Baker Mayfield but also from the addition of receiver Jarvis Landry and the return of former All-Pro receiver Josh Gordon.
Therefore it is easy for former San Francisco 49er and Ohio State product Carlos Hyde to slip to the back of fans minds, especially after the selection of Georgia running back Nick Chubb in the second round.
Hyde is entering his fifth year in the NFL and is coming off his best season as a pro.
Last year he rushed for 988 yards and eight touchdowns while adding another 350 yards receiving. He was also able to play in all 16 games for the first time in his career which is a good sign moving forward.
Many believed, including myself, that rookie Nick Chubb would get the opening day start at running back against the Pittsburgh Steelers, but Hyde will not make it easy.
After a lackluster start by all the running backs in the first preseason game, he showed why he was a former second round selection against the Bills Friday evening.
He only carried the ball nine times but made the most of his opportunities.
Tallying up 64 yards (a long of 26) and a touchdown, the veteran running back displayed good footwork, decent speed and the power AFC North fans are accustomed to seeing from the position.
After the game Browns quarterback Tyrod Taylor had this to say about Hyde's performance.
"It is always good to see him go out there and make plays. He got in the end zone, which was awesome. We do not have any many live periods so some of the stuff that the defensive guys see are tackles, you actually got to see him break through some tackles today. He has done a great job. All of the backs have done a great job. It was good to see him get rolling early."
Hyde was also available for comments about the teams improved running attack against the Bills and had this to say about his personal success.
"This week, we just put more emphasis on it. That was our mindset going into this game to get the run game going. The offensive line did a great job today creating some lanes for me to run through, and I was able to make plays."
If Hyde is able to be a consistent threat on the ground then the Browns will be a very dangerous team and another reason for Brown's fans to be excited for the season.

NEO Sports Insiders Newsletter
Sign up to receive our NEOSI newsletter, and keep up to date with all the latest Cleveland sports news.