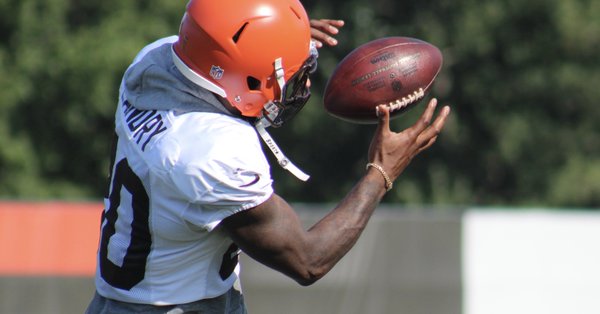 CLEVELAND – It used to be that receivers that doubled as a physical blocker were praised for their efforts. Former Pittsburgh Steelers' great, Hines Ward comes to mind as a wideout who prided himself being an elite blocker above all else. A simple Google search will generate highlight reels of some of Ward's biggest hits and blocks.
In today's game though, many of the plays that made Ward a legend would be considered extremely dirty. Browns wide receiver Jarvis Landry is finding that our first hand.
In Friday's 19-17 preseason loss to the Bills, Landry delivered a devastating crack block on Bills rookie cornerback Taron Johnson on Cleveland's opening drive of the game. The hit helped ensure that running back Carlos Hyde's four-yard run would end in a touchdown but also left Johnson slow to get up.
Johnson did eventually leave the field with his team's athletic trainers and later returned to the game. However, that didn't stop several of his teammates from sounding off on Landry's dangerous hit when the team returned to practice.
"That's ridiculous," Bills safety Micah Hyde declared on Sunday. "Because if a defensive player does that to an offensive player, he's getting ejected. I don't care if he lowered his shoulder or not. He's coming all the way from No. 1, past the numbers and flying down onto the hashes and cleaning up somebody. That's the same play that Aaron Williams got hit on a couple year's back and basically ruined his career.
"To me, that's B.S. You can't do that. All you have to do is get into position, screen him off. He doesn't have to come in and try to kill anybody."
For reference, in 2016 Landry – a member of the Dolphins at the time – delivered a very similar block on then Bills safety Aaron Williams in a mid-season meeting with Buffalo. The hit left Williams motionless for several moments before he was able to make his way off the field.
At the time, Williams had just returned to the field at the start of the season from a long, career-threatening neck injury he had sustained early on in the previous season. Little did Landry know, his blow reaggravated that ailment and ultimately cost Williams his career.
Landry caught Williams' attention with his block on Johnson, Friday. The former Bills safefty took to Twitter to express how he felt about Landry's latest offense.
No Comment ??‍♂️ https://t.co/6ALwUR6y6M

— Aaron Williams (@ajwilliams23) August 18, 2018
Bills linebacker Lorenzo Alexander, who played with Williams in 2016, wasn't shy about his feelings toward the play either.
"It was dirty at the end of the day, and that's how I feel about it," Alexander asserted. The 13-year veteran also made a plea to the NFL to do more to eliminate those types of hits in the future.
"Landry, he's a good receiver, physical guy, but some of those plays that he has — Aaron Williams, Taron, I'm pretty sure he has other ones — I just think they're dirty," Alexander explained on Sunday. "Coming from the outside of the box in, the league needs to do a better job of calling penalties on those types of plays. Obviously, defenders get called all the time on stuff that is probably less egregious than that. If we're going to protect our football players, we need to protect everybody, not just offensive guys.
"It needs to be held accountable on both sides of the ball, and Landry has been a guy who has been known to do this stuff on a consistent basis."
Of course, Landry has a very different perspective on the play, as might many Browns fans. In his eyes, those physical crack blocks are an essential part of his job. Landry doesn't see it as dirty, he sees it as doing whatever it takes to win.
"We scored a touchdown and that's what it takes sometimes," Landry said of his block on Johnson. "I pride myself on being a complete receiver. It takes those types of plays, making those types of blocks, just a block period to make sure that Carlos [Hyde] can get in or Duke [Johnson] or another receiver. It's important."
For what it's worth, Johnson did reveal the Landry apologized to him for the hit after Friday's game. And as appreciative as the fourth round pick was of his teammates coming to his defense, he put the blame on himself for the play.
"I just got to be more aggressive on that play. That's the main thing," Johnson said. "It's still football, at the end of the day. So stuff like that happens sometimes. I have no animosity toward him at all."
Maybe not, but Landry's reputation seems to preceded him. And while officials may have turned a blind eye to it on Friday, it's hard to imagine Landry will continue to get away with throwing dangerous crack blocks in the future, especially with the league's recent emphasis on players lowering their head to initiate contact. Ultimately, what used to be one of football's most gritty plays is becoming more and more taboo in the era of player safety.
Follow: @Spencito_