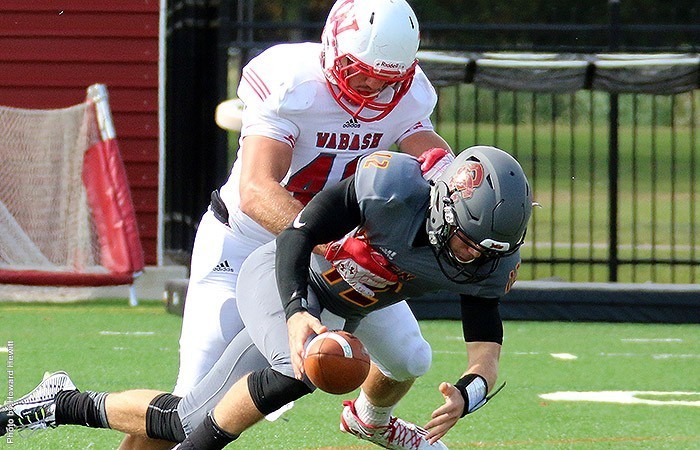 OBERLIN – When listening to Oberlin College's second-year head coach Jay Anderson talk about his team you get the feeling the Yeomen have a bright future.
When watching Anderson's team on the field it becomes very clear they aren't quite there yet.
Wabash, the No. 8 Division III team in the nation, rolled up 291 rushing yards and got first-half touchdowns from its defense and special teams in its 55-18 North Coast Athletic Conference victory at Knowlton Stadium.
The Little Giants were big when running the ball. Senior Mason Zurek carried the ball 16 times for 164 yards and two touchdowns while junior Shamir Johnson added 78 yards and a score as Wabash averaged 6.5 yards per carry as a team.
Zurek scored on a 76-yard run in the third quarter and five different Little Giants had rushes of 10 yards or more.
Wabash head coach Erik Raeburn liked what he saw from his running game…especially from Zurek.
"We feel like we have an excellent senior running back that has started since he was a freshman in Mason Zurek," Raeburn said. "Shamir Johnson has done a great job of coming in to spell Mason, and we've gotten really good offensive line play.
"Mason is a great runner. He's a big guy, but he has great speed so he can break the big one and take it the distance. He's really good between the tackles because he's a big, physical guy. He's a good blocker and we feel like he can catch it out of the backfield.
"We feel like he's the complete guy. He's been starting for four years now so he has a ton of experience to go with that talent. He's an excellent player and any time he touches it we feel like good things can happen."
Oberlin was held to 87 rushing yards, but that was 81 more than the Little Giants had averaged giving up per game this season. They entered the game leading all of Division III in rushing yards allowed at just 6.0 per game.
The Yeomen's senior quarterback Lucas Poggiali, who passed for a school record 506 yards and four touchdowns in Oberlin's 48-9 win over Allegheny last week, completed 20 of 41 passes for 181 yards. Sophomore receiver Corey Fussinger had six catches for 63 yards for Oberlin before leaving with an ankle injury in the third quarter.
Junior Justin Cruz also had six receptions for the Yeomen.
"(Oberlin offensive coordinator Keith) Grabowski has done a great job with Oberlin's offense and Lucas has been playing great at quarterback this season," Raeburn said. "We feel like defense is the strength of our team but they played very well against it and did some good things."
The Little Giants scored first, driving 63 yards in seven plays after receiving the opening kickoff. Junior quarterback Connor Rice connected with senior Tom Garrity from five yards out to give Wabash (5-0 overall, 4-0 NCAC) a 7-0 lead.
Oberlin (2-4, 1-2) answered with a 13-yard flea-flicker pass from Cruz to Poggiali to cut the lead to 7-6 (the 2-point conversion attempt failed), but the Little Giants scored 34 of the game's next 40 points to blow it open.
"Mistakes and inconsistency," Anderson said when asked what hurt his team. "It was the kicking game not being able to flip the field. It was not making tackles and getting off the field on third down. All that contributed to the score today. The size of their roster didn't matter…guys still have to go out and make plays.
"Today we showed we can play with them. In the first half we held up decently, but in the second half we were too inconsistent."
Senior defensive tackle CJ Ihle led the Oberlin defense with five tackles and a pair of sacks. Ihle liked how his team kept playing hard, even as the game slipped away.
"We keep grinding through and pushing forward no matter what adversity we face," he said. "That turns into a trend. We've played like that in the past and will keep playing like that as we move forward. That's how this program has been built.
"Football is a tough game but not one of us will give in or give up because we're hurting or tired. We keep playing until the final whistle."
The Little Giants return to action Saturday, hosting Kenyon (2-4). The Yeomen travel to Wooster (1-4) for a game under the lights that kicks off at 7 p.m.
Anderson is looking for his team to get back in the win column.
"No one really cares about a moral victory," he said. "For us it's about getting better, progressing as a program and trying to change the culture. One of the constants I've noticed is that we're not going to quit. We're a gritty team that keeps fighting."
Notes: Oberlin actually had some success against the stingy Wabash defense. The Little Giants allowed just 4.25 points per game, 11.2 first downs per contest and had intercepted 10 passes. The Yeomen scored 18 points with 16 first downs and did not throw an interception…Poggiali's 13-yard touchdown reception in the first quarter was the first touchdown the Little Giants have allowed in the first quarter this season…Wabash has yet to be scored on in the fourth quarter and has now out-scored its opponents, 56-0, in the game's final 15 minutes…The Little Giants appear to have a smooth road to a high seed in the Division III NCAA playoffs. The highest-ranked teams on their schedule are No. 52 Denison (at home) and rival DePauw (46th) on the road.

NEO Sports Insiders Newsletter
Sign up to receive our NEOSI newsletter, and keep up to date with all the latest Cleveland sports news.