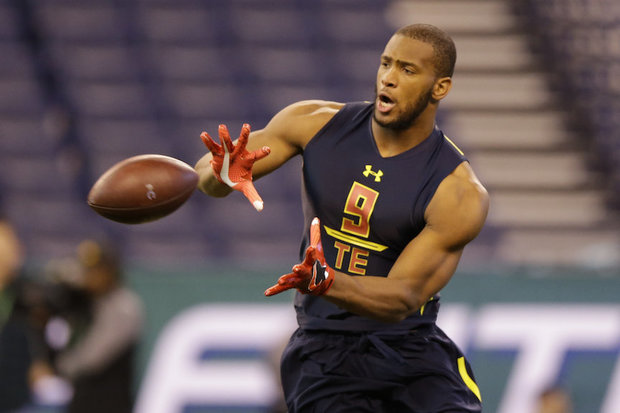 Stock Up
QB Deshaun Watson Clemson
Coming into the draft, there were two major concerns about Watson, his accuracy and decision making. While the latter can't truly be determined from the Combine, he did answer the question on the first one. He threw the ball with ease and consistently put the ball on target while looking totally comfortable. His footwork on dropbacks looked good too and he probably had the best Combine of the QBs.
QB Pat Maholmes Texas Tech
Maholmes was the other QB that seemed to impress a lot of people. Everybody knew about his cannon arm that was on display but being able to showcase his gunslinging skills allowed him to climb into the first round discussion.
RB Alvin Kamara Tennessee
Kamara has been one of the RB names on the rise during draft season after being a backup running back most of his time at Tennessee. While he did not run an overpowering 40 at 4.56, he had the highest vertical and broad jump of any RB showing off his explosive potential. With little wear and tear on him, he might crack the first round.
RB Christian McCaffrey Stanford
McCaffrey should go in the first round after his Combine. A true do it all threat at Stanford, he showcased his skills at the Combine. He had the fastest 40 time of the top tier RBs and blew everyone out of the water in the 3 cone drill. He has tremendous footwork and was super clean during the drills. He looked like the best back out there in a very strong field.
WR Chris Godwin Penn State
He's got good size to start at 6'1" 209 pounds but surprised everyone with a 4.42 40 time. He put up big numbers on his jumps and looked strong in all the drills. He definitely looks the part of a day two receiver.
WR Zay Jones Eastern Carolina
Zay Jones could be the highest riser of anyone since the end of the football season. After his strong showing in practice during the Senior Bowl, an even more impressive game, he comes to the combine and runs a 4.45. Put that with one of the most productive tapes of any WR in the history of college football and Jones might sneak his way into the first round potentially.
WR John Ross Washington
You break Chris Johnson's infamous 4.24 combine 40 time and you bet your stock will skyrocket. You can't teach speed and John Ross is as fast as they come. He ran a mindblowing 4.22 40 and that includes him cramping up at the end. Throw in a 11'1" broad jump and he solidified going in the first round as an explosive deep threat teams will covet.
TE Evan Engram Ole Miss
There were only a handful of offensive players that were faster than Engram who's a TE. He ran a 4.42 for the third fastest time for a TE ever. He looked like a natural pass catcher out there during drills and while he will need to improve as a blocker, he can be a matchup nightmare as a TE that can move out in space.
TE OJ Howard Alabama
OJ Howard continues to check all the boxes on what you look for from a TE. He can catch, run, block, just do everything that you want from a TE and made himself one of the safest picks in the draft. Not to mention at 6'6" 251 pounds he ran a 4.51. He might not fall out of the top half of the first round now.
OT Garrett Bolles Utah
In a battle to be the first offensive lineman selected, Bolles helped his case in that regard at the Combine. A big physically gifted tackle, he ran a sub five 40 and looked loose in the drills.
OT Aviante Collins TCU
He did not test like an offensive lineman at the Combine. He wins a freak award for the numbers he put up. At 6'4" 295 pounds, he was unofficially clocked as a sub 4.8 40, and had the second highest bench total of 34 reps. His strong athletic ability might warrant a second look for teams after being thought of as a late round or undrafted prospect coming in.
OG Forrest Lamp Western Kentucky
A lot of his Combine numbers don't shoot off the board besides his 34 bench reps, but it was how he looked in drills that improved his stock. Watching him run those drills in addition to his tape, you must love the skill set he can offer. I think he can go at the end of round one.
DE Myles Garrett Texas A&M
The Browns would be stupid to pass on him. He put up some Jadaveon Clowney type freak numbers. At 6'4" 272 pounds, he ran a 4.64 40, had 33 reps on the bench, a 41 inch vertical, and a 10'8" broad jump. He's an absolute freak that showed he looks like he needs to be a 4-3 DE instead of a 3-4 OLB. Once again a perfect fit for the Browns.
LB Haason Reddick Temple
Although he worked out with the defensive lineman, at 237 pounds Reddick will be a LB. He had one of the biggest wow performances of anybody at the Combine. From a 4.52 40 to a 11'1" broad jump, Reddick looked equally as impressive in the drills. he should now go on Thursday night for sure after a strong performance.
DE Solomon Thomas Stanford
Solomon Thomas is that one guy that it wouldn't surprise me if five years from now he became the best player from this draft. He's still really young but he has that Aaron Donald like build and athleticism. He's very quick off the line with great hands but also has the speed and lower body strength to make him more dynamic. I think he should go in the top five and he keeps climbing way up my board after he kept checking off the boxes at the Combine.
DE/LB Jordan Willis Kansas State
Another one of these hybrid DE/LBs, Willis ran 4.53 and a 6.85 cone drill plus a 1.54 10 yard split to put him first among the defensive lineman in the second two. He looked comfortable standing up and those numbers will cause his stock to rise as well being able to be versatile and covering multiple positions.
LB Raekwon McMillan Ohio State
Among the true linebackers, McMillan had the best day of all of them. The big concerns with him were his athletic ability and being a liability in coverage maybe making him only a two down player. Well he ran a 4.61 40 and he looked pretty fluid in drills so there's some hope he can be better in those areas than scouts originally thought. He will go day two.
CB Adoree Jackson USC
Adoree did what he had to do with his runs and jumps, but it was the drills that made him stand out. He looked like such a natural corner out there with good hips and feet. With such good technique he might have brought himself back into the first round conversation.
CB Fabian Moreau UCLA
Like Curtis Samuel, it is unfortunate he went up right after an absolute freak in the drills because Moreau tested extremely well. His 4.35 40 is nuts for a corner and he showed up in the drills to make him a day two pick and continuing to climb up a pretty loaded board.
S Obi Melifonwu Connecticut
It might be time to start investigating what they are putting in the water at UCONN. After his former teammate Byron Jones performed off the chart with his measurables a couple years ago, Obi did his best to equally impress. He had the second longest broad jump of anyone in combine history after Jones at 11'9". He then had an insane 44 inch vertical jump and then ran 4.4 flat at 6'4" 224 pounds. Suddenly he can be a safety that can play both spots and might even see time at corner. Just the raw potential of what he can do will outweigh a lot of his tape.
Stock Down
RB Corey Clement Wisconsin
He's only 5'10" 220 pounds to begin with but then ran a slow 4.68 40 and showed no explosion with a 28.5 inch vertical and 9'7" broad jump. In a loaded running back class he just took a huge hit and will be a late round pick.
RB Dalvin Cook Florida State
For as athletic as Cook was supposed to be and maybe being the top running back in this draft he did not live up to the hype in Indianapolis. He ran an ok 4.49 but among the running backs, not including fullbacks, his 3 cone was the second worst of everyone. He also didn't jump well and with some shoulder concerns he could tumble to the end of the first.
WR Amba Etta-Tawo Syracuse
Hands have been a big question mark for him going into the draft. Watching him in drills, I think he dropped more balls than any of the other WRs. You won't make it in the NFL if you can't hold onto the football.
WR Isaiah Ford Virginia Tech
He's only 194 pounds but ran a 4.61 40. Anything over 4.6 will raise questions about getting separation in the NFL and especially at his size. Combine that with some drops and body catching in drills and Ford probably dropped a couple rounds into possibly the second half of day three.
WR Cooper Kupp Eastern Washington
I have to put him as stock down although I'm still a big fan of his. The 4.62 40 is going to haunt him along with some poor jumps. He looks great in drills and catching the ball but there will be some limits on probably finding the right system that can get him open because of his physical limitations. Instead of being a second round lock, he might fall to round three.
WR Travis Rudolph Florida State
The feel good story of the WR sitting with the autistic child at a school, you want to see Rudolph do well. However, he tested horrible at the Combine. He came in smaller than advertised and ran a 4.65 40. He might go somewhere on day three.
OT Zach Banner USC
Weight has and continues to be a big problem for Banner. He's cut down to 353 pounds which is still way too large for a tackle and there were reports that at times he was over 400 pounds at USC. His 5.58 40 will create questions of how he can handle speedy pass rushers and he just looked slow in drills. He probably won't make it in the NFL unless he can somehow cut a lot more weight out.
DE Jonathan Allen Alabama
For being in the consideration for the number one overall pick coming into the Combine, Allen did nothing to stand out. He didn't have any explosive measurable and new questions about arthritic shoulders are emerging. It's quite possible what was once considered a top three lock might have a shot at dropping out of the top ten.
DT Caleb Brantley Florida
There were questions about his lack of production on tape but some people thought he could be better as a Pro. Watching him at the Combine made me feel the complete opposite. Besides testing towards the bottom in practically every category he looked dreadful in the drills as well. He gets way too upright in his stance and that will cause him to lose all his leverage and power inside while getting bullied by offensive lineman.
LB Reuben Foster Alabama
Getting dismissed from the Combine for getting into an argument with a worker is going to create some character red flags. Combine that with an injury and now everyone leaves Indianapolis with more questions than answers with Foster.
LB Tim Williams Alabama
Another Alabama linebacker with character problems is Tim Williams. He admitted to not one but multiple failed past drug tests. He was also arrested for carrying an unlicensed firearm. His 40 time of 4.68 for a 244 pass rusher that is supposed to be one of the top in the class is a little concerning too. Then when watching him run the drills, he messed up about three or four of them. For being at the end of the alphabet and watching the other guys in front of you and knowing what the drills were going to be well in advance, how do you routinely mess them up? There's too many flags with Williams for me to go on day one.
CB Teez Tabor Florida
Tabor was in consideration of being one of the top corners in the draft, but he performed poorly in the measurable drills. He had the second fewest reps on the bench with just nine and was not strong in the run game to begin with. Then he had the second lowest vertical jump and ran a 4.62 40 for a corner. He took a huge hit and might drop out of the first round.
CB Rasul Douglas West Virginia
He was tied for the NCAA lead in interceptions this season but despite being a bigger corner his 4.59 40 still doesn't look great when compared to a lot of the other top CBs in this draft. He also looked a little tight hipped in the drills which will make him a third round pick at the earliest.

NEO Sports Insiders Newsletter
Sign up to receive our NEOSI newsletter, and keep up to date with all the latest Cleveland sports news.