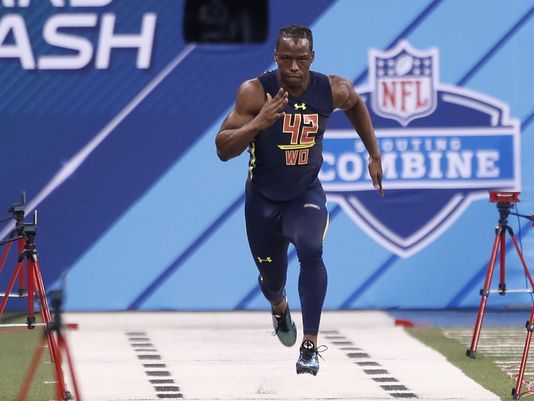 5 Takeaways From the NFL Combine
1.) There is still no consensus top QB
Going into the NFL Combine there were a lot of questions about who the best QB in this draft would be. Leaving the Combine the same question remains. None of the guys did anything to separate them from the pack leaving a lot of questions in flux. Deshaun Watson and Pat Maholmes seemed to have the best performances but other scouts had other QBs as the top performer too. It's not that anybody performed poorly either. They all looked decent but with nobody taking over the role as the alpha QB it should be interesting to see how the QB race sorts out. There could still be five different QBs taken as the first one come draft day.
2.) The secondary is loaded
This is a horrible year to be a free agent defensive back because there is a lot of talent coming out of the draft this year. Very top heavy, a record number of defensive backs could go in the first three rounds. I think there are at least 15 corners alone that could go in that range. Because of the pure amount of talent in that group too, don't be surprised if the number twelve corner gets taken before the number two corner on some expert's board. It is all about scheme fit and they all grade pretty close to each other. There are also two safeties that should be top ten locks and another two that could make it in the first round. There is a lot of depth all around at both positions and they are fast. Almost half the field ran under 4.5 in the 40, safeties included.
3.) This might be the best TE class we've seen in a long time
The TE group is another special one in this draft. It seemed like this group was among the top Combine performers in every category in Combine history for TEs. Three guys alone broke the broad jump record going into the Combine for a TE. Not only that, but it is a diverse group of TEs. You want an inline blocking big TE, check. You want a smaller TE that you can put out in space and act like an oversized WR, check. You want a guy that can do both, check. There are just so many talented athletic freaks in this group and I feel bad for them. Some of them will go day three because of the amount of talented guys when they would have been a second round pick last year. If your team drafts one late in the draft, keep an eye on them because there is still a lot of potential talent there.
4.) RB group is also very deep
Rounding out the groups that really stood out was the RB group. We knew about the talent at the top, with five guys that could have first round grades although character concerns will likely drop Mixon, but the talent at the bottom is equally good. There are guys that I like that could go round three or round four that could wind up starting in the NFL and having a good career. With all the talent at these positions teams are going to have a tough choice of do we get one of the stars early or address other areas and hope we get one of the guys we thought would go a round earlier is still there because of the overflow of talent.
5.) There are a lot of freak athletes
I think the biggest takeaway from the whole Combine is this class is loaded with a bunch of athletic freaks. I didn't even get to mention in my prior points of John Ross taking down Chris Johnson's infamous 4.24 40 time and doing it while cramping up at the end. I didn't get to mention Obi Melifonwu posting the second longest broad jump of anyone in Combine history. It doesn't mention the Jadaveon Clowney like numbers that Myles Garrett put up to be the possible number one pick. It seemed like every day there was some kind of Combine record going down. All these players this year seem to be faster and more explosive than year's past. It might be that teams are getting better strength and condition programs in college and improving early on in their playing careers, or knowing exactly what they must do at the Combine and training for it, but there is also the chance that this class is just exceptionally athletic. No matter what way it gets broken down there is a lot of talent and athletes in this draft. Those are things GMs will love with the league switching to matchups and needing better athletes to guard the mismatches and play multiple positions especially on the defensive end of the ball where this draft truly shines.