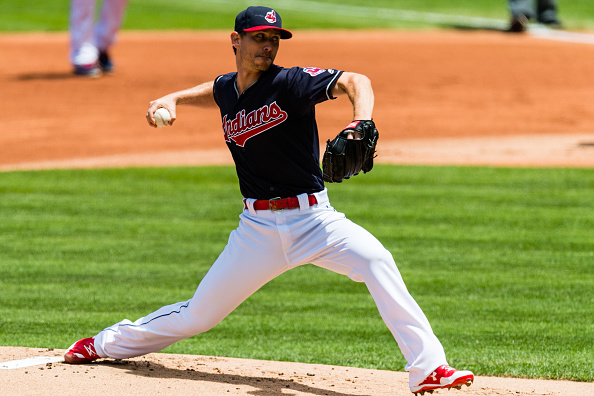 The Indians took on the Milwaukee Brewers and fell to the Brewers 7-6 . Josh Tomlin started Monday's game and pitched in 2 innings, gave up 1 hit, and struck out 2 batters. The Indians number 3 prospect according to MLB.com, Bobby Bradley had a strong showing today also going 2-3 and driving in a run.
The Indians number 1 prospect, Francisco Mejia hit a 2-run homer today also.
Five of Frankie Mejia's 14 HRs with @AkronRubberDuck in 2017 came from the right side.

1 of 1 came from the right side today. pic.twitter.com/swWPslOCHC

— Cleveland Indians (@Indians) February 26, 2018
Jordan Bastian of MLB.com tweeted out that Jose Ramirez, who has claimed that Mejia is the best hitter on the team, pulled him into the video room today to study film together.
This morning, Jose Ramirez — who has called Francisco Mejia the best hitter on the team — pulled the young catching prospect into the video room to study up together. Naturally, Mejia homers later in the afternoon.

— Jordan Bastian (@MLBastian) February 26, 2018
R.J. Anderson of CBS Sports wrote up a preview for the 2018 Indians and talks about how the rotation is still strong, and hopefully, the offense is just as strong as last year's even though they have lost some key pieces but are bringing back a healthy Jason Kipnis and Michael Brantley. Anderson also mentions the fact that Cleveland could be overlooked because of how little noise they made during the offseason. He also mentions the fact that in 2019 the Tribe might see a similar thing happen that happened to the Kansas City Royals this past offseason, plenty of players leaving because of free agency. The difference he mentions is that the Indians have depth in their farm system.
The Cleveland Indians are motivated but their 2017 ALDS loss, along with talent being doubted written up by Matthew Florjancic of WKYC.com. Corey Kluber spoke about it early in spring training,
"Every time you reach the postseason and you don't win, I don't know if you really ever get over it," Corey Kluber said. "I think you find a way to use it as motivation and different ways to drive yourself during the offseason, striving to not have that happen again."
Trevor Bauer spoke about the motivation also,
"Ultimately, it comes down to take care of business in the regular season to give yourself a chance to make the playoffs, and once you get in, anything can happen," Bauer said. "I think we've done a really good job of that the last couple years, getting ourselves a chance. No one thought we were going to go very far in 2016, and we were the team that kind of surprised people, basically played the entire season to a tie. We needed extra innings in Game 7 to figure out who won."
Bauer added,
"Last year, we were one of the best teams. We were the best team in the American League, one of the best teams all year round and just got beat. It happens, but that's the goal again this year, set ourselves up in position in the regular season to make the playoffs, get in, and then, let the cards fall where they may."
Paul Hoynes of Cleveland.com wrote up on if Tyler Naquin can 'get back to his old self' and win a job in the Indians outfield. Naquin went from playing in four games in center field during the 2016 World Series with the Tribe to playing most the season with AAA Columbus Clippers. Naquin knows that he has slown down,
"You could tell I'd lost that step because I was banged up or whatnot," he said Friday in Goodyear, Ariz. "But feeling good now and being able to run, you can tell it's a lot different."
Indians manager , Terry Francona had this to say about Naquin,
"He sees there are some openings in the outfield," said Francona. "He won't back down from that. It will be fun to see how this spring goes. Two springs ago we saw him literally play himself onto the team."
Francona also commented on Naquin's performance on Saturday
"He swung the bat well," said Francona. "He hit a breaking ball off a lefty for the home run. He's got the survival skills. He fouled off a lot of pitches, got to a fastball and hit the double the other way."