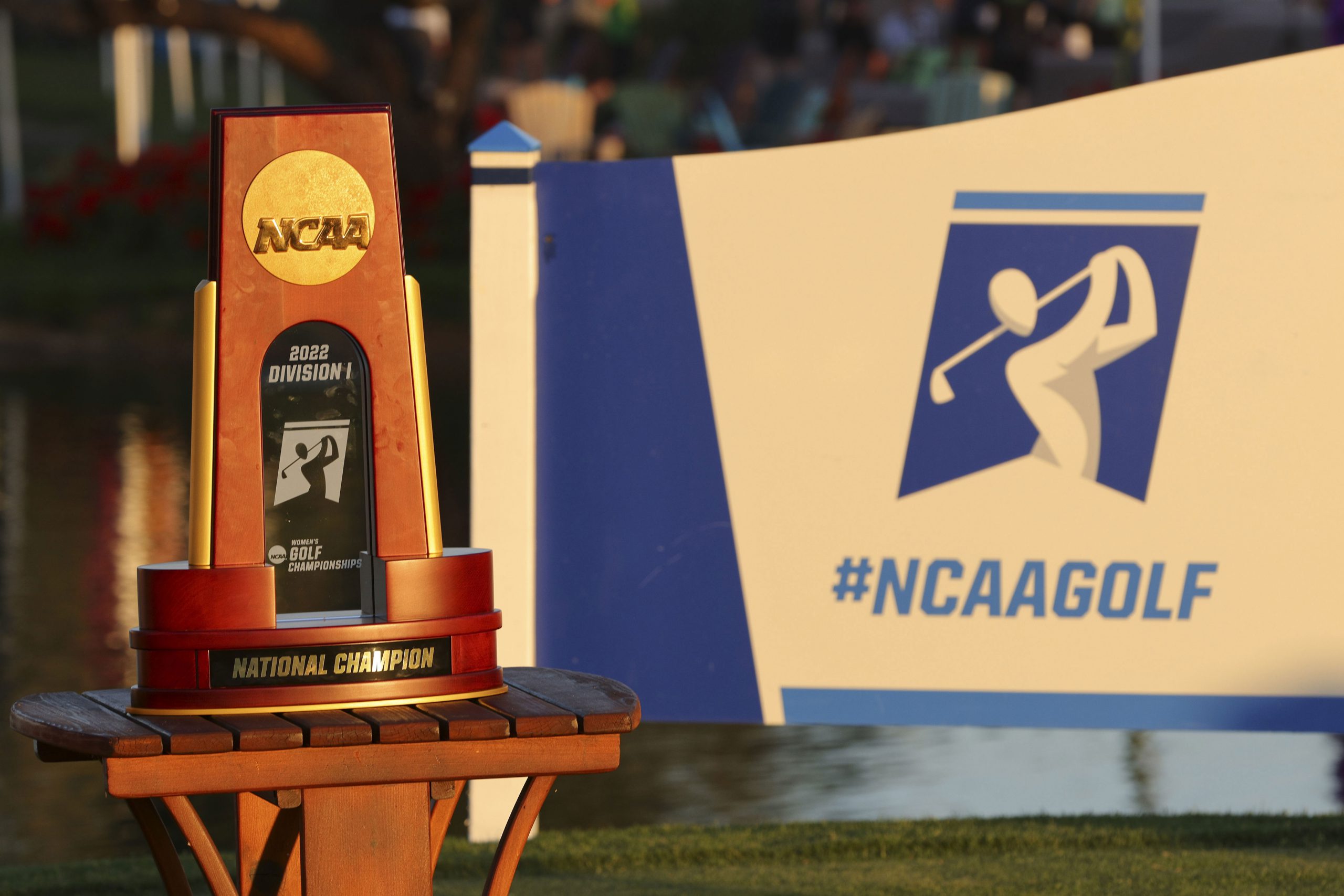 After day one of the Women's NCAA D3 golf championship, Nova Southeastern from Davie, Florida sit atop the leaderboard after a scorching day at the Fox Run Golf Club in Eureka, Missouri. The Sharks top 3 golfers sit alone at the top of the individual leaderboard, too!
#3 Sharks in lead after Day One at NCAA Championships

🔗 https://t.co/1D5ueDXlZo#HungryForMore pic.twitter.com/s0A3M50Nhc

— NSU Women's Golf (@NSU_WGolf) May 17, 2023
Nova Southeastern in the top spot
Olivia Gronborg, from Denmark, was red hot all afternoon and completed a four under round of 68. Her teammates, Ellen Andersson (Sweden) and Emma Larsen (Denmark), both carded 69's en route to a team low of 282 for an eight stroke lead over the University of Findlay.
Findlay in a tie for second
Taking on the best in the country in St. Louis, Missouri, our Oilers are in a tie for second through 18 holes at the NCAA DII National Championship.

Jill Schmitmeyer (📸) and Gabby Woods led the way with rounds of 70 (-2).

Round✌️begins tomorrow morning at noon EST.

⛳️:… pic.twitter.com/aSmiJK1qAQ

— Findlay Oilers (@FindlayOilers) May 17, 2023
Findlay was one of the first groups out for the day after almost two days of straight rain soaking the course. They took an early team lead into the clubhouse behind teammates Jill Schmitmeyer and Gabby Woods, who found their matching 70's the early, best rounds. But soon after found themselves tied with Anderson University of South Carolina for second place.
The course played long due to the prior day's rains with 98 rounds completed with an average of 76.29 strokes. But that didn't deter the start from the Florida school!
Front 9
The day was delayed due to weather which had been wet and rainy for almost two straight days. Pre-Tournament ranked #1 Lynn University set a pace of +2  from the first tee to the tenth. Findlay, playing in the same group, bettered their opponents by one as the first half of the teams completed nine. 
But Nova's four under front nine sent a jolt through the course as the team kept making birdies while others were bogeying.
The front 9 was by far the more difficult nine with 8 of the nine holes averaging over par. Findlay's Gabby Woods recorded the only eagle on the day at the par 5 number 4, playing over 500 yards. At one time, the trio from Nova were all 3 under by the time they hit #9.
Back 9
Hole #12 is by far the most difficult hole on the course. With an average over par of .75 strokes, the women had trouble with this layout. Except for Cal State East Bay's Julika Grosspietsch! After a round 5 over par start to her round, Julika finished the back side in four UNDER, with five pars to go with her four birdies! Grosspietsch sits at one over for the tournament.
Nova Can't be caught?
But the story would be how many strokes would NOVA stretch their lead to? Having a five stroke advantage for the first nine wasn't enough. The three women from Europe playing for the Sharks took control of day one. Olivia completed the day birding three of the final eight holes. Ellen birdied 15 and 16 for a nifty one under 35 back nine, and Emma matched her with a 35, carding only a bogey at 11.
Jill Schmitmeyer (SR) with Findlay started the day at 2 under with birdies at 1 and 2. Overall she finished with 5 birds and 3 bogeys for a 2 under 70. Gabby's (JR) eagle at 4 and subsequent bogey at 5 kept her under for the round. And she added to her 2 under with two birdies in the final six holes. Hayley Dye, a freshman, finished at +3, not bad for the first year student in her first national competition. The twins, Erin and Mary Kelly Mulcahy, carded rounds of 77 (+5) and 78 (+6). Erin was the freshman hero last year as Findlay tries to grab a second consecutive national crown. Mary Kelly struggled all day and her triple at the 12th was the last bad hole as she closed with a series of pars.
Day 2
Day 2 gets started at 8 am as the tee times flip and those who completed last will tee off first. So, Findlay and Anderson will get the chance to see how much ground they need to make up on Nova as the Florida team tees off in the first groups. The two second place schools will tee off after 10 AM Wednesday morning.
Weather is expected to be nice Wednesday and Thursday, so it's possible the scores could go lower.
⛳️ 𝙉𝘾𝘼𝘼 𝙒𝙤𝙢𝙚𝙣'𝙨 𝙂𝙤𝙡𝙛 𝙉𝙖𝙩𝙞𝙤𝙣𝙖𝙡 𝘾𝙝𝙖𝙢𝙥𝙞𝙤𝙣𝙨𝙝𝙞𝙥 – 𝘿𝙖𝙮 𝙊𝙣𝙚

Anderson Tied for Second, Limestone in Tenth After Day One of NCAA DII Women's Golf National Championship

📰: https://t.co/D6vwwVtBUX#MakeSACYours #SACWGOLF pic.twitter.com/HBXLPqGiWW

— South Atlantic Conference (@SAC_Athletics) May 17, 2023
Team leaderboard
    Team           Scores             To Par
1 Nova Southeastern 284     -4  
2 Findlay     292      +4  
2 Anderson (SC) 292      +4  
4 DBU 295      +7  
5 Cal State East Bay 297      +9
5 Lynn 297      +9  
7 UIndy 299      +11  
8 West Texas A&M 300     +12  
9 Tampa, U. of 301      +13  
10 Limestone University 302      +14  
11 Nebraska – Kearney 303      +15  
11 Tiffin           303      +15  
13 Cal State San Marcos 305      +17  
14 Missouri – St. Louis 306      +18  
15 Grand Valley State 307      +19  
16 Henderson State 308    +20  
17 Augustana (SD) 309      +21  
18 Wayne State MI 314      +26 
Individual Leaderboard
1   Olivia Gronborg  Nova Southeastern 68      -4 
T2 Emma Larsen  Nova Southeastern          69      -3  
T2 Ellen Andersson  Nova Southeastern  69      -3    
T4 Gabby Woods  Findlay  70      -2  
T4 Jill Schmitmeyer  Findlay  70      -2  
6 Adriana Iribarren  Lynn 71      -1  
6 Amelie Alcantara *  Eckerd 71      -1  
6 Sarah Mardani  Limestone University 71      -1  
6 Lisa Marie Schumacher  Tiffin 71      -1    
6 Tove Brunell  Missouri – St. 71      -1    
11 Olivia Mitchell  DBU 72      E  
11 Gam Songprasert  West Texas A&M 72      E    
11 Kerington Lamb  Anderson (SC)  72      E    
11 Zoey Iglesias  Anderson (SC) 72      E  
11 Rebeca Vestman  Wayne State MI 72      E    
16 Cathi Graf  UIndy  73      +1  
16 Alyssa Campbell  West Texas A&M 73      +1    
16 Jessica Rathbone  Anderson (SC) 73      +1    
16 Hailey McLaughlin *  Wingate 73      +1    
16 Julika Grosspietsch  Cal State East Bay 73      +1    
16 Emily Montagnino  Tampa, U. of 73      +1  
16 Karla Lagerstrom  Limestone University 73      +1

NEO Sports Insiders Newsletter
Sign up to receive our NEOSI newsletter, and keep up to date with all the latest Cleveland sports news.