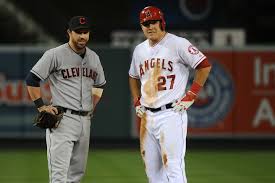 On the Monday, May 9th edition of the Baseball Tonight Podcast hosted by ESPN's Buster Olney, Olney spoke with ESPN analyst and former-MLB player Doug Glanville.
One of the topics they discussed was whether or not the Los Angeles Angels of Anaheim should consider Superstar Outfielder Mike Trout as a trade candidate this season.
First off, let me preface this by saying that nothing is imminent. The Angels have made no indications they plan to trade Trout. As of right now it's highly unlikely.
In case you were wondering, Olney and Glanville both agreed that the Angels should not trade the shoe-in Hall of Famer, who is only 24 years old with plenty of amazing years left.
But let's look at a few of the reasons why the possibility of trading Trout is even a conversation in the first place.
We'll start out with the fact that one of the leading MLB farm system experts, Keith Law, gave a brutal analysis of the Angels' farm system in February 2016, just prior to the start of the season.
Law ranked the Angels dead last, 30th out of 30, and said:
"I've been doing these rankings for eight years now, and this is by far the worst system I've ever seen. They traded their top two prospects in the Andrelton Simmons deal and had no one remotely close to top-100 status. They need a big draft this year to start to restock the system or we're going to start talking about whether it's time to trade Trout."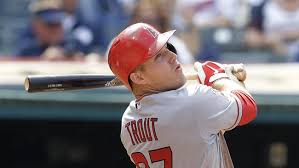 That was two months before the Angels began the season, and they have even performed below expectations so far in this regular season.
After 31 games, the Angels are 13-18, sitting in 4th place out of 5 teams in the American League West.
They also just lost their most consistent pitcher, Garrett Richards, for the remainder of the season, as he will undergo Tommy John Surgery.
Richards is not a legitimate ace, but he was the closest thing the Angels had to one, and their starting rotation leaves much to be desired in terms of depth.
But it's not just the starting pitching that makes the Angels far away from contending.
Their lineup is unimpressive. Albert Pujols is well-past his prime. Kole Calhoun is one of the better outfielders in MLB, but not an All-Star. C.J. Cron is a solid guy to have as a #6 hitter in a linuep, but not much higher than that. They have a great defensive shortstop in Andrelton Simmons, but that basically sums up the only meaningful contributors they have around Trout right now.
Couple that thin lineup and weak pitching staff with the fact that the Angels have one of the worst farm systems of not just this year but in MLB history….
There's a solid argument to say the Angels are years away from contending.
They also play in a division where the Texas Rangers and Seattle Mariners clearly have a better shot at making the playoffs than they do over the course of the next two seasons.
So where do the Indians come into this equation?
For starters, I will preface the possibility of Cleveland acquiring Trout by saying that if the Indians front office was going to make a move to get Trout, they would first off have to pony up a significant amount of dough; something we know they don't tend to do.
Trout is under contract until the end of the 2020 season. Here are the numbers for each year, which get significantly higher with each season: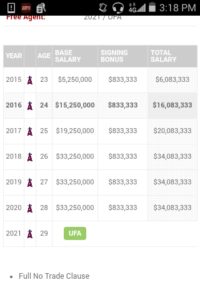 I'll be the first one to admit it's hard to see the Dolans spending that much.
However, if by chance the front office decides to go "All in" like the team next door, the Indians do have plenty of attractive resources that they could offer the Angels to make a trade for Trout worth listening to.
Going back to Keith Law's prospect rankings, the Indians ranked 11th out of 30 teams in terms of all-around farm systems, but the Tribe had 4 players in his top 100 prospect rankings.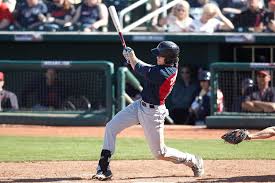 Anyone who follows the Tribe closely is familiar with Bradley Zimmer and Clint Frazier.

The Angels and every other Major League organization are well-aware of the potential that those two outfielders have and there's a reasonable chance that both of those players go on to become All-Stars.
It's too soon to know one way or the other, of course, but Zimmer was ranked 26th in Law's rankings of prospects overall, and ranked as the 6th best outfield prospect. He was #1 in the Indians' system.
For what it's worth, he hit 16 homers in 2015 and has already hit 6 in 27 games to start the 2016 season. His average is only .229 right now, but it's reasonable to expect that to go up significantly as the season goes on.
The other outfield prospect, Frazier, was ranked 35th in Law's prospect rankings, and is listed as his tenth best outfielder in the Minors.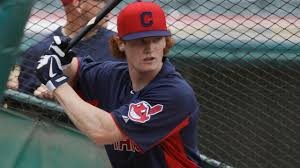 Frazier hit 16 homers in 2015 and already has 15 extra base hits in the first 27 games of 2016.
If the Indians were to offer a trade proposal involving both Frazier and Zimmer, that would at least raise the eyebrows of the Angels' front office.
We don't know how much those executives value those two players, but two of the top ten outfield prospects in baseball has to at least make for a good conversation-starter.
Beyond those two prospects, it's going to take a big haul to get a future Hall of Famer. There's no "if's," "and's," or "but's" about it.
I've had the conversation with several friends and Tribe fans about this, who asked, "What about Lonnie Chisenhall, Tyler Naquin, Cody Anderson, Trevor Bauer?" and in response to names like that, I believe the Angels would laugh in the face of the Tribe front office.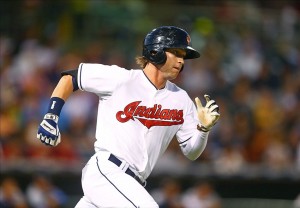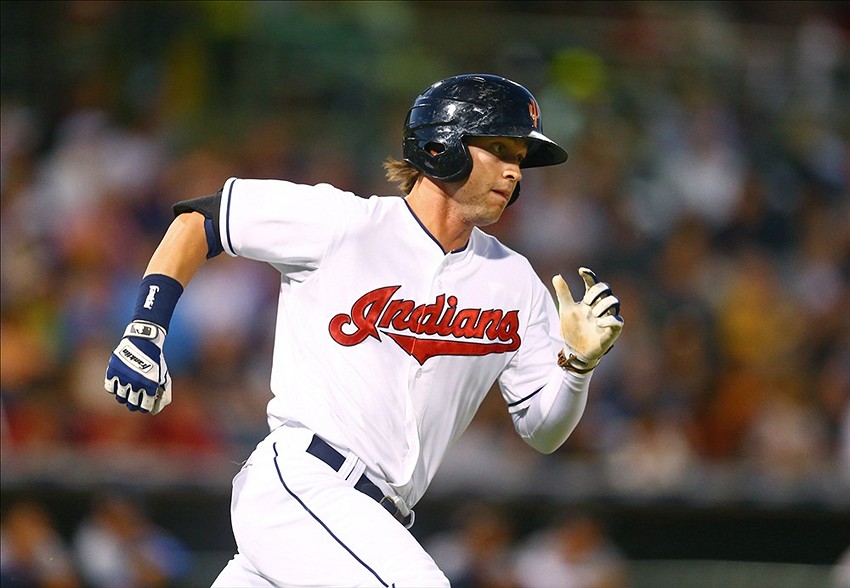 We need to remember that it's not the Angels' job to make a sweet deal for the Tribe and take players off their hands, who the Tribe might already be looking to ship off anyway.
To get a star player, especially a superstar player like Trout, you need to give up value in return.
A few names that would seem to at least be worth considering from the Angels' side of things, along with Zimmer and Frazier, are starting pitching prospects, Mike Clevinger and Justus Sheffield, and one of the two MLB starting pitchers, Carlos Carrasco and Danny Salazar.
Before we get into the prospect pitchers, here is a list of potential names to consider aside from the two I have mentioned, but I won't go too in depth into those guys:
LHP Brady Aiken (former #1 overall pick, drafted 17th overall by Indians in 2015 after injury)
LHP Rob Kaminsky (#76th overall prospect in Keith Law's rankings)
1B Bobbie Bradley (Belted 27 homers at the age of 18 in 2015)
SS Erik Gonzalez (Great defensive shortstop, can hit for average)
Those guys aren't near the top of the list in potential trade candidates in my opinion, but they could be intriguing to the Angels.
Back to Clevinger and Sheffield, who I believe would be great assets in a trade proposal for Trout.
We'll start with Sheffield. He's 19 years old, about to turn 20 in a few days. He struck out 138 batters in 127 innings in 2015, going 9-4 with a 3.31 ERA. He's a left-handed starting pitcher, with potential to be a top of the rotation guy down the road.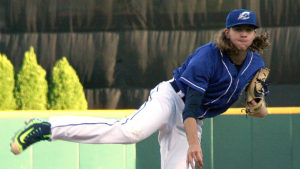 Moving to Clevinger. Clevinger is at Triple-A Columbus and will most likely make his MLB debut this season.
He is 4-0 this season with a 3.03 ERA, striking out 29 batters in 29.2 innings. That follows up a 2015, in which he posted a 2.73 ERA with 145 strikeouts over 158 innings pitched.
Of those two, my guess is the Indians would have to offer at least one to give the Angels something of equal value in return for Trout, along with Zimmer and Frazier.
Here's where many Tribe fans might disagree, but in my opinion is the necessary factor to get the Angels to at least believe it's a fair trade.
Offer a proven MLB star in return, to go with the three or four promising prospects.
We all remember Matt LaPorta, Alex White, Drew Pomeranz, and raving about them during their Minor League days. Aside from Pomeranz finally showing some recent signs of potential, those three never lived up to anything close to what we expected.
Why should the Angels assume that Zimmer, Frazier, Sheffield, or Clevinger are guarantees?
If the Indians were to trade a proven star, I would consider either Danny Salazar or Carlos Carrasco.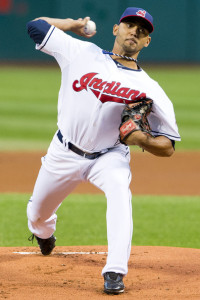 A couple names to include in the fold of potential MLB players to trade are Jason Kipnis, Carlos Santana, and Yan Gomes, who would all be worth giving some thought to trading if the Tribe could land Trout in return without giving up an Ace-caliber pitcher, but in today's MLB, starting pitching is paramount to any team's chance at a title.
The Angels are so thin at starting pitching that it is reasonable to expect they'll want a front end of the rotation guy with a proven track record to make a Trout deal worthwhile.
We've seen the Indians play without Carrasco in the rotation the last two weeks and it's been a mixed bag of results.
They lost five out of six on the road, then won five out of six at home against tough Central Division opponents.
It's too small of a sample size to take much away, but it's nice to know that the four pitchers of Corey Kluber, Danny Salazar, Josh Tomlin, and Trevor Bauer can take care of business. Bauer is more of a wild card, but at least he has some proven results in back-to-back seasons.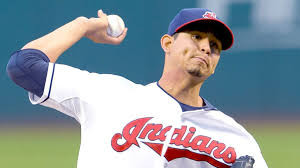 Cody Anderson is turning out to be an unreliable option in 2016, so the Tribe would have to weather a storm of having three more than dependable starters and deal with having not-so-great fourth and fifth options in the rotation if they were to trade Salazar or Carrasco.
This is what the Tribe would have to weigh if they were to make a trade for Trout, assuming the Angels are even open to it in the first place.
Is getting a Hall of Famer, Superstar, MVP-caliber guy, who can be under contract with the team for five seasons, worth leaving the starting rotation with a hole or two, and having a much thinner farm system?
The only members of the Cleveland Indians that to me would be considered "untouchable" are Corey Kluber, Francisco Lindor, and Michael Brantley.
A trade proposal that I believe could be at least reasonable and not something the Angels would laugh at would consist of the following:
Angels receive:
SP Carlos Carrasco
SP Mike Clevinger
OF Bradley Zimmer
OF Clint Frazier
Indians get Trout.
The Angels would get a ton in return. That's not to de-value players like Carrasco, Zimmer, and Frazier. They're great. But to get a superstar player, that's what it's going to take. Especially when you consider the five seasons of control the Indians would have.
Look back at the New York Mets trading for Yoennis Cespedes in 2015, or the Toronto Blue Jays acquiring David Price.
Those were just two-month rentals and they still gave up top prospects.
But it also put those teams over the top. The Mets made it to the World Series and the Blue Jays were a game away from making it to the World Series.
Because those teams were a piece away from being legitimate contenders and they went out and made aggressive moves.
Looking at the Indians, they might be a piece away, themselves. We've established that the Angels are more than a piece away.
The Cleveland Indians are in a position where they a great core. They have a great top three of the rotation. But right now, most would say they are "a team on the rise," waiting for Zimmer and Frazier to get to the Majors, and then who knows how long it takes those two to become MLB stars like we hope they do, if it ever even happens at all?
By the time Frazier and Zimmer are top MLB outfielders, assuming they get to that point in the first place, will Kipnis and Brantley still be elite players?
Will the Tribe's window be big enough to see this team contend for a World Series with everyone in the prime of their careers?
If the Tribe were to add Trout, they go from an "up and coming" "team on the rise" to an immediate force to be reckoned with.
Right now, there are plenty of question marks about whether or not the Tribe can even make the playoffs, let alone win the division.
With Trout, they become an instant World Series contender, even if they have to give up a top starting pitcher and some top prospects.
This is the internal debate that would have to happen, assuming the Angels come to the realization that their best option might be to acquire a bunch of promising players in exchange for Trout, who is surrounded by an unimpressive group of players currently.
Imagine the top half of the Indians lineup as follows:
Santana
Kipnis
Lindor
Trout
Brantley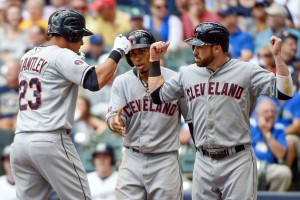 Let's not even take into account who would be around those guys. That top five could contend even if it was surrounded by Triple-A players.
And that is the group of guys who would be together in Cleveland until the end of 2020.
It's hard to believe they wouldn't make a great run at a title in at least two of those next five seasons.
As I prefaced this article, this is all just hypothetical and odds are the Angels won't even end up trading Trout, but as the direction of the Angels goes down and the possibility of the Tribe being contenders goes up, it's worth thinking about and keeping an eye on to see if the Tribe wants to make a splash and go "All In."
Mike Trout is essentially the LeBron James of MLB. Bryce Harper is the equivalent of Steph Curry. I understand that many Tribe fans value their prospects highly, and wouldn't want to part with one of their top three starting pitchers, but personally, it's hard for me to believe any of the minor leaguers are going to have anywhere close to an impact as what Trout has proven already, still at the young age of 24.
If you think the Angels are going to take the Indians' lesser-valued players just to be charitable to Cleveland, you're sadly mistaken.
In the mean time, let's see if this solid lineup and really good starting rotation can play well enough to at least make the playoffs.

NEO Sports Insiders Newsletter
Sign up to receive our NEOSI newsletter, and keep up to date with all the latest Cleveland sports news.