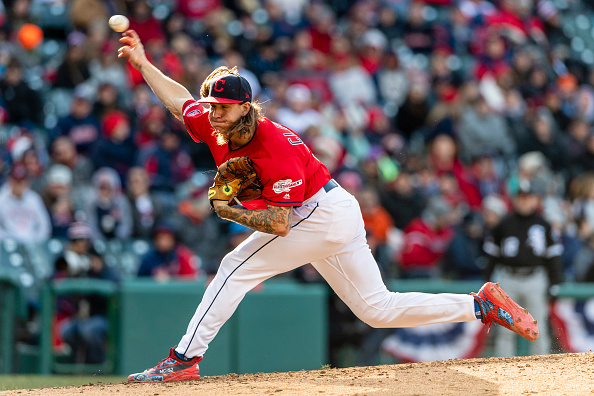 In the span of just a few minutes, an injury update from the Cleveland Indians shifted from "nothing to worry about" to "OK this could be bad." Said update may have also put a significant wrinkle in the team's plans for the year ahead.
Yesterday, the team placed starter Mike Clevinger on the 10-day IL with a back strain. He experienced tightness during his start this past Sunday, but seemed to believe it was nothing to worry about. The casual nature of the team's announcement seemed to hammer home said belief.
Within an hour or so, it was announced Clevinger would actually be out for 6-8 weeks. As if this wasn't jarring enough, manager Terry Francona added this uplifting tidbit to his pitcher's injury timeline.
Regarding Mike Clevinger, Terry Francona says it'll be 6-8 weeks "before we're even looking at him picking up a ball."

— Zack Meisel (@ZackMeisel) April 9, 2019
When hearing this news, two things immediately come to mind. The first is the obvious letdown of seeing Clevinger get sidelined so early after looking like a potential Cy Young candidate out of the gate.
After that comes the jarring realization that we're about to find out just how solid Cleveland's plans for the 2019 season really are.
The Indians' strategy for this year was simple – rely on a top-tier rotation to mitigate any concerns with the offense or bullpen. As long as the starting pitching was intact, the team could hang with anyone.
It's why the front office felt comfortable with shedding salary over the winter, and why it still felt strongly about its postseason chances despite doing so. It's also why so many pundits and fans assumed the Tribe winning a fourth consecutive division title was a sure-thing.
Just three weeks into the season, said game-plan is now in flux.
Clevinger being out for at least two months is a severe blow to Cleveland's rotation. Likewise, the team's options to replace him are limited.
Adam Plutko, who made a few spot starts last year, is out with a forearm strain. Star prospect Triston McKenzie isn't ready to be called up just yet. Cody Anderson seems like the most likely candidate to replace Clevinger, though recovery from Tommy John surgery has kept him out of the big leagues since 2016.
What this all hammers home is the fact Cleveland's strategy for this season didn't seem to account for injuries. Sure, the rotation is one of the best in the league, but only when it's at full strength. The second one of the starters gets sidelined, things get a little dicey.
Admittedly, Cleveland is off to a strong start this year, as the reliance on starting pitching hasn't caused any issues. Outside of a couple tough outings, all Indians starters have looked solid so far. Meanwhile, the offense is providing just enough run support to ensure the team can tally up some early wins.
That said, Clevinger's injury will prove just how sustainable this all is.
Can the Indians survive with one of their star pitchers out for the next few months?
Can the offense keep scratching out runs while players like Francisco Lindor and Jason Kipnis are on the mend?
Most importantly, though, can the team survive any more injuries? If another starter goes down, or if the offense loses a key bat, will the Tribe still be able to fulfill expectations in the year ahead?
If the Indians are lucky, they won't have to worry about that. However, no team should head into a season pinning its hopes on the assumption everyone on the roster will stay healthy.
Again, Cleveland's strategy made sense, to a point at least. As long as the rotation was at full strength, the team could beat anyone.
It no longer is, and it won't be for the near-future. As a result, it's time to see just how fruitful this plan really is.

NEO Sports Insiders Newsletter
Sign up to receive our NEOSI newsletter, and keep up to date with all the latest Cleveland sports news.