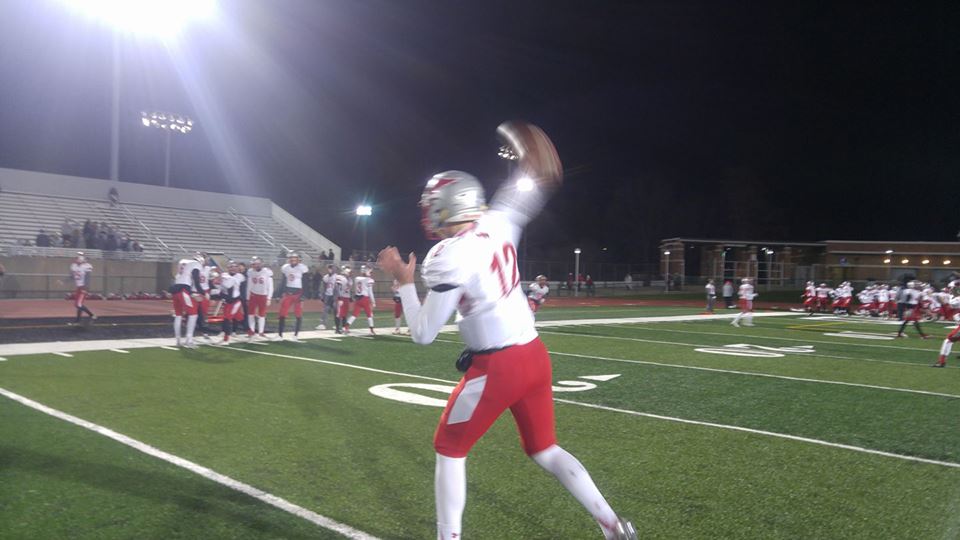 BEDFORD, OHIO – Tonight was an epic rematch of regular season rivals St. Ignatius and Mentor for a trip to the States Final Four in this years State Championship Playoffs.  It was a hard-fought battle, but in the end, it was a clutch 27-yard Field Goal by Conor Mcintosh that propelled the Mentor Cardinals into the Division One State Final Four.
Down 21-14 entering the fourth quarter, sensational Mentor Quarterback Tadas Tatarunas took maters into his own hands.  Leading two length of the field drives to help the Cardinals capture the 23-21 victory.  The first drive being capped off by a 32-yard touchdown toss to Luke Floriea and the second leading to the game winning kick with only 41 seconds left on the clock.
All of this came after a 13-yard touchdown run by Jack Welsch at the 12-minute mark of the third quarter to give St. Ignatius a 21-14 lead.  Tatarunas was just getting warmed up, he has been a second half player all season and this was no different.  After trailing 14-7 at the half, the Cardinals outscored the Wildcats 16-7 in the second half.
Much like in life, sports gives people second chances, tonight was no different.  After the touchdown pass from Tatarunas to Floriea made it 21-20, everyone just assumed an extra point would tie the game.  It was promptly blocked.  Showing the heart of true champions, Mentor rallied back, forcing a St. Ignatius three and out, getting the ball back and driving down the field in the closing moments for the win.
Tatarunas finished strong as always, with 116 yards on 14 of 21 passing with the touchdown.  He also ran the ball for 61 yards on 12 carries. For the second straight week he showed the ultimate poise when it was needed the most to lead his team back from the brink of defeat. 
He didn't do it alone however as Elijah Mcdougall had a monster night himself, finishing with 151 yards on 18 carries.  Over 100 of those yards coming in the first half, 96 in the first quarter alone for the hard-running Senior tailback.
St. Ignatius played great all night but kept shooting themselves in the foot, and in the end, it cost them big.  They didn't even have to punt until midway through the fourth quarter and the fact that they only scored 21 points, is almost stunning.  They finished with one interception, and two missed field goals, had they not committed those mistakes, this game may have had a much different outcome. 
You can follow Vince McKee on twitter at VinceTheAuthor
Score by Quarters 1 2 3 4 Total
Mentor High School 7 0 7 9 23
St Ignatius Wildcats 7 7 7 0 21
Qtr Time Scoring play
1st 09:36 MENTOR – E. McDougall 36 yd run (Conor McIntosh kick), 7-80 2:24
05:28
SIHS – Jahadge Floyd 1 yd run (M. Trickett kick), 12-73 4:05
2nd 06:59
SIHS – D. Alexander 1 yd run (M. Trickett kick), 18-91 6:41
3rd 05:42
MENTOR – E. McDougall 18 yd run (Conor McIntosh kick), 10-80 3:00
03:10
SIHS – Jack Welcsh 13 yd run (M. Trickett kick), 8-59 2:28
4th 07:45
MENTOR – Luke Floriea 32 yd pass from Tadas Tatarunas (Conor McIntosh kick blockd), 8-83 2:17
00:37
MENTOR – Conor McIntosh 27 yd field goal, 17-71 5:15
MENTOR SIHS
FIRST DOWNS 22 24
RUSHES-YARDS (NET) 43-254 55-271
PASSING YDS (NET) 166 132
Passes Att-Comp-Int 21-14-0 19-13-1
TOTAL OFFENSE PLAYS-YARDS 64-420 74-403
Fumble Returns-Yards 0-0 0-0
Punt Returns-Yards 0-0 0-0
Kickoff Returns-Yards 0-0 3-34
Interception Returns-Yards 1-0 0-0
Punts (Number-Avg) 2-31.5 2-34.0
Fumbles-Lost 1-0 0-0
Penalties-Yards 2-10 3-38
Possession Time 21:45 26:15
Third-Down Conversions 7 of 13 7 of 14
Fourth-Down Conversions 2 of 3 4 of 4
Red-Zone Scores-Chances 2-3 3-4
Sacks By: Number-Yards 3-7 2-15
RUSHING: Mentor High School-E. McDougall 18-151; Tadas Tatarunas 12-61; Chris Edmond 8-27; Ian Kipp
1-8; Logan Shea 3-7; TEAM 1-0.
St Ignatius Wildcats-Jahadge Floyd 20-94; Jack Welcsh 16-85; D.
Alexander 17-80; Samuel Snyder 2-12.
PASSING: Mentor High School-Tadas Tatarunas 14-21-0-166. St Ignatius Wildcats-D. Alexander
13-18-1-132; TEAM 0-1-0-0.
RECEIVING: Mentor High School-Matt Hartman 3-41; E. McDougall 3-28; Logan Shea 2-26; Derek Kleinhenz
2-22; Steve Baird 2-14; Luke Floriea 1-32; Chris Edmond 1-3.
St Ignatius Wildcats-Samuel Snyder
4-36; Jahadge Floyd 4-32; Connor Kennedy 2-34; Maxwell Pike 2-22; Jack Welcsh 1-8.
INTERCEPTIONS: Mentor High School-Will Laganke 1-0. St Ignatius Wildcats-None.
FUMBLES: Mentor High School-Tadas Tatarunas 1-0. St Ignatius Wildcats-None.
Mentor High School (12-1,7-0) vs. St Ignatius Wildcats (12-2)
Date: Nov 17, 2017 • Site: Bedford, Ohio • Stadium: Bearcat Stadium
Attendance: 4628
Kickoff time: 7:30 PM • End of Game: 9:51 PM • Total elapsed time: 2:21
Officials: Referee: Mike Dame; Umpire: Rocky Neale; Linesman: John Mandula;
Line judge: Gartrel Bentley; Back judge: Bobby Bolin; Center judge: Bruce Slicker;

NEO Sports Insiders Newsletter
Sign up to receive our NEOSI newsletter, and keep up to date with all the latest Cleveland sports news.