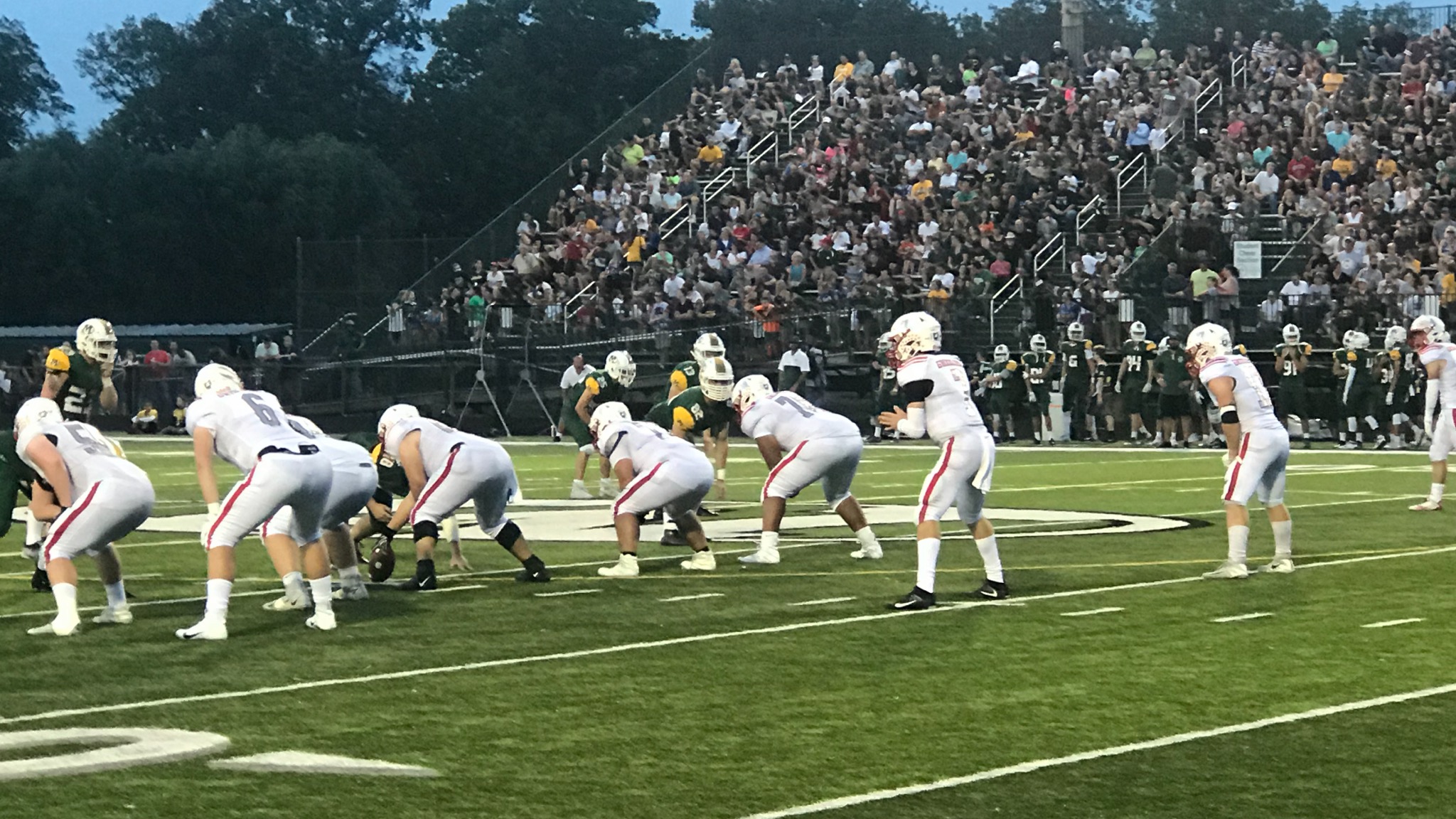 MEDINA, OHIO – It was an electric atmosphere at Ken Dukes Stadium in Medina on Friday night in more ways than one. Despite lightning forcing the second half to be moved to Saturday, Medina carried over the electricity for a huge 31-28 win over Wadsworth.
This rivalry matchup has been very lopsided the last two years, with Wadsworth outscoring Medina 72-14 in those contests. However, the Battling Bees are much more talented in 2019, and they put that talent on display this weekend.
The scoring opened up with 4:20 to play in the opening quarter as Medina junior quarterback Ryan Gillespie connected with junior receiver Luke Hensley for a 73-yard touchdown to put the Battling Bees up 7-0.
Medina started the 2nd quarter by drilling a 28-yard field goal to extend their lead to 10-0. Wadsworth, a team that averaged 49 points per game in 2018, was being shut down early.
After an interception was returned for a touchdown by linebacker Jack Grice, Wadsworth would get the ball back, handing it off to Dominic Loparo for a powerful 74-yard touchdown carry.
In just a few minutes, Wadsworth would jump ahead 14-10 early in the 2nd quarter.
However, Medina's air attack would continue, this time on an 11-yard pass from 6'4, 200 pound sophomore Drew Allar to sure-handed Luke Hensley. The hookup would put Medina ahead 17-14 with 4:00 to play in the opening half.
Wadsworth would get in the final blow of the evening on a Dominic Laparo 5-yard touchdown run. That carry would make the score 21-17 in favor of Wadsworth heading to halftime.
Both teams would return to the field, but frequent lightning caused a lengthy delay, and eventually a postponement just after 10:00 PM.
The second half would resume at 3:00 PM Saturday, with a smaller, but equally as excited crowd.
The third quarter started similar to the first, with a few defensive stances by both teams. Medina broke the barrier first on a 34-yard touchdown pass from Ryan Gillespie to Luke Hensley.
This was Hensley's third touchdown reception of the game, giving Medina a 24-21 edge heading into the fourth quarter.
Then, for the fourth time of the game, Luke Hensley would haul in another long pass, this one from 49-yards out. Hensley would finish the day with 260 yards and four touchdowns on 14 receptions. This play would extend the Medina lead to 31-21.
The Grizzlies would claw their way back with an efficient drive, capped off by Dominic Laparo's third touchdown carry of the game. The gap was closed to 31-28 with 10:18 in regulation.
Both defenses would step up big time in the closing minutes. Wadsworth linebacker Jack Grice would intercept his second pass of the game, but back-to-back sacks would force a punt.
Wadsworth would end up getting a much needed stop with 2:05 to play, but their hopes of pulling out a win ended on a leaping interception by Medina cornerback Keon Johnson.
Medina would get into victory formation against Wadsworth for the first time since 2016, closing out a 31-28 victory against their cross county rival.
Medina improves to 3-0, and will host GCC powerhouse Euclid (3-0) next week. Wadsworth drops to 2-1, and will travel to Hudson (1-2) to open up Suburban League play.

NEO Sports Insiders Newsletter
Sign up to receive our NEOSI newsletter, and keep up to date with all the latest Cleveland sports news.