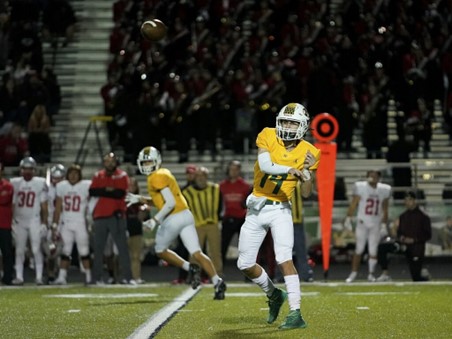 Medina junior quarterback Danny Stoddard threw for 432 yards and 6 touchdowns to lead the Medina Bees (6-1) past the Mentor Cardinals (3-3) 52-38 on Homecoming Night on Friday at Ken Dukes Stadium.
Stoddard was once again the star on Friday night, but was matched nearly throw for throw by Mentor sophomore quarterback Scotty Fox, who finished with a stat line of 37-53, 509 yards, 5 TD and 1 INT.
1st Half
The game was the most even going into halftime, where the Bees led the Cardinals 35-31.
The game started with an intense scoring barrage from both teams, as the game was already tied at 14-14 before the halfway point of the first quarter with a pair of passing touchdowns by both teams. Stoddard's most efficient receiver of the night was junior Jack Wojciak, who finished with 7 catches for 191 yards and 3 touchdowns on just 9 targets. Wojciak was also used as the de facto running back for the Bees, who run a base 5-wideout offense, and finished with 20 yards rushing on 9 attempts.
Mentor had their own offense going in the first half, putting up 31 points of their own. Fox's favorite target was senior wideout Jacob Snow, who had 91 first half receiving yards and finished with 172 yards and a touchdown. Snow was also used as a wildcat quarterback throughout the game with little effectiveness.
While Stoddard has shown that he is one of the best quarterbacks in the state of Ohio, he showed a bit of weakness in the first half by throwing two interceptions to Mentor senior defensive back Chase Hull and senior linebacker Jack Geduldig. Both passes were over the middle of the field, where Medina's receivers are often found on crossing routes and screen passes.
2nd Half
After 10 scoring possessions in the first two quarters, Medina won the second half 17-7 in a defensive battle. Medina's pass rush proved more effective than Mentor's. As junior defensive end Nathan Nunn forced a strip sack early in the 3rd quarter which was recovered by senior defensive end Jacob Nunn for a 10-yard scoop and score to put Medina up 42-31. Nathan Nunn had two sacks along with his forced fumble. Also contributing on defense for the Bees was senior linebacker Jesse Rahe. At 6'4", Rahe, was able to leap up and snatch Scotty Fox's pass over the middle for an interception while Mentor was threatening to score late in the third quarter.
After the scoop and score by Medina, neither team scored for 12:47, when Michael Gleske's field goal put Medina up 45-31 early in the fourth quarter. Medina seemed to have the game in hand when senior linebacker Griffin Pay stopped Mentor senior running back Mitchell Waite short of the first down on a short pass on 4th and 2 with 6 minutes to play. This gave Medina the ball, up 14, with only half a quarter to play.
However, Mentor climbed back with its third interception of Stoddard, as senior defensive back Caleb Pohto revived the Cardinals chances with 4 minutes to play with the pick.
With that momentum, the Cardinals scored in two plays. With Fox finding Waite for a 29-yard screen play touchdown, the 5th different scoring receiver for the Cardinals. However, on a crucial 3rd and 7 with 2 minutes to play up 7, Stoddard found senior wideout Carlos Corchado, His 3rd only target of the game, on a go route along the left sideline. Corchado caught the perfectly thrown pass and did the rest, dashing across the field and outrunning the Cardinals secondary for the game-sealing touchdown.
What's Next
Medina (6-1) travels to Brunswick next week while Mentor (3-3) will host Solon.
Notable Stats
Medina:
Danny Stoddard: 26-40, 432 yards, 6 TD, 3 INT, 13 rushes, 54 yards
Jack Wojciak: 7 catches, 191 yards, 3 TD, 9 rushes, 20 yards
Brennen Schramm: 11 catches, 103 yards
Austin Knowles: 4 catches, 55 yards, 2 TD
Carlos Corchado: 2 catches, 83 yards, 1 TD
Mentor:
Scotty Fox: 37-53, 509 yards, 5 TD, 1 INT, 2 fumbles
Mitchell Waite: 9 catches, 108 yards, 1 TD
Jacob Snow: 13 catches, 172 yards, 1 TD, 2 rushes, 8 yards
Holden Cerny: 7 catches, 131 yards, 1 TD
Scoring Summary
1st Quarter:
Medina: Austin Knowles from Danny Stoddard, 22 pass (kick good, 10:01)
Mentor: Jacob Snow from Scotty Fox, 26 pass (kick good, 9:40)
Mentor: Nick Jares from Scotty Fox, 26 pass (kick good, 7:14)
Medina: Jack Wojciak from Danny Stoddard, 14 pass (kick good, 6:17)
Medina: Austin Knowles from Danny Stoddard, 14 pass (kick good, 3:18)
2nd Quarter:
Medina: Jack Wojciak from Danny Stoddard, 46 pass (kick good, 10:33)
Mentor: Jordan Stapleton from Scotty Fox, 5 pass (kick good, 7:48)
Mentor: Dylan Tackett, 37 FG (3:42)
Medina: Jack Wojciak from Danny Stoddard, 67 pass (kick good, 3:08)
Mentor: Holden Cerny from Scotty Fox, 24 pass (kick good, 0:52)
3rd Quarter:
Medina: Nathan Nunn, 10 fumble recovery (kick good, 9:55)
4th Quarter:
Medina: Michael Gleske, 26 FG (9:08)
Mentor: Mitchell Waite from Scotty Fox, 29 pass (kick good, 3:37)
Medina: Carlos Corchado from Danny Stoddard, 70 pass (kick good, 2:19)

NEO Sports Insiders Newsletter
Sign up to receive our NEOSI newsletter, and keep up to date with all the latest Cleveland sports news.