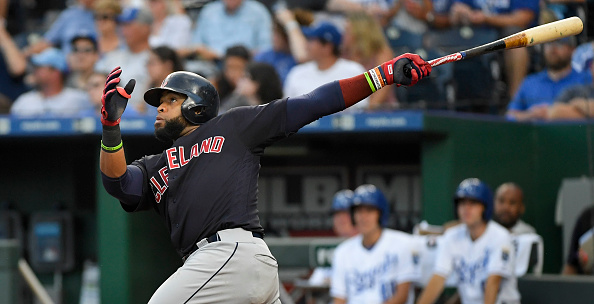 The Cleveland Indians parting with first baseman Carlos Santana isn't shocking news.
If you're a seasoned Tribe fan, you likely read that sentence and immediately blamed team ownership. The Indians' notoriously penny-pinching ways made it impossible to believe Santana's $17.5 million option for 2021 was being picked up this winter. Equally far-fetched was the idea of Cleveland signing him to a new contract, despite the fact his new two-year, $17.5 million deal with Kansas City isn't terribly expensive.
However, there's another angle to consider. The Indians' decision to part with Santana may have been about more than just his price tag.
The fact is Santana's career offensive trends hint that another investment in him might not have panned out.
To be clear, this isn't a knock on Cleveland's long-tenured first-baseman. Santana has been one of the Indians' most consistent players since he debuted with the team in 2010. The Tribe will have trouble replacing someone who frequently boasts above average OBP and wRC+.
Still, Santana's offensive production has followed a unique trend line throughout his career. In fact, when you analyze both his power numbers and offensive value across the last 11 seasons, you'll see it's quite a roller coaster.
Since his rookie season, Santana has a tendency to produce a campaign complete with solid numbers in slugging percentage, wOBA and wRC+. Immediately after a year like this, he sees a drop in all three metrics, followed by yet another decline after that. From there, his numbers spike back up and the process repeats itself.
To date, he's never seen an uptick as triumphant as his 2019 campaign, a year where he was undoubtedly Cleveland's offensive MVP.
Likewise, he's also never seen a drop-off as sharp as this past season's. Santana's slugging percentage has never been lower (.350), and both his wRC+ (95) and wOBA (.316) were below average for the first time in his career.
This is important to note when considering that, based on his career trend, he may be due for an even steeper decline in 2021.
You could argue that stats from a 60-game season should be taken with a grain of salt. For all we know, Santana could've rebounded had the campaign been longer. Despite also experiencing dips in his exit velocity and hard hit rate, Statcast had Santana's expected weighted on base average at .360, indicating he should've had a much more productive season.
Still, his career tendencies have been following the same path for 11 seasons now. Offering him another extension is essentially betting on him to buck a trend he's been displaying since 2010, and doing so in his age-35 season.
Perhaps I'm wrong. Maybe Santana thrives with the Royals, finally dodging the two-year drop-off that routinely follows a season like the one he had in 2019.
Unfortunately, that's just not something he's been able to do yet. To date, even though his OBP has remained consistent, Santana has been unable to follow an extremely productive season with anything but a two-year reduction in offensive value.
This isn't meant to kick him on his way out the door. Santana has been a staple in the middle of Cleveland's order for a decade, and rightfully so. There are also valid concerns about the Tribe's attempt to replace his production with two relative unknowns in Jake Bauers and Bobby Bradley.
That said, if the Indians were looking for reasons beyond financial concerns when thinking about letting Santana walk, his career trends might've stood out.
The gripes about team ownership constantly cutting salary are fair. There's still no defending the team when considering the likely inevitable trade of franchise star Francisco Lindor.
However, when it comes to Santana, you could make a case for why parting ways might not be as crazy as it initially looks.

NEO Sports Insiders Newsletter
Sign up to receive our NEOSI newsletter, and keep up to date with all the latest Cleveland sports news.