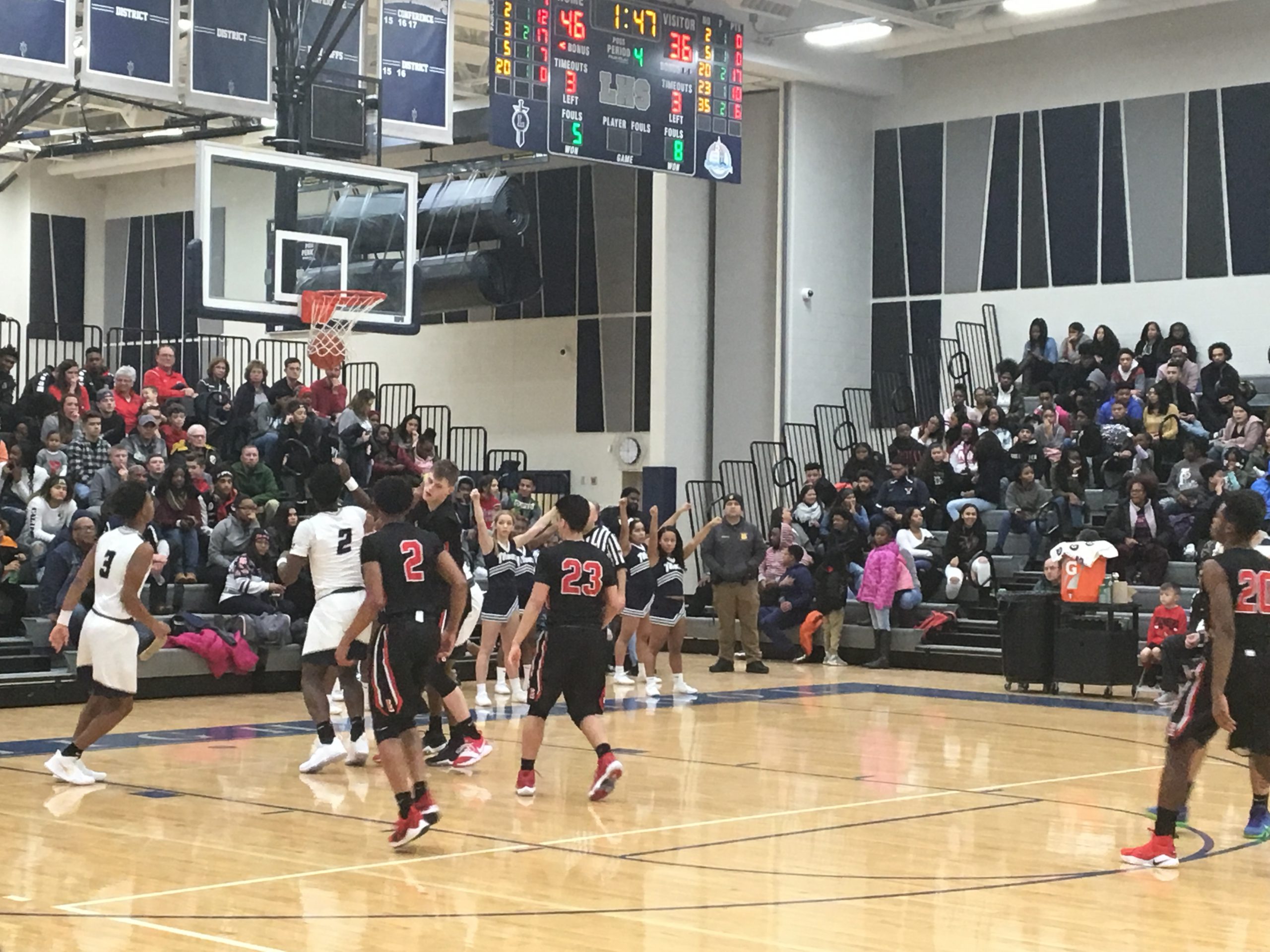 LORAIN, OHIO– In a rematch of last year's District Finals, Lorain was looking for retribution against the Elyria Pioneers.
It wasn't the kind of scoring battle that Lorain County basketball fans have come to expect from the Lorain vs. Elyria rivalry, but in the end, the Titans' defense led them to a 50-39 win.
Their defense fueled their offense early, as they held Elyria scoreless in the first quarter and went up 11-0, capped by a putback dunk from Taevon Pierre-Louis to close out the frame.
.@lorainathletics Taevon Pierre-Louis with the putback to end the 1Q. Titans lead @ElyriaAthletics, 11-0 @NEOSportsInside pic.twitter.com/T6BDItk36H

— Ashley Bastock (@AshleyBastock42) December 30, 2017
The Pioneers regained some composure after a tough first quarter, however. Justin Koepp scored the first Pioneers' basket of the game two minutes into the quarter, and Deviian Williams followed that up with two 3-pointers. A third 3-pointer from Roman Carter got the Pioneers to within five, 16-11. They would eventually come to within one after a jumper and a rebound putback from Williams, who scored 10 of his team-high 19 points in the second frame. However, a lay-up from Pierre-Louis gave Lorain an 18-15 halftime lead, despite getting outscored 15-7 in the quarter.
After the halftime break Lorain's Devon Grant, who had just two points in the first half, began to take over offensively. he opened the half with three quick layups to help propel the Titans to a 26-15 lead.
"I saw my shot wasn't falling so I just felt I needed to attack harder and make easier buckets in transition," Grant said.
"I thought we were fortunate when the guy averaging 23 a game has two at halftime and you're winning," Lorain head coach John Rositano said. "It's just a matter of time until a kid that talented is gonna get going, and he did. He got going a little bit in the second half and once he gets going we're way better offensively, obviously."
There were some theatrics as well as Grant connected with Pierre-Louis on an off the backboard alley oop to put the Titans up 32-17.
Defensively, the Titans continued to smother the ball in one-on-one situations, holding Elyria to just five points in the quarter.
"We do a good job of getting deflections, getting active," Rositano said. "I thought we got a couple of big steals there, a couple of big tips that caused them problems. There's a reason you hold a good team to 39 points, it's not an accident. Great effort by our guys."
During the fourth quarter, the Titans and Pioneers continued to trade baskets, with the Pioneers unable to substantially chip away at the Lorain lead.
Grant led all scorers with 21 points, While Pierre-Louis had 12, nine of which came in the first half. For Elyria, Williams ended with 19 while Carter had 10.
With the win, a young Lorain team improves to 5-1 on the season.
"We're just trying to scrap out games, scrap out wins," Rositano said. "These kids, they know how to win and they figure they should win. It wasn't the most entertaining game but it's the kind of games you've gotta win. These are the kind of games we've just gotta grind out, and that's how we've gotta play this year with our inexperience, our lack of depth. So yeah, we're excited about what happened tonight."

NEO Sports Insiders Newsletter
Sign up to receive our NEOSI newsletter, and keep up to date with all the latest Cleveland sports news.