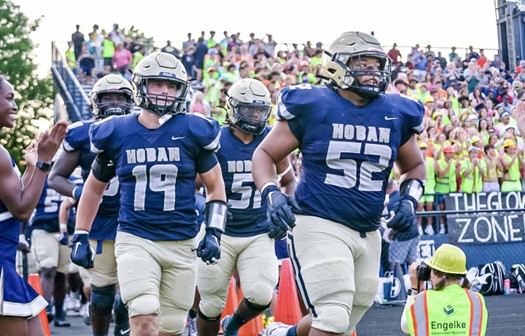 AKRON, OH –
Week 5 of High School Football brought a great matchup featuring Archbishop Hoban and St Ignatius. Hoban and Ignatius came into the game ranked #2 and #3 respectively in the NEOSI Power Rankings. St. Ignatius is led by a powerful defense while Hoban is led by star running back Lamar Sperling. The Knights looked to defend their home field in the top-3 matchup.
Hoban's Dominant First Half
Archbishop Hoban did not let up on the defensive side of the ball in the first half. As part of 5 offensive drives, St. Ignatius only put together 60 yards of offense in the first half. Hoban's defensive line wreaked havoc in the backfield throughout the half. Junior Linebacker Rickey Williams was dominant for the Knights' defense all game long. Although they did not force any turnovers, Archbishop Hoban never surrendered on the defensive end.
On the offensive side of the ball, Lamar Sperling dominated for Hoban. Sperling was NEOSI's Week 1 Player of the Week and looked to repeat that on Friday night. Late in the first quarter and the game scoreless, Sperling broke out an 83-yard touchdown run to put the Knights on the board. Later in the first half, Sperling capped off a 9-play Hoban drive. He found paydirt for the second time with a 10-yard touchdown run. At the half, Sperling had 16 carries for 167 yards and 2 touchdowns.
Hoban Ices the Game
Archbishop Hoban received the 2nd half kickoff and scored on the opening drive. The 6-play 73-yard drive was capped by a 24-yard touchdown pass from junior QB Jacqui Long to freshman WR Payton Cook. After a long return and TD saving tackle by Payton Cook, St. Ignatius got themselves on the board. It was a 24-yard TD pass from QB Josh Paresh to WR Jonathan Merimee. At that point, the scoring had ended for the Wildcats. Hoban's defense picked up where it left off in the 1st half and dominated the rest of the way. Lamar Sperling added another touchdown in the 4th quarter to give him 3 for the game. The game ended in an impressive performance by the Knights giving them a 28-7 victory.
Week 6
Next week, Archbishop Hoban (4-0) travels to Walsh Jesuit (4-1) to take on the Warriors. They look to continue their journey to a state championship season.
St Ignatius (3-1) will travel up north to Michigan and take on River Rogue (2-0) in an out-of-state matchup. The Wildcats will look to bounce back and return to their winning ways under head coach Chuck Kyle.
Key Performers
Hoban:
Lamar Sperling: 31 carries, 232 yards, 3 TDs
Jacqui Long: 6-9 passing, 104 yards, 1 TD
St. Ignatius:
Jonathan Merimee: 5 catches, 57 yards, 1 TD

NEO Sports Insiders Newsletter
Sign up to receive our NEOSI newsletter, and keep up to date with all the latest Cleveland sports news.