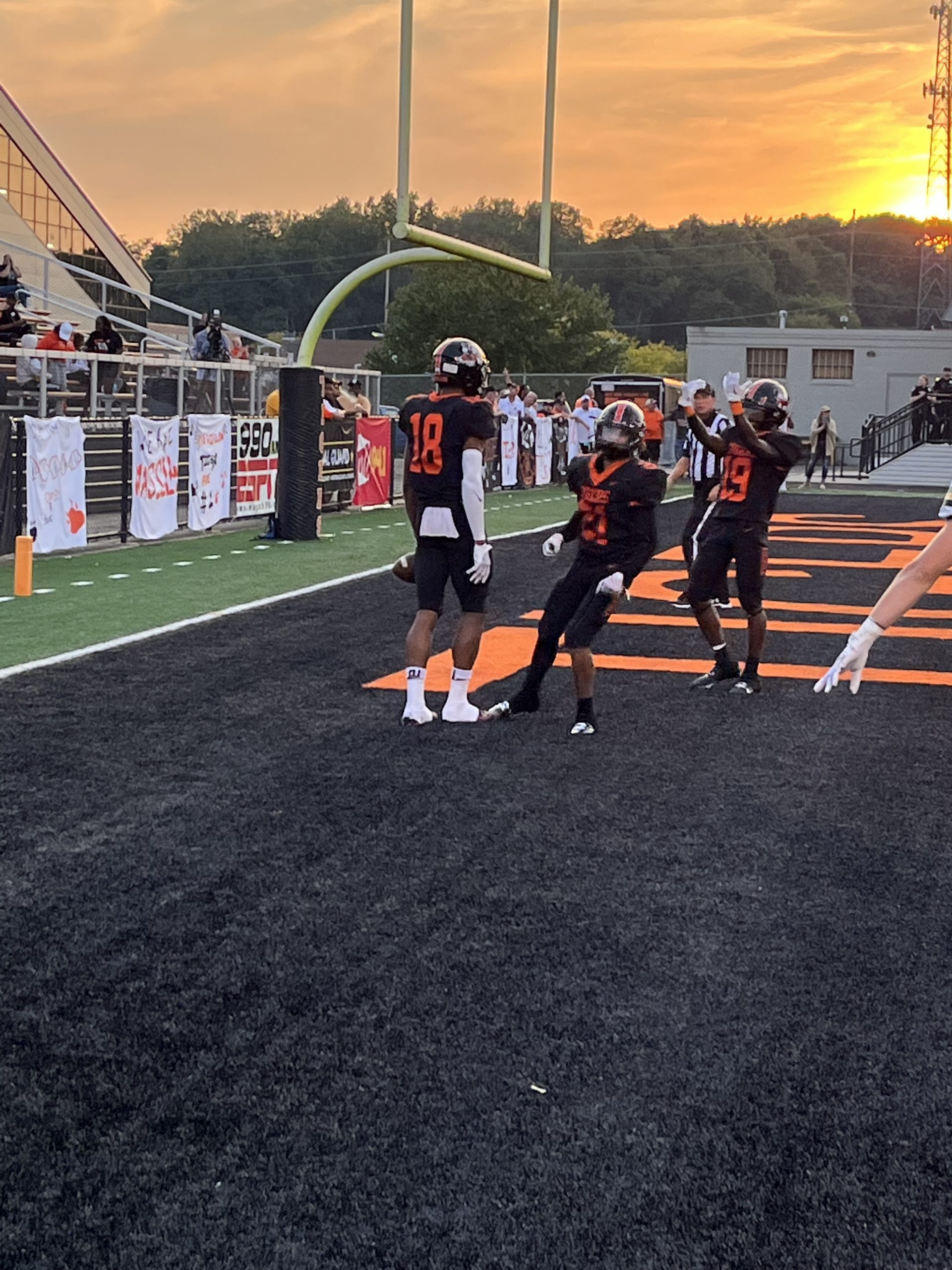 Fans in attendance at Paul Brown Tiger Stadium were treated to one of the most exciting games of the season. For the Tiger faithful, it was even more exciting as Massillon took down the number one team in Division I 31-28. Trailing 28-25 with around four minutes to go, the Tigers orchestrated a key drive to score with 11 seconds to go and take down the Eagles.
First Half
Things started off with a bang as Kyan Mason took the opening kickoff back 99 yards to put St. Eds up 7-0 just seconds into the contest. The Eagles would force a fumble two plays later, setting up the offense at the Massillon 18. On second and goal, Marvin Bell plowed through the line from two yards out to make it 14-0 Eagles early.
With their backs against the wall, quarterback Jalen Slaughter hit Ardell Banks on a slant and the receiver took it 70 yards to the house, making it 14-7 less than four minutes into the game. Eds then put together a 12-play drive but were stuffed on fourth down, giving the Tigers the ball at their own 14.
It only took Massillon two plays to cover 86 yards, with Slaughter and Banks hooking up twice capped by a 32-yard touchdown to make it 14-13. After forcing a three and out, the Tigers would strike for their third straight touchdown, this one a five-yard rush from Dorian Pringle. The 19-0 scoring run gave Massillon a 19-14 lead after one.
With 33 points scored in the first, things slowed down a bit in the second quarter. Eds quarterback Casey Bullock would find Grady Lentz-Pieffer in the corner of the end zone for a 25-yard touchdown under two minutes into the quarter. That would be it for scoring in the first half as the Eagles took a 21-19 lead into the break.
Second Half
Massillon received the opening kickoff but neither team could get anything going, trading punts to start the half. On their second possession of the third, the Tigers would get on the board.
Thanks in part to a pass interference and a 20-yard completion from Slaughter to Chase Bond, Massillon set up shop first and goal from the five. On their first play in the red zone, sophomore Peytton Mitchell ran one in from five yards out. After a failed two-point conversion, Massillon led 25-21.
Facing third and one on their first drive of the fourth, Josh Gribble exploded up the middle for 52 yards and an Eagles touchdown. With under ten minutes to go, St. Eds led 28-25. After being forced to punt, the Tigers defense came through when it was needed and forced a three and out.
Suffering from kicking woes all game, Massillon would need to go 65 yards and take the lead. On the first play from scrimmage, a fumbled exchange turned the ball right back over to Eds, seemingly putting the game on ice.
Instead, the Tigers defense got yet another stop after a missed field goal by Benjamin Lavelle. Massillon would drive into Eagles territory, but defensive end Wyatt Gedeon sacked Slaughter and St. Eds took over with less than two minutes left.
St. Edward is the top team in Division I for a reason. With only a couple first downs separating them from victory, the game seemed in hand. Then, the unthinkable happened. On second down, the Tigers stripped Gribble and Dorian Pringle recovered the fumble.
With barely any time left in the game, 52 yards separated Massillon from victory. Facing a fourth down, Willtrell Hartson picked up 5 yards and a first down, leaving 16 seconds left. Jalen Slaughter floated a pass over the shoulder of the defender into the hands of Braylyn Toles for the touchdown. With only 11 seconds remaining in the game, Massillon had a 31-28 lead.
St. Edward refused to go down without a fight and had a chance to send it to overtime. After a big completion and a Tiger penalty, the Eagles would attempt a 42-yard field goal that sailed wide left. The party was on in Massillon as the Tigers held on for the upset win over St. Eds.
Keys to Victory
After falling behind 14-0 less than two and a half minutes into the game, things looked bleak for the Tigers. Instead of hanging their heads, they scored three straight touchdowns of their own to take the lead. That kind of grit early in the game paid huge dividends late.
The difference in the game offensively was Ardell Banks. The Massillon senior and Toledo recruit finished with 5 catches for 164 yards and two touchdowns. That kind of performance is impressive by itself, but it doesn't factor in the multiple pass interference penalties he drew.
Next Week
The loss is the Eagles (4-1) first loss of the season and will likely knock them from their number one spot. St. Edward will look to bounce back next week when they host the Rock Creek Christian Academy Eagles (MD) (1-2).
Tiger fans likely won't consider this one an upset as the team improves to 4-1 on the season. Up next for Massillon is a home matchup with Austintown-Fitch (5-0) next Friday at Paul Brown Tiger Stadium.
Top Performers
St. Edward
Casey Bullock: 12-21 166 yards 1 touchdown
Marvin Bell: 17 carries 96 yards 1 touchdown
Josh Gribble: 18 carries 96 yards 1 touchdown
Kyan Mason: 99-yard kickoff return
Massillon
Jalen Slaughter: 18-32 295 yards 3 touchdowns
Willtrell Hartson: 18 carries 130 yards
Ardell Banks: 5 catches 164 yards 2 touchdowns
Scoring Summary
1st Quarter
St. Edward 11:48- Kyan Mason 92-yard kick return (Benjamin Lavelle kick good)
St. Edward 9:35- Marvin Bell, 2-yard run (Lavelle kick good)
Massillon 8:32- Jalen Slaughter to Ardell Banks, 70 yards (kick good)
Massillon 4:00- Jalen Slaughter to Ardell Banks, 32 yards (kick blocked)
Massillon 2:03- Dorian Pringle, 5-yard run (kick blocked)
2nd Quarter
St. Edward 10:05- Casey Bullock to Grady Lentz-Pieffer, 25 yards (Lavelle kick good)
3rd Quarter
Massillon 4:55- Peytton Mitchell, 5-yard run (2 pt. no good)
4th Quarter
St. Edward 9:49- Josh Gribble, 52-yard run (Lavelle kick good)
Massillon 0:11- Jalen Slaughter to Braylyn Toles, 24 yards (kick blocked)
| | | | | | |
| --- | --- | --- | --- | --- | --- |
| | 1st | 2nd | 3rd | 4th | FINAL |
| St. Edward | 14 | 7 | 0 | 7 | 28 |
| Massillon | 19 | 0 | 6 | 6 | 31 |
Follow me on Twitter @devinlowe123 for more high school football coverage!

NEO Sports Insiders Newsletter
Sign up to receive our NEOSI newsletter, and keep up to date with all the latest Cleveland sports news.