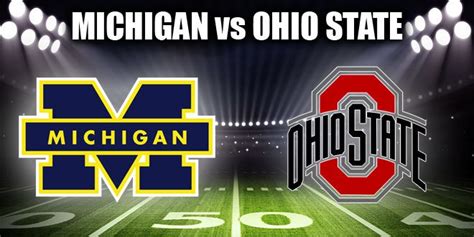 Our "KNOW THY RIVAL" series continues as the Buckeyes and Wolverines rolled to victories last week. Here's our Garrick Pitt's review of last week's OSU game.
Ohio State routs Toledo; cruises to 77-21 victory
Cue the fireworks! C.J. Stroud and the Buckeyes offense put on quite the show Saturday night with an 11-touchdown performance in front of 105,398 faithful fans. The offense was clicking on all cylinders with five scores coming from the ground and six more through the air. The rushing attack averaged 6.4 yards per carry to put up a whopping 281 yards on 44 carries. The aerial attack was even more impressive hauling in an incredible 482 yards on 27 receptions for an average of 17.9 yards per catch, including a highlight reel sideline reception touchdown from WR Julian Fleming to close out the first quarter. Let's take a look at what went right for the Buckeyes and all of the highlights from Saturday's game 
JULIAN FLEMING WHAT A CATCH 🔥pic.twitter.com/vOcFL2evVh

— Barstool Ohio State (@BarstoolOSU) September 17, 2022
Buckeyes QB1
C.J. Stroud continued to make his presence felt on Saturday by throwing for five touchdowns, 367 yards, and completing 81.5% of his passes of the day, all of which are season highs. Stroud has been nothing short of impressive to start the season. Through the first three games, Stroud has thrown for 941 yards, 11 touchdowns and zero interceptions.
He currently sits tied for 1st in the country in touchdowns and interceptions thrown and 3rd in total QBR with a 94.6. Entering the season, Ohio State was viewed as the best offense in the country, and it appears that C.J. will have the chance to solidify that fact when the Buckeyes welcome the Wisconsin Badgers to "The Shoe" on September 24th. The Badgers are currently the 11th best total defense in the country
Wide Receiver University?
Pop quiz time. Which team is the only team to have two wide receivers in the top 10 in reception yards? Hopefully you guessed The Ohio State University. Marvin Harrison Jr. (342) and Emeka Egbuka (324) currently sit at #6 and #9 in reception yards in the nation.
Both receivers have put up over 100 yards each in their last two games and have hauled in 8 of C.J. Stroud's 11 touchdowns passes, with 5 going to Harrison Jr. and 3 to Egbuka. An impressive perspective to these performances is the Jaxon Smith-Njigba element. Jaxon missed almost all of the Notre Dame game and all of the Arkansas State game due to an injury. He made his return to the field against the Rockets and pulled in 2 receptions for 33 yards.
The rest of the wide receiver room has stepped up to fill the void that was left with Smith-Njigba going down. The depth and quality in the receiver room are some of the best in the world and will only get better once the Buckeyes receiving corps is back to 100%.
D-E-F-E-N-S-E
Don't panic, Buckeyes fans. Yes, Toledo was able to score 21 points on Jim Knowles defense, the most one team has scored against them all season. No, there isn't a reason to start doubting or questioning it. The Buckeyes' defense is giving up 14.3 points per game while only allowing opposing offenses to cross the goal line a total of four times in three games. They have held rushing opponents to an average of 2.6 yards per carry, which is 24th in the country, and are holding opposing quarterbacks to an average of 194.3 yards per game while only allowing two passing touchdowns. Sure, there is always room for improvement and no defense is complete, but the Buckeyes are in good hands under Jim Knowles moving forward.
Ohio State safety Tanner McCalister on Jim Knowles mindset and how he feels about the Buckeyes defense winning ball games
#OhioState safety Tanner McCalister said defensive coordinator Jim Knowles doesn't like the "bend but don't break mindset" because the #Buckeyes "can be a dependable defense to be able to go out there and win games for the team." pic.twitter.com/ZWFuOigIHf

— Lantern Sports (@LanternSports) September 15, 2022
Ohio State welcomes the Wisconsin Badgers to Columbus on Saturday night for their first taste of conference play this season. The Badgers will look to snap an 8-game losing streak against the Buckeyes behind their #11 ranked defense. Kickoff is set for 7:30pm and will broadcast live on ESPN.
Michigan rolling, too! (Watch out, Buckeyes!)
University of Michigan tailback Blake Corum tied a school record with five touchdowns as the Maize and Blue defeated the University of Connecticut, 59-0, last Saturday. But Corum isn't ready to celebrate! He knows Michigan has a long way to go.
Blake Corum has now run for 5 TDs against UConn today.

That is tied with Hassan Haskins (2021) and Ron Johnson (1968) for the most in a single game in Michigan history. pic.twitter.com/BkRXvO4Hci

— ESPN Stats & Info (@ESPNStatsInfo) September 17, 2022
Corum's TD's were all runs of 20, one, one, one and eleven yards to match Hassan Haskins in the 2022 upset of that school in the middle of Ohio! JJ McCarthy finished 15 of 18 for 214 yards.
A great interview with Corum by Zach Gelb on @CBSSportsRadio informed the listeners how Blake's parents would wake at 3:30 AM to drive their son to play high school football. 
.@blake_corum and his parents would get up at 3:30 AM to drive two hours every day so Blake could attend a bigger high school for football.

Full Zach Gelb Show on @CBSSportsRadio chat with @UMichFootball running back Blake Corum here: https://t.co/5ytAbU9eLV pic.twitter.com/hP27C7MdGm

— Zach Gelb (@ZachGelb) September 22, 2022
"My mentality has always been the same. I consider myself a hard runner…I think I'm a complete back."
McCarthy's first start as QB1/Cade hurt
McCarthy, with his first start as the chosen starting QB for the Maize and Blue, leaned to Corum during the press conference and said, "[So] this is what it's like?" Another solid performance by the sophomore is creating some buzz in Ann Arbor.
Last year's QB, Cade McNamara, entered the game late in the first half but was hurt on the first snap he took. Harbaugh mentioned that the senior co-captain could miss some time with a leg injury.
Putting the "Special" in the Special Teams
Special teams got in on the scoring fun with a punt return by A.J. Henning, who scampered 61 yards for the TD. They also blocked a punt, thanks to Caden Kolesar, the senior from Westlake! This is an area that Michigan needs to get results from going forward.
61-YARD TD RETURN FOR AJ HENNING TO THE CRIB pic.twitter.com/WA6qjyObSL

— Barstool Blue (@BarstoolUofM) September 17, 2022
With the win, Jim Harbaugh has jumped to fifth in coaching wins at his alma mater, surpassing Bennie Oosterbaan. His career record stands at 64-24.
How many QB's? Seven?
With these big wins, Michigan has given a tremendous opportunity for players to get experience. To wit, seven (!) players completed a pass for Michigan last Saturday! SEVEN! On U-M's radio show, Harbaugh mentioned:
"It's gotta be a Guinness Book of World records: Seven quarterbacks completing a pass in a game."
Brad Galli, sports director at WXYZ Detroit, has his weekly video with coach Harbaugh and they usually talk about many different aspects of the program. Harbaugh knows that the team still has some things to address. How good can Michigan be?
"We'll find out. I know this: the guys are excited for the challenge."
Michigan Takes…
My Quick Wolverine bites:
AJ Henning has GOT to get more involved in this offense. He just has some special talent that the coaches need to incorporate.

The offensive line is a dominating run blocking group, but their pass blocking is concerning. Cade got hurt on a pass play where the line couldn't protect the senior captain. This HAS to be addressed.

JJ McCarthy is making huge strides. Trent Coop on yahoo.com and the Wolverines Wire made the point that many have mentioned. The ball coming out of JJ's

"hand looks so effortless."

Michigan will

name the tunnel players and graduating seniors walk through for graduation

after Lloyd Carr, Michigan's third most successful coach with 122 wins, in a special event during the Penn State game in October.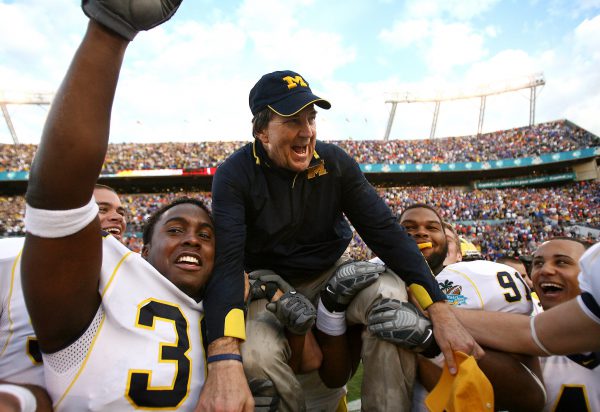 Photo www.orlandosentinel.com
U-M will get a taste of the Big Ten football and their first test for the 2022 season as Maryland comes into the Big House for a noon game.
Tickets as always are available right here!

NEO Sports Insiders Newsletter
Sign up to receive our NEOSI newsletter, and keep up to date with all the latest Cleveland sports news.