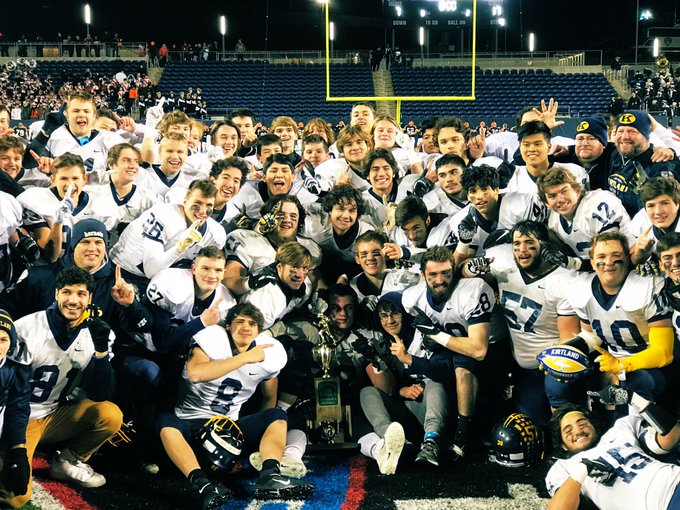 CANTON, Ohio – For the second year in a row, Kirtland ends their perfect season as state champions.
The Hornets pieced together a dominant performance on defense, propelling them to a 17-7 victory over Ironton Saturday night.
The opening sequence was similar to how the Hornets have started many of their games this season. They forced a quick three and out, followed by a two play touchdown drive.
The drive started on a 47-yard pass from Liam Powers to Gage Sullivan to set up Kirtland at the Ironton 27. Then, quarterback Mason Sullivan took it himself for the score to put Kirtland ahead 7-0.
The Hornets defense, who had pitched seven shutouts this season, were not going to relinquish the early lead.
After a Mario Rodin field goal made the score 10-0, Ironton would struggle to get much of anything on offense.
Joey Grazia and the Kirtland defense pieced together several stops, the biggest coming inside the 1-yard line with just a few seconds until halftime. With no timeouts, Ironton elected to attempt a quarterback sneak. The big defensive line got the stop, much to the liking of head coach Tiger LaVerde and the crowd in the visitors side bleachers.
After a replay review, the play stood as called. This is the first season the OHSAA has implemented replay review in the state championship games. The new system was used twice in three days, once in this game and once in the game between Massillon Washington and La Salle.
Kirtland would extend their lead in the second half on a brother-to-brother connection from Mason to Gage Sullivan to make the score 17-0.
Gage, a sophomore who had been with the junior varsity squad for most of the season, was impressive in his championship debut. He had three receptions for 83 yards, one of which was an "Odell-esque" one handed grab.
Kirtland had a rare breakdown in the secondary late in the third quarter, as Gage Salyers connected with his big play receiver Jordan Grizzle for a 77-yard touchdown.
From that point forward, no points were put up on the board. On the final possession, Kirtland continued to pound the ball and waste clock, as Ironton wouldn't see another offensive possession.
It was a tough night for Ironton, as the Fighting Tigers would fall short after making a nearly four hour trip to Canton. Even though they will lose Youngstown State commit Gage Salyers next season, Ironton will bring back many of their players for another potential title run next season. LB/RB Reid Carrico, an Ohio State commit who also received offers from Alabama and Clemson, had 10 tackles on the day and will lead his defense next year for his senior season.
For Kirtland, they take home their second consecutive championship after moving from Division VI to Division V this season. Reigning "Browns High School Coach of the Year" Tiger LaVerde now has five titles under his belt since he took over 14 seasons ago.
LaVerde continues to add to his legacy in the town of Kirtland, and there is no telling when their dominance will come to an end.
Kirtland (15-0)    7 3 7 0     17
Ironton (13-2)      0 0 7 0     7
Top Performers
Passing
Liam Powers (Kirtland): 4-5, 114 Yards, 1 TD
Gage Salyers (Ironton): 7-18, 205 Yards, 1 TD
Rushing
Mason Sullivan (Kirtland): 23 Carries, 101 Yards, 1 TD
Reid Carrico (Ironton): 12 Carries, 40 Yards
Receiving
Gage Sullivan (Kirtland): 3 Receptions, 85 Yards, 1 TD
Jordan Grizzle (Ironton): 2 Receptions, 137 Yards, 1 TD
Defense
Joey Grazia (Kirtland): 6 Tackles
Reid Carrico (Ironton): 10 Tackles, 1.5 Tackles for Loss

NEO Sports Insiders Newsletter
Sign up to receive our NEOSI newsletter, and keep up to date with all the latest Cleveland sports news.