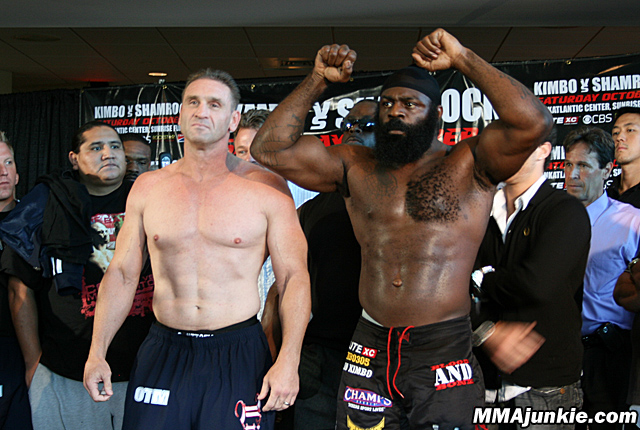 Kimbo Slice has passed away, but did he really have a legacy to be remembered for? That's up to you, but let's take a brief trip down a statically memory lane that may be provide a better answer on the "legacy" of Kimbo Slice.
It is no secret he built his initial fame with You Tube Videos of backyard brawls with random people. None who were professionals in MMA or that anyone had even heard of. The videos became a viral hit and he was offered a fighting contract with the struggling Elite XC.
His first fight was against never heard of before or again Bo Cantrell in which Slice won in 19 seconds. Up next was legendary slugger but well past his prime Tank Abbott, that match provided a slugfest as promised that Slice walked away with the victory.
His first fight against a real MMA fighter provided a much different story however as he took on wily veteran James Thompson who took Kimbo to the limit and appeared to be winning on points until a last second knockout saved the legacy of Slice, for that day at least.
The legend of Kimbo Slice finally fell apart on October 4, 2008 when his scheduled match against Ken Shamrock was switched at the last second, and instead he had to fight Seth Petruzelli. It took the UFC veteran and actually trained MMA Fighter Petruzelli only 14 seconds to end the mirage of Slice with a crushing knockout that left Slice in the ring crying.
That should have been it right there, case closed, but in the fight game there is always a chance to make money off of anyone who has had a "name" in the sport. Dana White seized that chance and let Slice on the Ultimate fighter where he promptly lost his one and only match to Roy Nelson by ref stoppage. Once again, that should have been it, but they allowed Kimbo to fight on the Season Finale where he took on Houston Alexander. In a joke of a fight,
Alexander ran around the cage for three rounds before losing on a boring decision to Slice.
This made Slice's record a bloated 4-1, despite losing to Nelson in an "exhibition" and really only fighting two true competitors in Petruzelli and Thompson. If anything his record should have been 1-2. His UFC career came to a merciful end at UFC 113 when rookie to the sport, Matt Mitrione knocked him out of the UFC for good in just under two rounds.
It would be five years before Slice tried his hand at MMA again in Bellator, almost losing to Ken Shamrock before punching the old man in the face for the victory. Then him and Dada 5000 put on the worst match in MMA history as they both nearly collapsed in the ring after one round from exhaustion.
I love MMA, I have seen this sport grow leaps and bounds in the last 25 years. I pray that Jokes like Slice are no longer permitted to fight and they continue to let the sport I love, grow without novelty acts.
Rip Kimbo Slice, I respect you as a man, and a fighter both, as I would respect any man brave enough to get in the cage. However, MMA will go on, as we have not lost one of the greats.
You can follow Vince McKee on twitter at VinceTheAuthor

NEO Sports Insiders Newsletter
Sign up to receive our NEOSI newsletter, and keep up to date with all the latest Cleveland sports news.