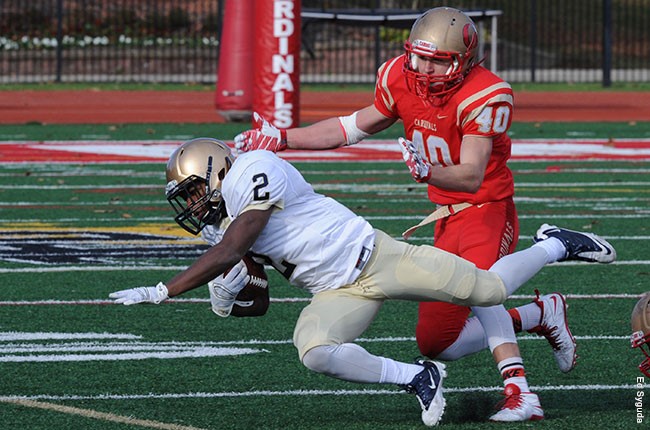 UNIVERSITY HEIGHTS – The John Carroll University football team is finding its stride at the right time.
With Mount Union awaiting in a Week 11 clash, the Blue Streaks extended their season-long winning streak to three games, beating Otterbein 52-16 on Saturday afternoon at Memorial Stadium in Westerville, Ohio.
Sophomore quarterback Anthony Moeglin led the charge with a quartet of touchdown passes to Kody Kidd, Brian Kornowski, Jake Santiago and Danny Disbrow, while running back Ro Golphin showcased his special teams skills on a 98-yard kickoff return touchdown.
Mason McKenrick continued his case for a second straight OAC Linebacker of the Year award with seven tackles and a 68-yard interception return for a touchdown, the third TD of his four-year career.
Even on a day when Matt Danko uncharacteristically missed two field goals, Moeglin tossed just his fourth interception and the stout defense allowed 454 yards, JCU was able to grind its way to sole possession of second place in the Ohio Athletic Conference.
Special teams makes difference
From missed field goals to botched punts to lengthy kick returns, each special teams unit had an impact – both positive and negative – throughout the high-scoring affair.
In addition to Danko's pair of errant attempts, David Hoyle also missed a field goal in the first quarter, paving way to better field position and eventually a one-yard scoring connection from Moeglin to Kornowski.
The Blue Streaks held a convincing advantage on punt returns and kick returns, combining for 179 yards, a 21-yard advantage over the opposition.
Golphin's 98-yard return at the inception of the second half put the Cardinals in an 11-point hole, a defining moment that would set the tone for the entirety of the contest.
McKenrick's one-handed snag secured the victorious effort, turning a close score to an insurmountable margin.
Moeglin manages game, dominates opposing defense
Aside from an interception on a fluky pass deflected off the chest of William Woods, Moeglin completed all but 10 of is 37 passes en route to arguably his best performance of the 2017 campaign.
The Canton native spearheaded a methodical drive midway through the first quarter, finding Kornowski for 12 yards and Eddie Williamson for 23 yards before revisiting Kornowski in the end zone from one yard out.
Three possessions later, Moeglin and company executed the two-minute drill to perfection, running 10 plays for 73 yards and a touchdown to Santiago in a matter of one minute, 47 seconds.
Moeglin's second-half strikes to Disbrow and Kornowski fortified the blowout win, as Otterbein failed to score after Julian Lowe tied their program record with his 29th career receiving touchdown (Jeff Gibbs, 1998-2001).
Weather and attendance
John Carroll (6-3, 6-2 OAC) and Otterbein (5-4, 4-4 OAC) drew 3,202 fans under clear skies and a 50-degree temperatures.
OAC update
Mount Union (9-0, 8-0 OAC) blew out Muskingum (1-8, 0-8 OAC), Baldwin Wallace (6-3, 5-3 OAC) took down Heidelberg (6-3, 5-3 OAC), Ohio Northern (6-3, 5-3 OAC) edged past Wilmington (2-7, 1-7 OAC) and Marietta (6-3, 5-3 OAC) topped Capital (1-8, 1-7 OAC).
Up next
The Blue Streaks take on the Mount Union Purple Raiders next Saturday at 1:30 p.m. from Don Shula Stadium in University Heights, Ohio.
Photo credit: Otterbein University Sports Information Department
John Alfes has covered John Carroll University athletics since September of 2014. Follow him on Twitter @JohnAlfes for breaking news and in-depth coverage all season long.

NEO Sports Insiders Newsletter
Sign up to receive our NEOSI newsletter, and keep up to date with all the latest Cleveland sports news.