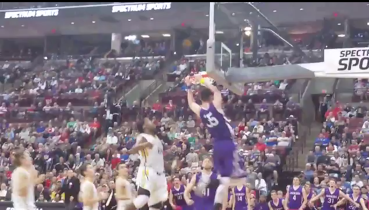 Don DiFrancesco and Matt Medley co-scribed this article
The St. Edward Eagles scratched and clawed the entire game, but fell to Massillon Jackson 75-64 in the OHSAA Division I state semifinal on Friday night. Jackson jumped out to a 15-9 lead after one quarter, and extended it to 33-21 at halftime. St. Ed's could get no closer than nine points the rest of the way.
Senior guard Tommy Schmock was the leading scorer for the Eagles with 23 points. No one else was in double figures, as the St. Edward "bench bunch" was unable to provide the scoring spark they displayed in last week's Cleveland regional. The Eagles prevailed in rebounding by a 43-37 margin, led by Will Henry's seven.
Jackson got off to a slow start offensively, as senior forward Logan Hill was forced to the bench with two early fouls. But Kyle Young started to heat up late in the first quarter.
Kyle Young makes it 15-9 before the end of the 1st qtr pic.twitter.com/vBMvw5wxnv

— Matt Medley (@MedleyHoops) March 25, 2017
"When he started making some of those mid-range turnaround shots early, I was a little concerned," St. Edward coach Eric Flannery said after the game.
"That's probably the one thing that we wanted him to do… He's a special player. We knew that going in and he's got some solid guys around him. I think they help make him a great player."
That turnaround jumper was just the start of more things to come.
He got it done on both ends all night.
Kyle Young with the rejection. Then a putback on the other end.

Jackson 20
St. Edward 9

6:45 left in 2nd pic.twitter.com/yLkszIHQZs

— Matt Medley (@MedleyHoops) March 25, 2017
The 6'7" senior All-Ohioan, ended the night shooting 10 for 12 from the field and had seven rebounds plus three blocked shots.
St. Ed's started to creep back in it late in the game, but Young threw down an emphatic jam to silence the Eagles faithful and cause the purple sea of fans in the Schottenstein Center to erupt.
@TheKennyRoda @jweirREP @ceasterlingINDE

Kyle Young throws it down. pic.twitter.com/Ya76yyXh1g

— Matt Medley (@MedleyHoops) March 25, 2017
He had another thunderous dunk with 1:55 to play in the game, which gave the Polar Bears a 72-57 lead and put the exclamation point on the victory.
Hill got back into the game for an extended stretch in the fourth quarter, scoring eight of his 11 points in that period.
Two of them came from this putback dunk. As tends to be the case with Jackson, once Young throws one down, Hill isn't far behind him.
Logan Hill putback makes it an 11-pt game@TheKennyRoda @jweirREP @ceasterlingINDE pic.twitter.com/8Wnt8U7zSk

— Matt Medley (@MedleyHoops) March 25, 2017
Senior guard Kyle Nicolas also scored 11 for the Bears before fouling out with 1:46 to play. The leading rebounder for Jackson was junior Jaret Pallotta with 10. Pallotta, who also is the quarterback on the football team, dished out eight assists and scored seven points.
St. Edward finished the season at 23-6. Jackson takes a 27-2 record into Saturday's championship game vs. unbeaten Cincinnati Moeller (28-0). The Crusaders eliminated Pickerington Central 57-47 in Friday's other semifinal game.
See what Jackson head coach Tim Debevec had to say after the win, along with Young and Pallotta.
Eagles coach Eric Flannery reflected on his team's season coming to an end.
@CoachFlan's post-game thoughts on @SEHS_BASKETBALL's performance in State Semifinal and an excellent 2016-17 season pic.twitter.com/CaBTS1j2pL

— Matt Medley (@MedleyHoops) March 25, 2017

NEO Sports Insiders Newsletter
Sign up to receive our NEOSI newsletter, and keep up to date with all the latest Cleveland sports news.