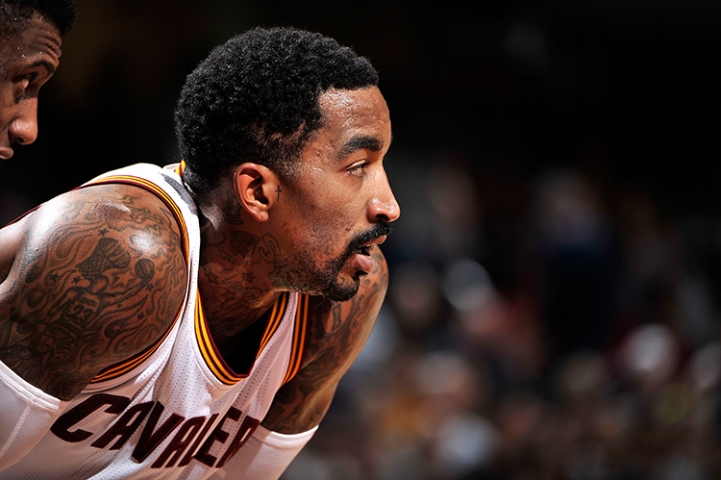 CLEVELAND – J.R. Smith was hoping one defensive mistake would not wipe out two games of elite defense.
When he fouled Brooklyn's Joe Johnson on a 3-point attempt, with the Cavaliers leading 88-85 with 15.2 seconds left in the fourth quarter he had committed the NBA's cardinal defensive sin for the second straight night…he had fouled a jump-shooter.
Johnson hit all three free-throws to tie the game, but, as Smith noted following the contest, LeBron James had his back.
James connected on a floater in the lane with 1.9 seconds left to give the Cavs a 90-88 victory and keep the team unbeaten at home in front of a sellout crowd at Quicken Loans Arena.
"He got caught a little bit on the screen and recovered late," Cleveland head coach David Blatt said. "Believe me, he didn't want to foul. Overall I thought he did a real good job on Joe Johnson…a real good job. That, obviously, was not a good foul but overall I thought J.R. really battled him and gave a good effort on that end of the floor.
"Those are little things you just have to avoid. It not for lack of effort or anything else. It just happened, that's all."
Blatt changed things up defensively. Usually James defends the opposing team's top scoring threat down the stretch. Saturday against the Nets he kept James on Jarrett Jack and gave Smith the job of defending Johnson, a career 17.2 points per game scorer.
For the second straight night Smith was up to the task. Friday in Charlotte he helped preserve a Cavs win with a late steal. Saturday he had a critical block and drew an offensive foul on Johnson late in the game to help Cleveland put the game away.
He ended the Nets contest with three steals and a career-high four blocks, but was reduced to pleading after the late foul on Johnson.
"I promise you I was just sitting there like, 'Please go in, please go in,'" Smith said of LeBron's game-winner. "If we go into overtime and, God forbid, lose that game…a lot of wandering eyes in the locker room."
When James' runner hit net, Smith said it took a lot off his shoulders.
"It was a sigh of relief. If we would have lost this game I don't know what would have happened," he said with a chuckle. "I don't know if somebody would have came at me or if I would have came at myself. It was very nerve-wracking for me.
"They were telling me the whole time, 'Keep your head up, we're going to win this game.' Fortunately we did."
James said Smith knew he made a mistake.
"I know he beats himself up about fouling jump shooters…I beat him up a lot about it as well," he said. "He needs to stop doing that. He did it against Batum and he got Joe tonight, but the effort is there. Everyone thinks he's just a 3-point shooter and a guy who shoots threes in transition, but for our team he guards the number one player on the perimeter every night. He takes the challenge and he did it again tonight."
James has been looking to hold teammates accountable for mistakes this season, and Smith said it is the kind of leadership the team needs from its best player.
"When he gets on us it's never anything personal," Smith said. "He just wants us to do better and wants us to succeed as a team. We've got to look at it like that, we can't look at it like somebody is challenging us as a person. This is a game and the way we look at it we go to battle with our brothers every night. We want to see one another do well."