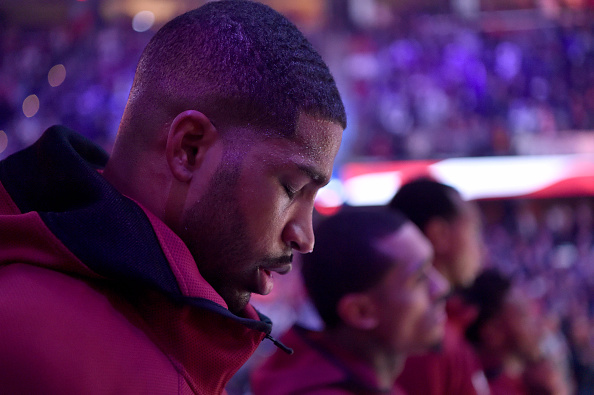 Here's something I hardly expected to say this year – the Cleveland Cavaliers have been a genuinely competitive and entertaining team.
It may sound mean, but what do you expect? The consensus thinking was that the Cavs, in Year 2 of a rebuild, were going to be difficult to watch this season. Instead, at 2-2, they're looking like a team which might not be as lost in the woods as initially anticipated.
To be fair, this hardly means fans should start saving up for playoff tickets. Odds still favor Cleveland ending the year with more losses than victories.
Still, you could argue the Cavs' play so far should force the front office to reconsider its approach to the season ahead, particularly when it comes to one of Cleveland's vets.
While his contract situation makes him a prime candidate to be traded, it might be time for the Cavs to instead consider giving Tristan Thompson an extension.
Yes, said suggestion goes against everything the Cavs are trying to do. The goal for the year has been to shed expiring contracts for draft assets while aiming for high lottery odds. Thompson's pending free agency should technically influence Cleveland in the trade market, not extension talks.
With the way he's been playing in this still-young season, though, keeping him around may not be the worst idea.
Though it's only been four games, Thompson is putting forth some of the best numbers of his career. He's currently averaging 20.3 PPG, flourishing in a system which has made him a focal point of the offense. His 11.8 rebounds per game also mark a career best.
That said, one of the biggest reasons why an extension for Thompson should be considered has nothing to do with what he brings to the team from a stats perspective.
Considering the circumstances of this season, Thompson would have every right to just go through the motions while awaiting his ticket out of town. It also would've been understandable for him to rebuff coach John Beilein's request that he be a leader in a locker room full of inexperienced players.
Instead of doing this, Thompson has stepped up. The energy he's brought to the team so far this year has been undeniable, with each game featuring moments where he can be seen coaching up Cleveland's rookies.
Simply put, while he could easily just sit back and wait for a trade to come through, Thompson has been fully engaged for a team which still has plenty of kinks to work out before it can be taken seriously. Instead of seeing the youth on Cleveland's roster as a hindrance to success, he's embracing the opportunity to show the rookies the ropes.
Toss in the fact that, at age 28, he still has plenty left in the tank, and you can see why the Cavs may be wise to change their approach with Thompson.
Of course, said suggestion comes with some hurdles.
For one, Thompson will require a raise, as I doubt he's interested in making less than the $18.5 million he's getting paid this season. Ponying up that kind of money seems to be the antithesis of what Cleveland is trying to do.
Likewise, this scenario depends on Thompson actually wanting to stay. Odds are strong his days of playing in the Finals are behind him, at least in Cleveland. It'd be understandable if he wanted to spend his prime with a contender.
For all intents and purposes, the most logical outcome is Thompson getting traded this season. Considering his contract situation and the way he's playing, he'll likely end up being the Cavs' most valuable deadline asset.
Still, it wouldn't hurt to explore another route here. Thompson is bringing value both on the court and in the locker room, and at a time when this team truly needs it. If he's positively impacting the growth of Cleveland's young core, keeping him beyond this season doesn't seem like such a crazy idea.

NEO Sports Insiders Newsletter
Sign up to receive our NEOSI newsletter, and keep up to date with all the latest Cleveland sports news.