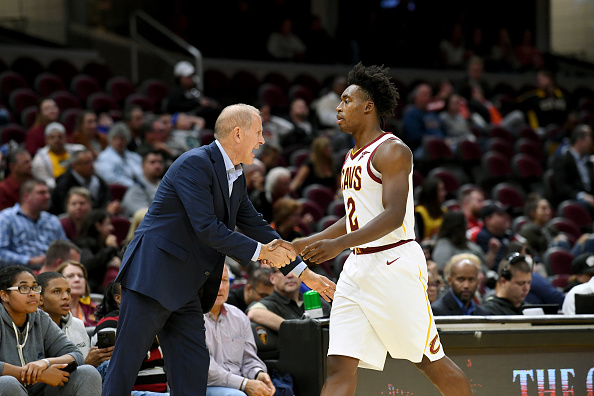 The Cleveland Cavaliers kick off their 2019-20 campaign tomorrow night, albeit with much less fanfare than what we're used to. The spotlight has long since moved on from this team, and expectations are no longer focused on playoffs, as losing is expected to be a frequent occurrence in the season ahead.
As underwhelming as this may seem for fans, the reality is it's all by design. The Cavs' motto for 2019 is pretty simple – it's going to be ugly, and that's completely fine.
There's a plan in place here, seeing it through is just going to require a significant amount of patience.
Honestly, looking at how this team is assembled, it feels unnecessary to remind everyone of this. That said, I also feel the need to do so considering some of the commentary surrounding the Cavs as opening tip arrives.
The Cavaliers lost to the Celtics by 46 points earlier this week, so when the two teams met again, Boston left its eight best players at home…and Cleveland lost by 23 points. How bad is it gonna get for the Cavs this season? pic.twitter.com/XmiJwpDFA9

— Rachel Nichols (@Rachel__Nichols) October 17, 2019
Again, Cleveland likely isn't going to be very good this season. That said, claiming this is due to a lack of direction is off-base. What the Cavs are trying to do is actually very apparent, as is the fact said strategy is going to take a lot of time to come together.
It's important to note this, because patience can be tough to come by in a rebuild. It's also not a strong suit of Cavs owner Dan Gilbert. The constant losing will lead to frustrations in the stands, in the front office and within the locker room.
Still, the only way for Cleveland's plans are going to come together is if everyone can patiently endure the growing pains this team is about to experience.
Such is the case when you have as many new wrinkles to account for as the Cavs do this year.
New coach John Beilein is learning the ropes in his transition from college to the pros.
A major factor for success this season is the development of three rookie additions who are each considered a potential key piece to the team's future.
The offense is running a completely new system, which will rely on guards Darius Garland and Collin Sexton both meshing on the court and becoming much more willing passers.
The veterans on the roster will have to make peace with the fact the season ahead is focused less on wins and more on player development.
With all of this in mind, expecting anything less than clunky and disjointed play in the year ahead feels like setting the bar too high for Cleveland. Likewise, deeming this as proof the franchise has suddenly become aimless is equally questionable.
The Cavs have been signaling their intentions for a while now, making all of their key offseason acquisitions via the draft and entrusting their acclimation to the pros with a coach who'll spend the year going through the same thing himself. Said strategy isn't going to result in wins right away.
It could eventually, though, as long as everyone remains patient with the process.
This is easier said than done, obviously. The Cavs will be shaky often this year, and borderline unwatchable at times. Losing streaks will surely become common, and there will be times where you're forced to wonder if this team knows what it's doing.
That said, there's a plan here.
Cleveland is starting from scratch, attempting to assemble a young foundation to build upon for the years ahead. The Cavs are still at square one, and they're approaching it as such instead of making ill-fated win-now moves in a desperate attempt to stay relevant.
This strategy understandably isn't going to get off to a smooth start. That said, provided everyone remains calm through the struggles which are undoubtedly on the horizon, it could result in a successful rebuild.

NEO Sports Insiders Newsletter
Sign up to receive our NEOSI newsletter, and keep up to date with all the latest Cleveland sports news.