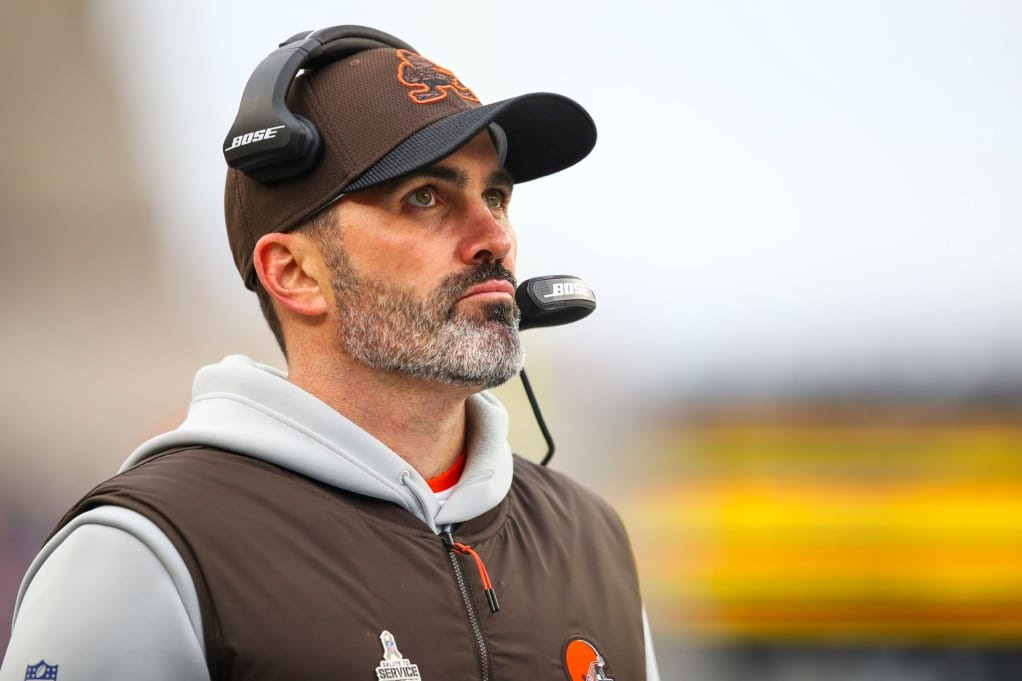 It's 4th and 1 from your opponent's 25. You have Nick Chubb, Kareem Hunt, and a quarter billion-dollar quarterback. You also have a kicker you spent a 4th round pick on. What do you do? If you guessed: Bring in your back-up quarterback, try to be the smartest guy in the stadium, end up outsmarting yourself for the 15th time this season and throw a low percentage pass, then congratulations!! You won my little contest.
If this was a singular lapse in judgment I could understand. Hey, we all make mistakes. But this has happened over and over and over. Game-management and decision-making has been downright bad this year from Stefanski and his coaches.
Where are the results?
Jacoby Brissett played well enough for the Browns to be a .500 team, but his efforts were derailed by questionable coaching decisions and a lackluster defense. Think about how many games the Browns have won that we can contribute to Stefanski or anyone on his staff outcoaching their opponent throughout his tenure.  I'll wait… The playoff game in Pittsburgh? That was an extraordinary circumstance and Stefanski was in his basement at the time. He hardly spearheaded the effort. What happened that night was magical. It wasn't a clinic in game planning. If it was, we would have seen further evidence of master game planning against superior opponents over the last several years. We simply haven't seen that, which leads me to believe that game was an isolated incident.
Possible solutions
Let's talk solutions. Several arguments have been made that Stefanski should give up play calling duties. That rarely works. It's the last gasp of a desperate coach trying to keep his job, not a viable long-term solution to a more macro problem. I'm feeling generous, so let's imagine Stefanski gives up play calling. What does that really solve? He still remains head coach, oversees all coaching operations, manages in-game decisions, has at least some input with talent acquisition and evaluation and is entrusted with offensive adjustments and game planning, as well as leading the team on the field. Giving Alex Van Pelt play calling duties solves a minor issue, but it's not going to fix this team. Do you trust Stefanski with EVERYTHING except for play calling? Because that's what the solution implies.
Looking ahead
This Browns team has a lot of talent, limited cap space, and little draft assets. Their cornerstone players are in their prime and under contract. There are no more excuses. Yes, there are holes in the roster, and it will take some creative cap savvy to fix them. Andrew Berry can handle that and the Haslams will certainly throw their money around.
The issue is coaching. Do the Browns trust Stefanski, Joe Woods, and Alex Van Pelt to use the team's talent appropriately? Does the team think this current coaching staff can guide this current roster through their prime? The front office has to be right about this. They simply cannot waste any more years of their elite high-priced talent. No more mulligans for this coaching staff. No more post-game press conferences that talk about needing to be better or watching the tape or whatever generic coach-speak catchphrase we're left to translate week after disappointing week.
The hourglass has run out
After an 11-5 2020 rookie season for Stefanski, he's 13-17 since. For the record, I loathe constant coaching changes and organizational turnover. The thought of another coaching search is nauseating, but I think it's the right move. That doesn't mean I think it will happen. I don't believe Stefanski will be fired. The likely scenario is Stefanski will be told to part ways with defensive coordinator Joe Woods and the head coach will be given an opportunity in his 4th year with Deshaun Watson to try and earn an extension and win back the faith of the front office and fanbase. It's not what I would do. I don't believe this is the time to have a "wait and see" attitude. There needs to be a sense of urgency.
The Browns' front office is going to have to make some tough decisions. As they make these decisions, they need to keep one thing in mind: time's up.

NEO Sports Insiders Newsletter
Sign up to receive our NEOSI newsletter, and keep up to date with all the latest Cleveland sports news.