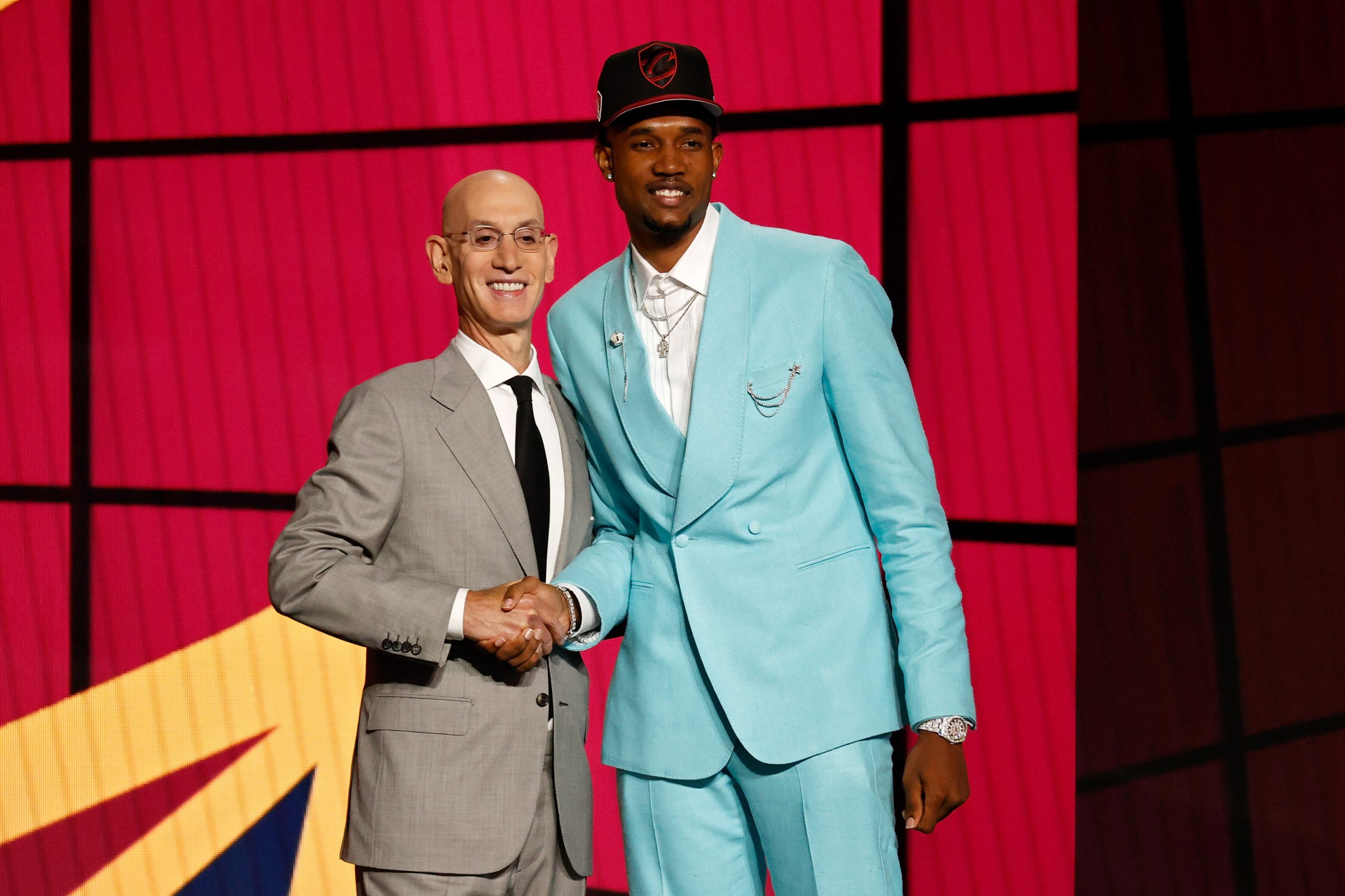 For most of the 2021-2022 season, it didn't appear as if the Cleveland Cavaliers would be picking anywhere near their current lottery spot. As fate would have it, injuries derailed what was a promising season. Don't get me wrong, there was a lot accomplished, and this young Cavs team gave fans plenty to be excited about.
After consecutive losses to the Nets and Hawks in the NBA Play-In Tournament, the Cavs regained their 1st round pick originally sent to the Indiana Pacers for Caris LeVert. The pick was lottery protected and the Cavs needed to make the playoffs in order for the pick to transfer to the Pacers. Luckily for the Cavs, the Play-In Tournament is technically not the playoffs. So, the Cavs now sit at pick #14 with a glaring need for a wing.
The Cavs brain trust of new GM Mike Gansey and President of Basketball Operations Koby Altman are in an interesting position. They could use pick 14, trade down, or use the pick in a trade to acquire a veteran player that can immediately contribute. I'm purposefully leaving the option of trading up because I don't believe that to be even a remote possibility. That's not in the Cavs' DNA.
Rumors have been circulating the last few days that the Cavs have been getting some phone calls on pick 14 and they are listening. More rumors made their rounds stating the Cavs would be willing to move down if they could secure a future 1st round pick to do so. I would be ok with that move. It's not overly exciting, but it's smart and works well into long-term decision making. Having an extra 1st round pick when next year's trade deadline approaches, or even during the off-season, would be huge for the Cavs.
My preferred route would be to use the pick to acquire a 3&D wing that can help the Cavs win now. Colin Sexton is a free agent, and his status is up in the air, which may create another hole in the roster. I would love to re-sign him, but I'm not sure what the Cavs are willing to pay or if Dan Gilbert is willing to increase his payroll to the point where he finds himself paying a luxury tax. That time will come, but I don't think we're there yet. Also, as the roster sits today, the Cavs lack a back-up point guard. Rajon Rondo certainly won't be back; Ricky Rubio is a free agent and coming off an ACL tear. I'm not a fan of a rookie back-up point guard. I like that role to be filled by a veteran with playoff experience. Pick 14 might be needed to help the Cavs fill the backup point guard role or Sexton's spot if he's traded. The pick can sweeten a deal to get a maximum return for him if negotiations fall apart. We just don't know how it will shake out, but leveraging the pick in a trade, to me, is the best option.
Last but not least, the Cavs could stand pat and use the pick. This is, by far, my least favorite option. This is a draft that lacks star power and can't miss prospects. Granted, there's a lot of upside and potential in this class, but nothing extraordinary. Especially in the mid first round. If the Cavs do remain on the 14th spot and use the pick, I believe it's a 3-man race to be the pick:
Ochai Agbaji- SG-Kansas
Malaki Branham-SF-Ohio State
Ousmane Dieng-SF-NBL/New Zealand Breakers.
Branham is a good scorer and can help right away, same goes for Agbaji. Both would provide a scoring punch. Dieng, however, has the most upside in my opinion, but he's also very raw. He'll require time and coaching to reach his potential. If the Cavs were still planning on winning 25 games next year, I wouldn't at all mind Dieng being in wine and gold, but it doesn't make much sense to me given where the Cavs expect to be next season. Every roster spot is precious and has to be filled by a player who can contribute night in and night out. I'm not sure Dieng would be able to contribute at that level for another 1-2 years. Agbaji or Branham makes much more sense if the Cavs keep the pick.
Although the Cavs are a young team, they're in win now mode and their approach to player acquisition should match that. Mike Gansey and Koby Altman need to be aggressive. Not reckless, but aggressive. That may mean paying Colin Sexton. It may mean using him in a sign-and-trade scenario along with pick 14. It means searching out and bringing to Cleveland a veteran point guard with playoff experience: Ricky Rubio, Mike Conley, etc. It means finding that wing they desperately need. By the way, notice I haven't mentioned free agency. I love Cleveland, but it isn't a free agent destination unless they're on the doorstep of winning a championship. So, remove that possibility from your minds. The heavy lifting of player acquisition will come via a trade.
The Cavs have never been this close to being a perennial contender without LeBron James. They need to take another step forward in building a sustainable winner in Cleveland. That means being aggressive and taking calculated risks but avoiding panic and recklessness.

NEO Sports Insiders Newsletter
Sign up to receive our NEOSI newsletter, and keep up to date with all the latest Cleveland sports news.