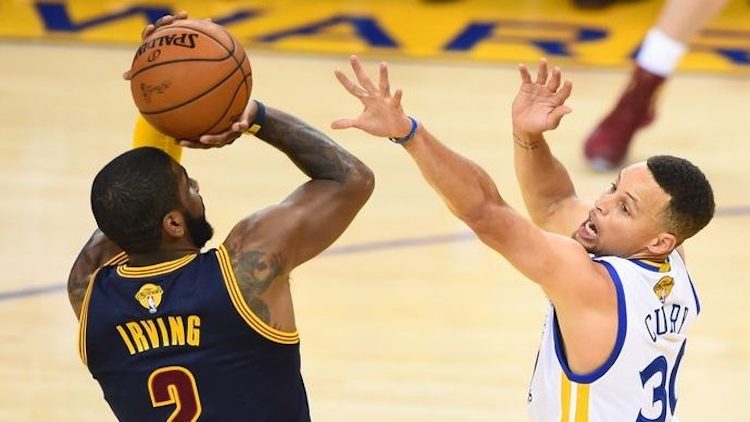 It's mid-June and we are in the middle of the NBA Finals. Every year since 2016 Finals, which saw the Cleveland Cavaliers win their first NBA Championship, I find myself nostalgic that I could take for granted getting to the Finals every year for a 4-year period. There are multiple "on this day" posts on social media recalling the 2016 title and it's impossible to find one that doesn't include Kyrie Irving.
Kyrie has found himself in a lot of headlines and stories the past few years. Most of which for off-the-court reasons. For a few minutes, let's put that aside and talk about Kyrie Irving the basketball player and his place in Cleveland Cavaliers history.
Kyrie's tenure in Cleveland didn't end well, to put it lightly. He requested a trade after it became apparent to Irving and the Cavs that he could not co-exist with LeBron James. James was as untouchable as a player could be at that time, so it was Irving that needed to move on. He found himself traded to the Boston Celtics. We could go over name after name of who was included in the deal, but instead, let's just remember the best player to come out of that trade was the draft pick that became Colin Sexton.
But back to Kyrie Irving. I think every Cavs fan has asked themselves "what could have been?" had Kyrie remained. While talking to the 'I Am Athlete' podcast, Irving had the following to say:
"If I was in the same maturity line and understanding of who I am [now], and I look back, we definitely, definitely would've won more championships" had Irving remained in Cleveland.
Kyrie went on to state:
"We (Kyrie and LeBron) didn't talk during that time." He states, "When I look back on what I was going through at that time, I wish I did [talk to LeBron], because it would've been a good understanding of what the future will hold for both of us and we know how much power we both had together."
"Me and him in the league together running Cleveland, and then being able to put a better team together every single year would've definitely been worth it."
On one hand, I'm glad to see Kyrie have a more mature perspective, but it saddens me the route he took to get there. I'm sure Irving has regrets. You can hear it in his voice and, frankly, he hasn't enjoyed near the success since leaving Cleveland. The Cavs would have eventually been Kyrie's team. I genuinely believe that. LeBron was never going to remain in Cleveland for the rest of his career despite what he may have said or alluded to. LeBron is a smart man who plans ahead. You don't get to where he is in life or in a profession by being impulsive and not having a plan. I think the plan was for LeBron to leave for Los Angeles at some point and Kyrie would have been left the keys to the franchise. The team would have largely remained intact.
I imagine some of you reading this are expecting me to lobby for a Kyrie Irving return to Cleveland. I'm not going to do that. Honestly, I would welcome it if it had a chance to happen, but barring Irving finding his way back at the end of his career, I don't think a reunion is ever in the cards. It simply doesn't make sense.
Fans I've talked to have mixed emotions about Kyrie. Some emotions are more intense than others, but most seem to hold a grudge toward Irving. Not because of how he left the Cavs, but more for what could have been had he stayed. I can understand that it's frustrating. It seems Irving would agree with that frustration based on his comments.
My biggest disagreement with fans I've spoken to, is I don't think Kyrie should only be a footnote in Cavalier history. I'm thankful to him for his time in Cleveland. Let's be honest with ourselves, despite hard feelings toward Kyrie that some have, that banner hanging in Rocket Mortgage Fieldhouse that says 2016 NBA Champions would have its residence in Oakland if it weren't for Kyrie Irving. He hit the biggest shot in franchise history and there is no arguing that. Maybe Irving returns as a player sometime in the future, maybe not.
Regardless, one day Kyrie Irving should return to Cleveland as a former player for a ceremony that recognizes his contributions to the franchise and his #2 is raised to the rafters.

NEO Sports Insiders Newsletter
Sign up to receive our NEOSI newsletter, and keep up to date with all the latest Cleveland sports news.