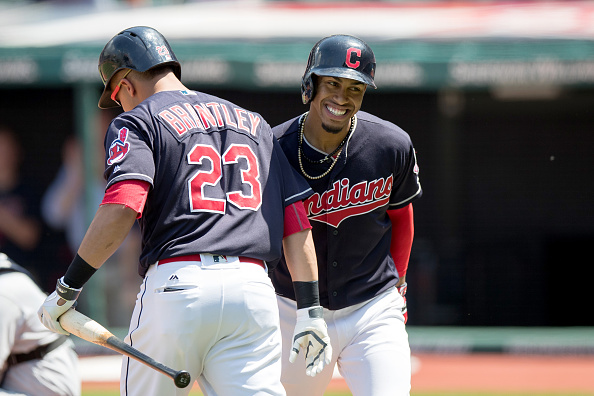 CLEVELAND- With the sun shining brightly over Progressive Field, the Indians bats were as hot as they've been all season as an eight-run third inning gave the Tribe a lead they would run away and never look back from for a 12-4 win over the Mariners for a fourth consecutive series win to improve to 14-10 on the year and move back into first place in the AL Central.
It was one of those days where the Indians could do no wrong as Francisco led off the hitting parade with a solo blast in the first to put the Indians up 1-0 on his seventh home run of the season already. Starter Josh Tomlin would surrender a laser shot to Nelson Cruz to tie the game up at 1-1 early, but the Indians were just waiting for the right time to pounce on Seattle starter Chris De Jong.
Opportunity struck in the third inning when Michael Brantley, who had another huge day at the plate going 2-4 with a home run and two RBIs, got the Indians going with a lined single suddenly the hitting became contagious. Erupting for eight runs in the home frame, the Indians just kept getting big hit after big hit to pour it on the Mariners.
"On a day like today when you know the ball park's playing pretty small and you have a couple fly ball pitchers pitching, them and us, I thought (Josh Tomlin) did a really good job early of mixing speeds, keeping it off-balance, kind of taking the sting out of their bats and we took advantage," Indians manager Terry Francona said. "We swung the bats, we ran the bases, we were aggressive and we kept the line moving."
Two of the biggest plays of the inning came thanks to the end of the lineup. Right fielder Abraham Almonte hit a towering fly ball to the warning track in right that got lost in the sun under Seattle's Ben Gamel's watch that ended up as a triple to score Jason Kipnis.
The other play was a brilliant move by Jose Ramirez who was waiting on third with Lonnie Chisenhall in the box. Looping a fly ball to shallow right that was corralled by Seattle's Robinson Cano, Ramirez tagged up on the short fly and did a perfect head-first slide into home to put the Tribe up 3-1 at the time.
"I think (third base coach Mike Sarbaugh) deserves a lot of credit for that one, that's that one you always want to see a guy tag, so many guys maybe go down the line a little bit, but there's gonna be a time where the guy's momentum takes him away or puts his head down and I thought Sarby and Jose both did a great job," Francona said.  "It's a good play and it was bang-bang, but it was a good play."
Getting a strong effort from starter Josh Tomlin, the Tribe starter worked into the six with a 9-1 lead.
But Seattle wasn't going away.
Staying on Tomlin, the Mariners added three runs without a single out in the top half of the third to really put pressure on the Indians' lead. Ending Tomlin's day, reliever Boone Logan came in to stop the bleeding, but quickly gave up two hits and was pulled in favor of Nick Goody.
Goody worked out of a bases-loaded jam thanks to a quick strikeout and a sensational double play ball off a liner caught by Lindor at short and a quick toss to a covering  Kipnis at second to end the threat.
"The score at the end looks one-sided, but in the sixth inning, it didn't feel that way," Francona said. "(Goody) did a really good job and then the lineout double play didn't hurt because if that ball's in the gap, we might still be playing. But, he did a really good job."
"He hit it and thank God it went into his glove, obviously a platinum glover and everything and once it was in his glove I knew it was all right," Goody added.
Coming up big in the situation, Francona said he definitely feels more trust with Goody as this season has gone on and Sunday afternoon's example was another reason why.
"Obviously, that's awesome (the trust built), that makes me feel good," Goody said. "It could have been anyone of us in the bullpen to go into that situation and get the job done, but it's cool to get a little security there."
The Indians now head out on a 10-game road trip starting in Detroit, heading to Kansas City and then going up north for three games in Toronto before returning home on May 12.

NEO Sports Insiders Newsletter
Sign up to receive our NEOSI newsletter, and keep up to date with all the latest Cleveland sports news.