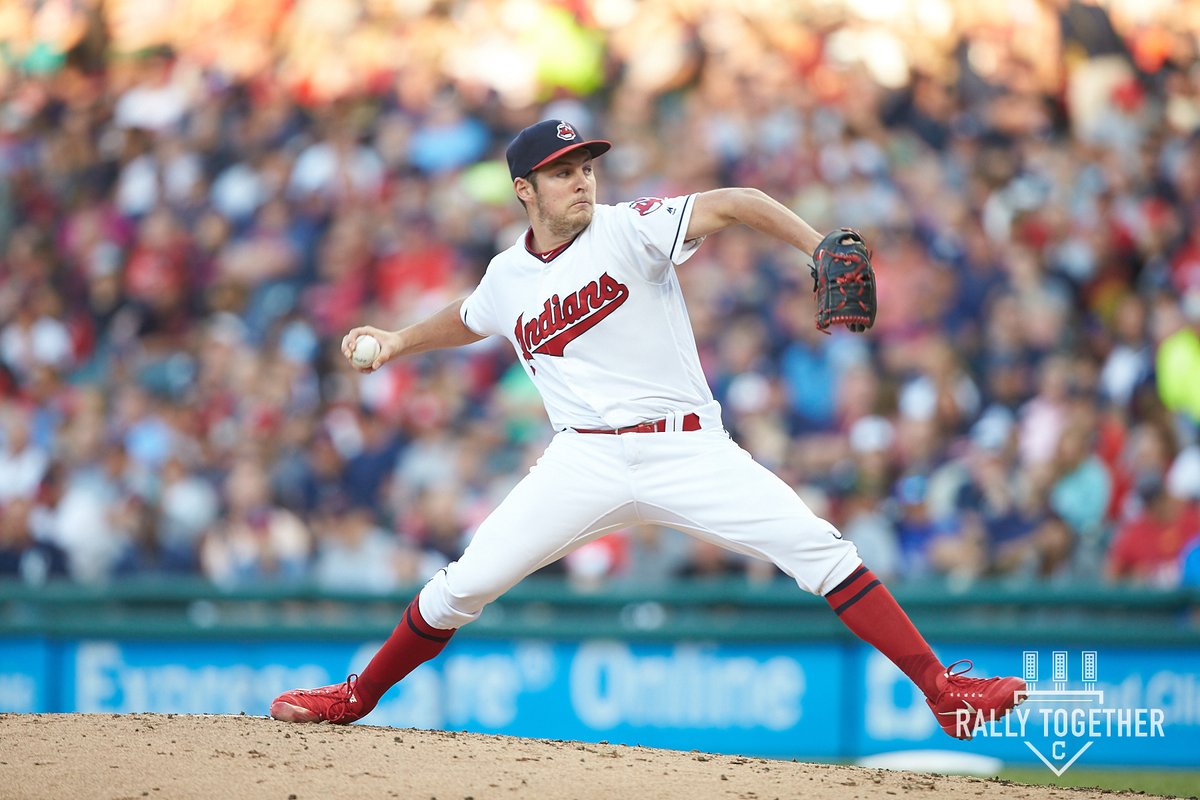 With articles form the likes of USA Today Sports and Deadspin slamming Tribe pitcher Trevor Bauer over his exchange with a 21-year-old college student that she deemed 'harassment,' one would think he would appreciate seeing the Cleveland media on Friday ahead of Saturday's Tribefest.
Turns out, Bauer was not in much of a mood to chat about anything at all related to his Twitter or any social media account for that matter, as the pitcher's chat with the media lasted all of 39 seconds.
The pitcher answered two questions, both from WOIO Ch 19's Tony Zarrella, the first about the rumors and chatter that either he or fellow pitcher Corey Kluber might be traded this offseason.
"I'm one-year deals the whole time, so I am use to it," Bauer said when asked about the rumors of being dealt.
"Ultimately nothing changes, working on getting better, being a better pitcher, throwing harder, being in better physical shape, developing a new pitch, being smarter or whatever, then you show up for the season, and wherever I am at, you try to be better."
It was at that point the question was posed about Bauer and his social media fire from the last week with the question "you had the social media thing last week," and before Zarrella could even finish the question, the media was met with this response from Bauer
"Yeah, thanks for your time guys."
At that point, he quickly exited stage left, with Zarrella saying "that's it," and Bauer simply replied "yep."
The quick exit by Bauer came just about an hour after he tweeted about the media being 'soft' for writing what he deemed were 'baseless hit pieces' about him.
Also, note to reporters, if you're going to write baseless hit pieces about me and not even interview me for the story, at least stick to your guns and don't bother saying hi to me in person. If you hate me just hate me and stick to it. Don't be soft.

— Trevor Bauer (@BauerOutage) January 11, 2019
Fellow Indians pitcher Mike Clevinger was asked about the situation regarding Bauer and his social media situation, to which he gave a more reasonable response about his friend.
"It's not my place to answer for him," Clevinger said. "In my opinion as a guy from the outside looking in, he's a guy whose being very very vocal on what's on his mind, and a lot of people want freedom of everything but people also don't like opinions at the same time. If you want to know him, let him be himself."
Clevinger was asked if he would ever ask Bauer to maybe tone down his interaction on twitter, to which he gave another thoughtful answer about the day and age we live in.
"That's part of him, that's why I love him, I think it's awesome the way he interacts, obviously he crosses that line, but how are you going to have fun if you're not touching the line, how are you going to find the line if you don't cross it?"
Here's video of Bauer and his quick exit:
Trevor Bauer spoke to the media for 39 sec – dismissed the media after asked about the social media situation this week – here's the video pic.twitter.com/duci1CFhOX

— Matt Loede (@MattLoede) January 11, 2019
And here's video of Clevinger and his answers about Bauer and his social media accounts.
Asked Mike Clevinger his thoughts on Trevor Bauer and the social media situation being his close friend – here's his thoughts pic.twitter.com/AyUPbpFrqN

— Matt Loede (@MattLoede) January 11, 2019

NEO Sports Insiders Newsletter
Sign up to receive our NEOSI newsletter, and keep up to date with all the latest Cleveland sports news.