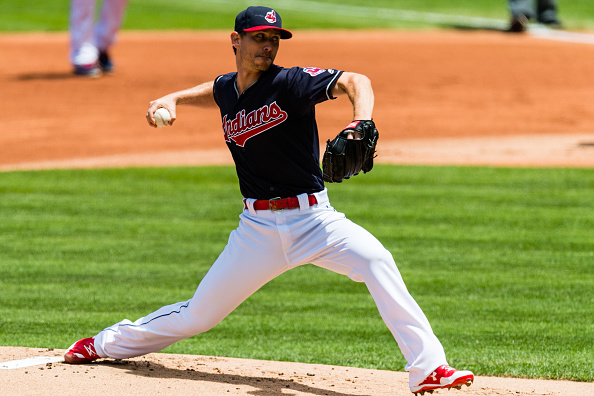 The Cleveland Indians looked to make it eleven wins in a row inside the rather friendly Comerica Park, as the Tribe was 6-3 during their visits to Detroit this season heading into Sunday. Josh Tomlin made his first start since being placed on the disabled list back on July 30th and the Tribe earned the sweep of the Tigers with ease, defeating Detroit 11-1.
Let's take a look at the game's takeaways.
1. Jose And Frankie Make History- Jose Ramirez and Francisco Lindor are extremely fun to watch patrol the middle of the infield. They are just as fun to watch at the plate. Today, Ramirez and Lindor both made a little bit of Tribe history and in Jose's case, MLB history.
Ramirez continued his destruction of the Detroit Tigers with a 5-for-5 day at the dish, including two home runs. Ramirez is the third Indian all-time to record five hits in a game, joining Lou Boudreau and Kelly Shoppach as the only other Tribe members to accomplish the feat. Ramirez is also only the 13th player in MLB history to earn five extra-base hits in a game.
Lindor made Tribe history as well today, belting his 26th home run of the year in the 6th inning to become the first Indians shortstop to hit 26 home runs in a season. Lindor now holds that record and has found his groove, batting .270 currently on the year.
When you have your middle infielders performing as well as Ramirez and Lindor have, there's a reason you're on an eleven-game winning streak. Those two guys are a big part of that reason.
2. Welcome Back, Tomlin- Josh Tomlin welcomed himself back into the rotation with a solid outing for the Tribe, putting together 5.2 innings of work while only allowing the Tigers to plate one run. Tomlin didn't strike out a lot of batters today with only two punch outs, but he reminded everyone why he is an awesome weapon to have in the arsenal, with only one Tiger reaching base through a walk.
When talking about his starting pitcher's performance today, Terry Francona told reporters that he thought Josh Tomlin "did a really good job for missing the time he did". Francona did also bring up that he felt that Tomlin looked to be working against command issues with his fastball, but he did very well with his offspeed stuff this afternoon.
3. Production From All Over The Lineup- Whether it was Jose Ramirez or Greg Allen at the plate for the Indians, the Tigers pitching staff could not seem to get anyone in the Tribe's lineup out today. The Tribe had a total of 43 at-bats on the day and forced Detroit's pitchers to combine for 213 pitches thrown. With sixteen hits, that's a fantastic job done by everybody who got a chance to bat today. Carlos Santana was the only starter to not get a hit for the team today, going 0-for-3. Nonetheless, the Tribe ran through Detroit and look to continue their dominance over the AL Central when they make a pit stop in Chicago to battle the White Sox.

NEO Sports Insiders Newsletter
Sign up to receive our NEOSI newsletter, and keep up to date with all the latest Cleveland sports news.