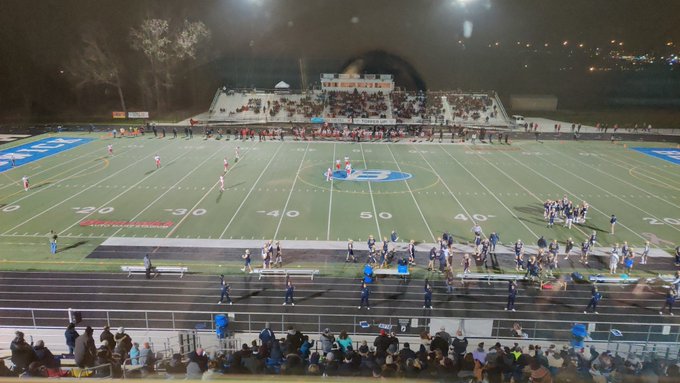 BRUNSWICK, OHIO – The clock struck zero for the Tiffin Columbian Tornadoes in their 2020 football campaign after their 47-7 loss to Chardon in the Division III, State Semifinal.
Their season was over with a 9-2 record. However, there remains optimism for this team's future as they will have many starters returning for next year.
"All experiences can be good [and] can be bad experiences," Tiffin Columbian coach Judd Lutz said after the game.
"You gotta twist them. Hopefully, this puts a fire and a hunger in a bunch of young guys that will return. I wouldn't say that his moment was too big by any means, they executed at a really high level [in the playoffs]… I think all experiences help a little bit. (Chardon) did some things defensively to our young quarterbacks and also did some stuff to our defense that I'm pretty sure that we are gonna be on a mission to correct and get better from starting really soon.
The biggest place for Tiffin Columbia to start is at quarterback as Sophomore Logan Beaston and Freshman Brayden Roggow battled for the starting spot the entire season with no definitive winner at the end.
"In the offseason, it was a three-way battle between them and a junior [at quarterback]," Lutz said.
"We gave them every opportunity to do so. Neither of them played themselves out of the position. They continued to do good things all offseason, during camp and during the season."
Despite the young team, the Tornadoes were determined to have a long run as they entered the playoffs as the top seed in Division III, Region 10.
"I wouldn't say this team went way above and beyond my expectations," Lutz said.
"I really did think that they could have done something special, even though they are young in years; inexperienced. I saw the hunger that they had and the way they worked and the talent they do have. I'm not surprised by any means, but they also did something really special in this program's history."
The youth of Tiffin Columbian is there, but there are still Seniors that played their last game in a Tornadoes' uniform. But Lutz describes the effect their presence had on the under-classmen.
"[The 2020 class] showed the way a little bit," he said.
"They were a great model, and been a great example and that's what you ask of your older guys. To be a great example, show the way, light the way and your under-classmen need to follow and step up in leadership roles. I think they did that."
Seniors of 2020 had to go through the true struggles of a developing program as they were brought in as eighth graders in Lutz's first year as head coach. Working out four days a week starting at 6:00 a.m. and bought into the process.
As eighth graders, they witnessed a 2-8 season. A year later as Freshmen, the varsity team went 0-10. With hard work and determination, they played a vital role in developing a powerhouse Division III team that reached a state semifinal.
Chardon, the team they lost to and will be playing for a state championship, is loaded with Seniors. Tiffin Columbian is primed for a return for state contention. Toppers' coach Mitch Hewitt showed his praises after the win.
"(Lutz) is a great coach," Hewitt said.
"To be that young and to get a team this far. It's taken me a decade to do it and he's doing it with a young team. His team is gonna be loaded coming back."
Just like that, expectation will be present heading forward and coach Lutz recognizes it and knows it won't be easy.
"You can't expect to snap your fingers and be back in the same position," he said.
"Because we got 20-some teams in the region will be hungry to be in our position and teams in our conference (Sandusky Bay Conference) are returning really good players as well. You gotta take care of business and go to work every single day."

NEO Sports Insiders Newsletter
Sign up to receive our NEOSI newsletter, and keep up to date with all the latest Cleveland sports news.